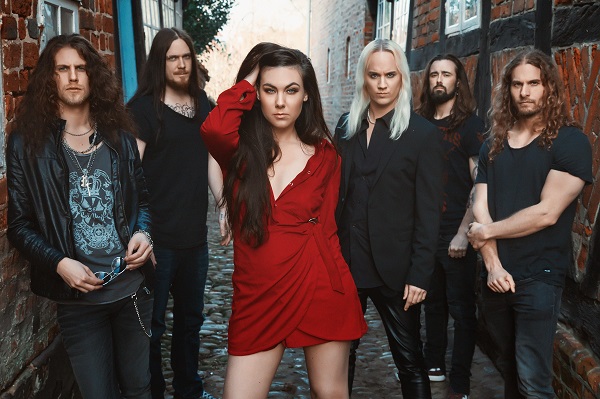 "…but we thought if we make it to the fifth album we can kind of explore ourselves and develop our sound in what we believed in the more extreme direction…"
From Release: Four albums into their career, Amaranthe have racked up north of 118 million YouTube views and half-a-billion song streams, have landed at #1 on the Billboard Heatseekers Chart three times, and possess a panoply of gold and platinum discs for albums and singles alike. With their electrifying fifth album Helix due out October 19 through Spinefarm Records / Caroline Australia and armed with new singer Nils Molin, Amaranthe take another leap forward in their sonic evolution. Helix proves the band has refined its melodic sensibilities ever further while retaining a cutting-edge metal assault. The band is as massively aggressive as ever and the first single "365" is the perfect example of such — its seductively velvety mix of contemporary sounds and modern metal will take up residence in your brain for days.
At home in Sweden we gave Elize Ryd a call to talk about Amaranthe's new album 'Helix', its creation, working with a new singer in the studio, growth, the possibility of touring Australia, and more…
Firstly congratulations on the album, it's magnificent.
Oh thank you so much, I'm so glad to hear that.
So as it is the band's fifth album, can you give us five words that you feel sum up the album perfectly?
Ooh, five works, ok, heavy, passionate, emotional, solid, and emotional did I say that? Something else like crazy *laughs*
Did you go into the album with an idea or concept of what you wanted 'Helix' to be?
Yeah we actually talked about it during the previous album, you never take this career for granted, anything could happen and you never know if it's going to end, I think nowadays people can listen to our music on streaming and there's nobody taking away the music anymore, like back in the day it was in a record store for a limited amount of time and it got harder and harder to get it, but we thought if we make it to the fifth album we can kind of explore ourselves and develop our sound in what we believed in the more extreme direction, such with 'Maximalism' where we thought this is the maximized version of our sound at least one part of it. Then we thought with this one we wanted to bring everything together and remind ourselves how everything kind of came together, where is the more solid sound, what is the DNA of Amaranthe and then we thought yeah it's Olof's really heavy riffing because he's a such a great guitar player so that should come forward and also because Morten I suspect is one of the best drummers ever and we wanted them to really shine and of course bring in a little more of Henrik and the growls, and we had a new clean vocalist Nils who we also aid he's so good at the harmonies and he came in like a fresh breath and we thought it's kind of starting over again but it's still developing because we always want to be in time and stay modern but not focus so much on that but more like what is Amaranthe.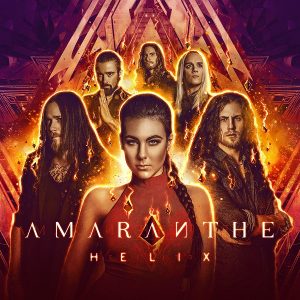 I wanted to ask about the addition of new vocalist Nils how did this new blood help to shape these songs and the final product?
For me since I'm the other clean vocalist obviously, it's very scary to kind of try to find the kind of dynamic in between, I don't know, it's the same guitar players when you bring in a second guitar player you want that player to have the same kind of groove and rhythm and you want to feel you're blending together. It's very important with the singer that you have the same timing and the same dynamic and all that so that was of course hard to find because he has a little bit of a different rhythm in him. Then I thought this is going to be challenging but most of all fun and we actually practiced for two years going on tour together, I think it's two years or maybe one and a half, it feels like two years because he's been in the band a long time but anyway we kind of grew together and we talked a lot about the singing like where we wanted to keep it soft and where you wanted to keep it strong and it's still coming in as a fresh breath and it's not like he came in without making a big change. So we had to find each other vocally, we had to listen to him while we wrote the songs so we knew what was best and in what range and where we put him in the mix and there were a lot of things going on so it took a lot of energy of course to kind of get it together but now we're just so happy that it worked out as well as it did and its very fun to work with new people and especially when he's a nice guy *laughs*.
Of course I have to ask, do you think we might ever see you in Australia?
I hope and I always say this hopefully next year and I think this time I will not lie if I say that it's on the radar, if we go to Japan which we hopefully will we're going to come to Australia afterwards and I'm saying this now really believing it. I've been saying it for five years. We went to the 7,000 Tonnes of metal and we saw a lot of Australians there and they said why don't you come to our country you would love it? I know we would love and we have people that would like to come to Amaranthe shows so let's see, it's going to be amazing, maybe we're going to go with another band or something but really I'm crossing my fingers. I would love it I know you guys are amazing as well so I can't wait.
As a part of this band now for ten years, over that time what for you has been the most rewarding part of being in Amaranthe?
Oh, probably the most rewarding part is that we kind of survived the heavy periods of time, to come out and feel a good energy from the fans and the great response, that's the whole thing, that's what keeps us going so I see that as a big reward regardless of how successful you become or how many albums you release there is still so much joy to the band from the public and that's what we really, really appreciate the most.
So what do you want to accomplish in the second decade that you haven't yet done in the first ten years?
I think that we're gonna just continue to grow, we really want to develop the sound so that we would not get bored of the song writing and just copy ourselves, to keep the spark going and keep on finding new and interesting things with the albums in the future, and of course to make the whole touring experience better, to make the whole group of people we work with and just to make it feel more like that we can relax and trust the people we work with and feel safe and feel that this is something that we can live with forever. Hopefully we're going to be eighty five and still rock *laughs*. Maybe another ten years I don't think that would be impossible.
Over time it's easy to say what can change but what would you say is the one thing that's stayed the same in your time making music with Amaranthe?
What stayed the same is probably I'd say maybe the passion probably, like that we never ever felt that we are leaving ourselves outside of the comfort within the albums, we have kind of grown within the music if you know what I mean. It's always been us saying those things and thinking those things we have never been unfaithful to ourselves and what we feel we want to express, and it gets easier with time I think to be more personal, but we have always been like we don't write songs if we don't feel like they mean something or if they can make some kind of change for our people and people around us. Also the positivity, the catchiness and the more uplifting songs that's the thing that's stayed.
Lastly let's look ahead to the future, finish this sentence for me, in 2019 Amaranthe will…
Tour in Australia *laughs*.
Essential Information
From: Gothenburg, Sweden
Band members: Olof Mörck – guitars, keyboards, synthesizers, Elize Ryd – female clean vocals, Morten Løwe Sørensen – drums, Johan Andreassen – bass, Henrik Englund Wilhemsson – unclean vocals, Nils Molin – male clean vocals
Website: http://www.amaranthe.se
Forthcoming Release: Helix (October 19 – Spinefarm Records / Caroline Australia)