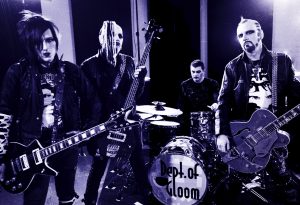 The musical pedigree and backstory of the members of Dept. Of Gloom would take hours to dissect. The sum of their collective parts reads like a short history of Australian rock!
Created in 2016 from some pretty cool lineage, their members coming from bands such as
The Candy Harlots, Genitorturers, JERK & Dead Inside The Chrysalis, Dept. Of Gloom is an unholy alliance between Australia and the USA.
Brought up on an a diet of a lotta KISS, Alice Cooper, 70's British glam rock, Sex Pistols, NIN and the like, Dept. Of Gloom are the sum of their parts and their influences. They don't sound like any of those…but there's a little bit of all of them in there, if you listen carefully…
They bring the old and forge it with the new. Modern/Vintage. A poison pill coated in candy, where analogue meets digital. The sounds, riffs and attitudes of the 70?s and 80?s rock n roll heyday collide in a wonderful, head-on smash with the 21st Century.
A firey twin guitar assault, driven supercharged bass and big drums against a shimmering backdrop of electro synths. Topped off with three distinctive lead vocalists, Dept. Of Gloom harken back to a time when bands were rockstars and rockstars were heroes!
Music. Show. Passion. Rare commodities in today?s safe music scene and that has nothing to do with 'originality? but more to do with your own take on the speed wagon you choose to drive.
So come aboard and have some guilty fun. You can always… repent later. If you must.
I Dare You was recorded earlier 2018 and mastered at New Yorks? Sterling Sound is a passion filled slam bang affair with melody, groove and emotion.
The video is it?s perfect companion. Sound and vision for your ears, eyes and heart.
Watch it here
I Dare You is out now
iTunes | Spotify | YouTube
Dept. Of Gloom will make their next appearance
Saturday, October 20 at the Manning Bar in Sydney
when they play with the mighty Skid Row!
Dept. Of Gloom are:
Leeno Dee: Vocals/Bass
Bizz Tronix: Vocals/Guitar
Phil Bowley: Guitar/Vocals
AJ-Drums: Electronics