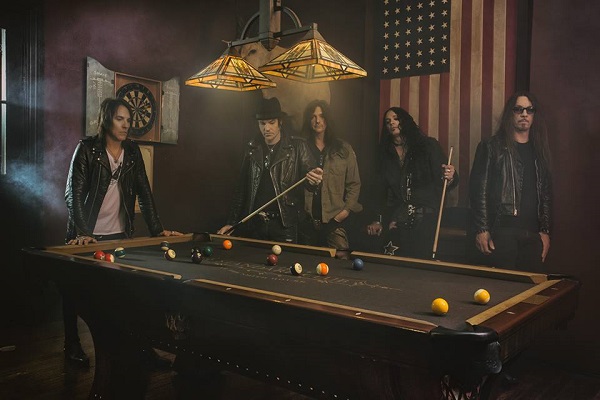 "Well I think we're at a stage of our careers where we're humbled by the fact that we get to do this for a living, and not that we were never thankful for that before but I think that as time goes on and as you get older you start seeing things in maybe in a slightly different light."
From Release: Skid Row started in 1986 when a group of New Jersey kids, armed with their punk and metal attitude, and a collection of riff-heavy, high-octane songs, set out to conquer the world, one concert at a time. This determined and focused approach proved to be an unquestionable success, as the group went on to clock up numerous Top Ten singles, Gold and multi-Platinum selling albums and a Number 1 on the Billboard album chart. In other words, the world was theirs. They might have conquered the world several times over, but Skid Row are focused on making more earth shattering music. Now, SKID ROW is gearing up to record the final instalment of the United World Rebellion trilogy.
While in Nashville and writing with Rachel in the studio, we gave Snake a call to talk about their upcoming return to Australia, their new singer ZP Theart, new music, and more…
We're here because you're heading back to Australia this October, tell us how these shows will shape up and what a 2018 Skid Row show is all about?
Well I think we're at a stage of our careers where we're humbled by the fact that we get to do this for a living, and not that we were never thankful for that before but I think that as time goes on and as you get older you start seeing things in maybe in a slightly different light. I think that we are in a place where we get on stage and we look across the stage at each other and we're just really happy to be there, and then we look out at the audience and the smiles on their faces and just the camaraderie that we're sharing and the community if you will. It's really very humbling and there's so much gratitude from our end because we started this band in 1986 it's now 2018 and we're still being able to perform and create and entertain and it's a special thing, man. We certainly don't take it lightly at all, so we've been playing a hundred shows or a hundred plus shows a year for the past few years, having ZP as a permanent member of the band kinda just seems we wrapped everything up and there's no drama, there's no hidden agendas, it really is just all about Skid Row and the show, the performance, setting and keeping our standards really, really high and taking this stuff extremely, extremely seriously and not for granted at all.
So every show that we play is a gift, man, and it's an honour to be out there and to think that I tell my friends I'm like guys I don't even know if you understand how cool it is to be able to get on a plane and head out to Australia to play a bunch of shows, it's incredible and they get it they're like man, you live the life *laughs* and we do, we really do. We're really, really lucky and so I think that with that gratitude that we feel, the humility and whatnot there is an energy that comes with that and just really pushes you forward and makes you want to outdo what you did the night before and there's still a really healthy competition for us to get out there and make sure that everybody that's coming to the show leaves going I'm so happy I was just there, like that's really important because these people that come see us they could've done anything else in the world on that particular day or night and they opted to buy a ticket  and to make the time to come see us play and there's a weight and a responsibility that goes along with that, man, that's pretty cool and really heavy and so we don't take it lightly. So it's really important that when people come and see us play they walk away feeling much better than when they walked into the place.
You've been to Australia a number of times, what's your fondest memory of a previous tour here?
Oh my gosh, there's I think the first time we came there was if I'm not mistaken was 1990, no was it '89, yeah it was '89 that we first came to Australia and we had never been anywhere quite like that in our lives, we were fairly young adults, and the energy of the people, the kindness of everybody, everybody was in good spirits wanting to party and hang out and all having a good time and fun and everybody was really helpful and we made some lifelong friends from that first trip. So I think for us there's just a great camaraderie that comes along and goodwill that we built over the course of the last nearly three decades, so I don't know if there's any one thing in particular. There was the Guns N' Roses shows that we played with Rose Tattoo to fifty thousand people that was pretty cool, but also just the first time that we ever came over seeing this land that's half way around the world from where we live and grew up in was astounding, and just a sort of overall spirit that you guys possess down there, just a happy spirit, it's very positive I think that's what we gathered so whenever we come back there it's always a welcoming feel. I remember going to the Gold Coast, it was just beautiful, I love all the cities, Adelaide and Perth and Melbourne and Sydney, to me it's one almost one of those almost like a hidden gem because everybody goes to Australia and comes back and goes man I can't believe how cool the people are and then there's a great music scene as well in a sense that it's very vibrant.
You of course mentioned you're also headed over with new singer ZP Theart in tow, what has he injected into the band that you feel may have been missing previously?
Well I think that there's a sense of again I use the word camaraderie because as I said before there's no hidden agendas, he's got this attitude of what can I do to help make this thing better and it's a sensibility of we're all in this together and the common goal if the betterment of the whole thing, of the band, it's not an agenda from one person or two people's perspectives it's all of us geared towards making the best music we can and performing it to the best of our ability and just making sure that we never ever lose site that we have a history that we have to uphold and we have to be respectful of and most importantly you have to be respectful of the audience and so you have to go out there and you can't half ass it, you can't mail it in, and so for us to have him in the band there's a great sense of energy and positivity, he's a real positive guy, man, and definitely like a brother you know what I mean, fit in seamlessly and he's unaffected by negativity in a lot of ways, like I said he's a really positive person and that' really infectious. People can tend to get jaded throughout being involved with this business for however long we've been involved with it and that's all of us, so I think it's a very fresh edition to the band because it reminds us that this is a serious thing but it is really about having fun and the celebration of music and the performing and creating of it.
Speaking of creating you said you're writing, is this for Chapter Three of the United World Rebellion, is that what you're writing for at the moment?
We are it's gonna be a full length record, it's not gonna be an EP we switched a bunch of things around with how we're gonna release it and who we're associating ourselves with, so can't really talk about anything until it's finalised which will be shortly, but we're in a really good position we feel really comfortable with the people we're aligning ourselves with and we feel that it will give us a good shot at getting our music heard and really that's all you can ask is that we want the ability to have as many people to be able to access and hear your music as possible and then they make their decision. You can't twist anybody's arm if they're gonna like it or not like it that's completely in the listeners hands, and as long as you accept that which we obviously do, we just want the opportunity to be heard and the way music is received and delivered these days is completely different to even the way it was five years ago, so you do your best to give yourself the best opportunity to be heard and if people hear it and they hate it then so be it, at least we got it into their hands or ears somehow. That's really the trick for us just being able to get the opportunity for it to be heard.
As a primary songwriter in Skid Row, what for you has been the biggest challenge in writing music over three decades?
The biggest challenge is and has always been believing that what you're writing is worthy. There's this strange sensibility that goes along with writing a song and for me it's impossible, always been impossible to be objective, I either think it's the greatest thing ever written or it's the worst piece of garbage on Earth or whatever but it's always in between that, and where in between is I can never locate it so that's the problem for me. I think writing with Rachel I think he's a really good gauge of being for the most part unbiased and objective I think he's got a good sensibility for that, I don't. It's also great to have the other guys in band being honest and going man that's really good or that's not good or it's cool but I don't think it works for Skid Row. So that's what's been able to keep us going forward is that sort of ability to be able to present ideas to everybody and then everybody weigh in and we see where it stands amongst the whole of the band and then we can take it from there. There's been so many times when I've had an idea and I go oh my gosh this is it, this is the 'Stairway To Heaven', this is 'Bohemian Rhapsody' and it's nothing more than a fart in church, so that's the great thing about being associated with Rachel and Scotty and Rob and ZP that you're gonna get honest assessments from everybody. Not to speak to for Rachel but he's probably brought in ideas too that he thought were horrible like I think it's crap and I'll hear it be like dude you're nuts this is amazing. So navigating that space between the polar opposite points that's the trick *laughs* and for me personally I don't know that I'm really good at it but I think Rachel and the rest of the guys are much better at it than me.
Looking back to your beginnings, was there one piece of advice you were given when you started making music that you still go back to to this day?
To always write for yourself, song writing is a selfish process and that sounds bad but actually that's the way that it has to be and it should be, you have to be writing from your purity and your soul and your spirit and your heart in order for it to not be disingenuous. I think people can tell whether you're writing because it's from the depth of your spirit and soul or you're writing because you want to get on the radio *laughs*, or you want to appeal to a certain genre or whatever.  For me it's always been about being able to help create something that first speaks to me and us and then hopefully speaks to a greater amount of people that's the thing but it's gotta speak to us first.
Lastly, let's look ahead to the future, so finish this sentence for me, in 2019, Skid Row will… 
Still be on the road and still be making music and still be raising our drinks high in the air cheering to the fact that we're still able to do this for a living.
Skid Row Australian and NZ Tour Dates:
Thursday 18th October BRISBANE Eatons Hill Hotel
Friday 19th October MELBOURNE Prince Bandroom
Saturday 20th October SYDNEY Manning Bar
Sunday 21st October SYDNEY Frankie's Pizza By The Slice
Tuesday 23rd October ADELAIDE The Gov
Wednesday 25th October AUCKLAND The Studio 
Tickets on sale NOW From: http://silverbacktouring.com.au/skid-row-australian-tour/
Essential information
From: New Jersey, USA
Band members: ZP Theart – Vocals, Dave 'Snake' Sabo – Guitar, Scotti Hill – Guitar, Rachel Bolan – Bass, Rob Hammersmith – Drums
Website:  http://www.skidrow.com