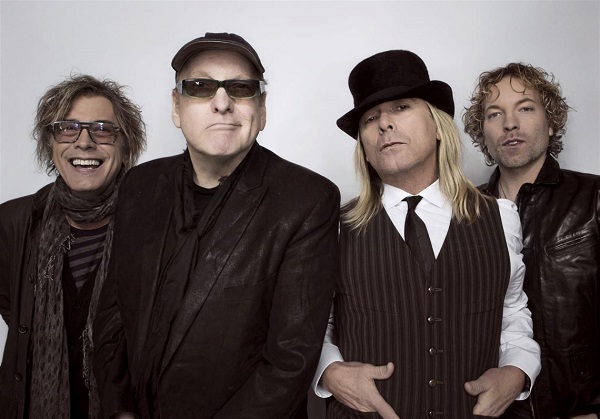 The legendary Cheap Trick are back in Sydney and once again here to showcase their melodic brilliance through songs that have stood the test of time and songs that are very much part of people's musical upbringing. Live they have always been a force so let's see if tonight is no different!
Dallas Crane have pulled the instruments back out to get up early tonight to belt out some of their straight up rockers. These guys have always delivered a kick ass sound and tonight is no different. Track after track these guys just nail it, and when you throw in a Led Zep cover well you really can't go wrong. They warmed up the crowd nicely for what was to come next. The legendary Cheap Trick.
As Cheap Trick walk on stage and Daxx Neilsen belts it in, the "greatest fucking rock band in the world" kick into 'Hello There' and the short and fast rocker sets the pace as they get the levels right and wasting no time 'You Got It Going On' is up and you forget how good these guys truly are until you hear them rocking out like this. Rick Nielsen is truly a machine. A very early drum solo of sorts sets up 'Big Eyes' which is almost AC/DC-esque in its riff, you can't fault these guys, their legacy is something to behold and these songs are the foundation of power pop rock and thank God for Cheap Trick who paved the way for many.
Rick starts the slow almost doom style riff that takes us into 'California Man' and we're "going to a party" indeed. This is just too much fun to watch. Some crowd interaction gets things up a little as they finish the song in true rock and roll style. Rick addresses the crowd and introduces a song that Robin wrote, as 'High Roller' keeps those damn hooks in and you can't help but tap your foot and move to the beat. Before the last note faded out Daxx starts pounding the drums and the band join in only to take us to the 'Top Of The World' and Robin's voice is sounding awesome tonight. He's still got the chops that's for sure. They turn this a little instrumental in the middle and allow Rick to show off a little which truly looks effortless for him.
Time for a sing along with 'If You Want My Love' and it's always a pleasure hearing this one live. The driving bass is always a stand out in this one and Tom does it justice of course. Damn it just sounds so good. What a classic. Following on in classics land we have 'She's Tight' and this just may be my favourite so far tonight, nailed it and special mention to Rick for going through about thirty guitar picks. Another big drum intro before the bass and guitar lead is into 'Shame' with its almost 12 bar blues vibe at times they just keep smashing these tracks out of the park. The 's' songs continue with 'Summer' their newest single and even the new music still sounds like that classic Cheap Trick sound and that's the best. 'Baby Loves To Rock' again, can't say a bad word, they have this down. Those musical stops always get me in Cheap Trick tunes and they do not miss a beat. Things get moody before 'Stop This Game' as Zander belts it out and damn, he can sing!! This set just hasn't faltered so far and that lack of faltering continues with a bass solo, even that sounded superb as how can you argue with Tom Petersson and those 12 strings. That takes us into 'Waiting For The Man' which sees Robin with a guitar for the first time tonight and Tom on lead vocals.
Next it's time for the one I know I was waiting for and so were many more it seems. 'The Flame' really is a classic song and damn!! Even hearing that opening with just Robin on the acoustic before the band blasts this ballad into power land. It was awesome seeing the way that people still love this song. Then straight into 'I Want You To Want Me' was perfect! This one is always so much better live and a big crowd sing along of the "didn't I…" etc was the clincher. Gotta love the classics and you sure as hell can't argue with this one being one of them. Oh man you're killing us, they're following that with 'Dream Police' and an extra guitar comes out on stage and fills the sound out so much and as Rick sings the middle part they absolutely knock this one out of the park. 'A Lot To Lose' is up as we are getting towards the end of the set. This one keeps the tempo up before a big one, yeah it's time for 'Surrender' as the mic goes out for us to sing and it sounded great. Plus any song with a key change can win me over any day of the week. Oh man they're throwing vinyl out, awesome! And you know what? We really are all alright. One more to go and the aptly named 'Goodnight' closes this set of rock and roll awesomeness.
Cheap Trick have still got it, in fact you know what? It never left.
Essential Information
Venue: The Enmore Theatre – Sydney
Date: October 17, 2018
Presented by: Chugg Entertainment
Website: http://www.cheaptrick.com
Set List:
Hello There
You Got It Going On
Big Eyes
California Man
High Roller
Top Of The World
If You Want My Love
She's Tight
Shame
Summer
Baby Loves To Rock
Stop This Game
Waiting For The Man
The Flame
I Want You To Want Me
Dream Police
A Lot To Lose
Surrender
Goodnight