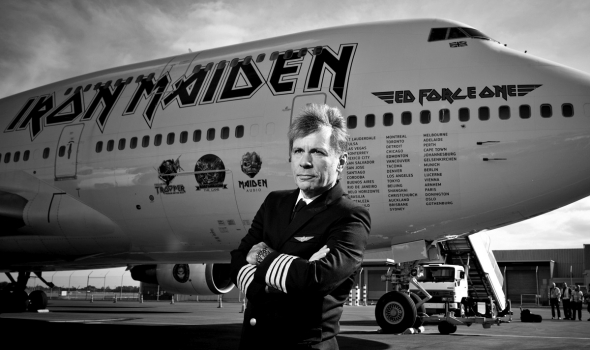 "I don't take myself terribly seriously and I think some people find that they imagine that I probably do because I'm in a big heavy metal band and everything and I do all these things, but I do see the absurd side of life and most of life is kind of absurd when you actually get down to it."
From Release: Bruce Dickinson is considered one of the world's most storied musicians. Aside from decades spent delivering high-octane performances with his larger-than-life persona in Iron Maiden, Bruce has lived an extraordinary off-stage existence too. A true polymath, Bruce has done a lot. Over the last couple of years, during Iron Maiden's The Book Of Souls World Tour, Bruce turned his unbridled creativity to writing his memoirs. In What Does This Button Do? Where for the first time he shares the most fascinating recollections, including his thirty years with Maiden, the early days, his childhood within the eccentric British school system, going solo, realising his dream of flying jumbo jets and his recent battle with tongue cancer.
In Sydney before starting his Australian tour Bruce Dickinson gave us a call to talk about his upcoming tour, his book 'What Does This Button Do?', writing it, reading it, falling pianos, new music, and more…
It's an absolute honour to speak to you, Bruce, and thank you for your time.
Thank you!
We're here because you're heading back to Australia but this time in a spoken word environment, do you have an idea of a set and structure for these shows?
Well yeah I've done sort of like about half a dozen of these shows, actual theatre shows and then before that I was kind of developing it when we were doing a promo tour for the book and that's what turned into this one man show because it was working so well and somebody said why don't you do this as a show and I went hmm you know what that might just work. So we've done it and it's gone down extremely well and hence the fact that we've got a promoter doing it in Australia and New Zealand and I've got about another ten more shows coming up before and after Christmas.
Obviously in seeing you up on stage with Iron Maiden, you're so animated and an absolute machine, is it a different process for you in standing on a stage and being Bruce Dickinson the storyteller?
Yes but it's still a lot of energy, a huge amount of energy, I don't lose as much water *laughs* as I do when I'm running around on stage with Iron Maiden *laughs* but I think my brain might work harder.
So what was it like the first time you got up there in front of a crowd without a band to tell your stories, was it a little daunting?
Yeah, because you are completely on your own, free-fall without a parachute. So at first when we did it, the very first time we did it was about eight or nine hundred people in London and all the management were there and all kinds of people were there and I was thinking oh my god… and of course we had things to read from the book, bits to read from the book was the idea and then I would talk about it a little bit and I just basically threw the plan out the window as soon as I walked on stage and thought, you know what? I think we might end up reading a little bit from the book but actually I'm going to tell some stories around the pictures because there's like a little slide show and literally every picture tells a story.
On top of that there's some interaction with the crowd with a Q&A I believe?
Oh yeah what we do is everybody should get a little cue card, what used to be like little Rolodex cardboard question cards and if they want they write down a question, whatever kind of question they want, doesn't have to do be about music, it could be about absolutely anything you know and obviously I encourage witty, interesting, thought provoking questions, so things like 'what did you have for breakfast today?' maybe not, or 'when's the next Iron Maiden tour?' is gonna go straight in the bin because it's not very interesting because it's like I'm not going to tell you *laughs*. Then you get some really cracking questions and I go backstage with an interval of about fifteen minutes and I whiz off backstage and I go through all the questions and reorganise them and come back out and I do the Q&A and that's actually sometimes the favourite bit of the evening because it can go depending on the quality of the questions it can really, really rock. It's great.
Annoyingly my next question was, what did you have for breakfast?
*laughs*
Now, 'What Does This Button Do?' has been out now for almost a year, why was it the right time to tell your story?
Oh well that is a good question, I'd been turning down offers to write a biography for quite a long time, mainly because I knew how much work was involved. Then of course I got diagnosed with throat cancer and when I got clear of that I kind of reconsidered and I thought you know what, maybe that was a bit of a wakeup call, perhaps I should write a bit of my story to date *laughs* just in case, you know? You never know, I might get hit by a falling piano.
That's such a random thing to choose!
Well it is and it's the sort of thing that would be so random if that happened and you hadn't written your autobiography it would be really unfortunate.
When penning your book, what was the process like looking back at your life and putting it all down literally on paper as you handwrote your memoir?
It was much more entertaining than I ever imagined *laughs* in fact I wrote some chunks of it, quite a lot of it actually in my local pub and so I'd go in there early in the evening and sit there for two or three hours nursing the same pint of beer scribbling away and some of my buddies who were locals as well when I'd finish I'd finally go and stand a bit cross-eyed at the bar, a bit shell shocked as I'd write typically between a thousand and fifteen hundred words straight through in a siting, so I'd be a little woozy as it were. So I'd be sitting having a beer and they'd say, "You know what? You're giggling all the time" and I went "Am I?!" and they went "Yeah, we've been watching you, you've been chuckling the whole time when you're writing it" and I went "Oh that's a good sign" *laughs* so yeah that's what it was like.
It's such a great story and I listened to the audio book and it just gave it that personal touch, in retelling it via audio what was it like reliving your story once again?
Again it was just a little wry look at my life as it were and the things that have happened. I'd like to think that most of the, if I poke fun at people in the book it's in a sort of fairly gentle, amusing sort of a way because I take what I do seriously, I don't take myself terribly seriously and I think some people find that they imagine that I probably do because I'm in a big heavy metal band and everything and I do all these things, but I do see the absurd side of life and most of life is kind of absurd when you actually get down to it.
I truly enjoyed that, the way that you said you dressed and the way you grew the beard when you had the cancer, you were just enjoying everything you could.
Yeah because I'm always a glass half full kind of a guy, so I always try and look for positives even *laughs* if you're up to your neck in shit *laughs*.
You talked about leaving out a lot of anecdotes, wives, divorces, births which I thought was great but I audibly got disappointed when you said you left out airship stories, do you have a quick one you can share to alleviate that disappointment?
Well there's a whole story about how I got involved with it in the first place, I mean, there you go, that's something you should write down on a card and ask me in the Q&A because you'll get the whole story. There's 40,000 words worth of stories that are not in the book because the editor, Jack said look, we've got a couple of good stories about this and whilst these other two stories are funny, we don't need four, we only need two and I went yeah I can see that. So there's a lot of stuff, I mean because the cut off was effectively 2016 things that I started in like 2013 and projects like that I left out of the book because they weren't finished, they hadn't gotten to a conclusion. I wanted the book to have a conclusion, I wanted it to actually have like a movie, the end at the end of it so you've gone through a narrative journey and you'd gotten to the end of it and you've thought the end, fantastic, that was a good story. Now if I did another book I'd have to approach it somewhat differently, obviously it wouldn't be an autobiography it would probably just be a selection of anecdotes or something like that, I still haven't figured that one out, but for now the autobiography was intended to have a narrative flow and I think we broadly achieved that.
As I said I did the audio book and did it over a day, and yeah I couldn't stop listening it flowed so well, it was great!
Bit of trivia for you on your audio book and I didn't realise this until the guy who was the engineer phoned me up and said "I've just finished editing the audio book" and I went "Yeah", and he went "Do you know how long it is?" and you'll never believe this, a pure, pure, pure coincidence it is actually 666 minutes long.
Oustanding!
*laughs* How weird is that!!
OK, so you're a Rock God, an airline pilot and captain, a beer brewer, motivational speaker, film scriptwriter, twice-published novelist and best-selling author, radio presenter, TV actor and international fencer, is there anything left that you want to do that you haven't yet had the chance to do?
I'm trying to finish all of those *laughs*.
Anything you want to add to that list then?
No! *laughs* Isn't that enough? *laughs* The thing is I can do all of them more effectively, or better, or differently so as long as you're learning something about every aspect of all of those things then that's all I'm interested in.
Obviously I love Iron Maiden but I loved learning about the flying and the fencing and the chapter on your cancer was full on, it really was great learning about that side of you rather than just the rock star…
The book was written exactly with that in mind, you know I'm not just a caricature that people sort of see on stage I've done lots of other things, but they tend to be almost some of them like quite geeky in a way *laughs*and but a lot of people like that. So I thought, and the American publishers for example expected some Nikki Sixx 'The Dirt' or something like that and I was like "Are you kidding? I'm about as far away from being that person as you could possibly imagine, so you're not gonna get that kind of a book, you're gonna get this kind of a book" which is there for people and not a book that insults people's intelligence you know?
Musically I have to ask a sneaky question, is there anything in the works you can let us in on?
*laughs* Yes but no but yes but no but no *laughs* the answer is on pain of death I cannot possibly reveal my sources and no… there's lots of stuff, lots of really great stuff going on but the only bit the world knows about is we're doing Rock In Rio on October the 4th.
Next year I'm gathering?
Yeah, unless I'm appearing in an episode of Dr Who.
Well that hasn't happened yet, add that to your list!
OH YEAH! Bucket list, absolutely, yeah yeah yeah, playing a dustbin lid in Star Wars or something like that *laughs* or being a toilet attendant in Dr Who, yeah, absolute bucket list stuff.
Lastly let's look ahead to the future, finish this sentence for me, in 2019 Bruce Dickinson is going to…
Possibly get a new mobile phone.
Possibly?
Yeah, I still have an old Nokia with 'Snake' on it.
Well it is a great game!
Yeah it's a great phone as well but it doesn't bloody work in Australia *laughs*.
BRUCE DICKINSON | WHAT DOES THIS BUTTON DO? TOUR 2018
SYDNEY
Thursday 18th October – Enmore Theatre (All Ages)  
ticketek.com.au
MELBOURNE
Friday 19th October – Palais Theatre (All Ages)  
ticketmaster.com.au
CANBERRA
Sunday 21st October – Llewellyn Hall (All Ages) 
ticketek.com.au
NEWCASTLE
Tuesday 23rd October – Civic Theatre (All Ages) 
ticketek.com.au
BRISBANE
Wednesday 24th October – Eatons Hill Hotel (All Ages)  
oztix.com.au
Essential Information
From: Worksop, Nottinghamshire, England
Website: www.screamforme.com
Latest Release: What Does This Button Do? (Out Now – Harper Collins) PHYSICAL VERSION AVAILABLE HERE
PRINTED VERSION

AUDIO BOOK