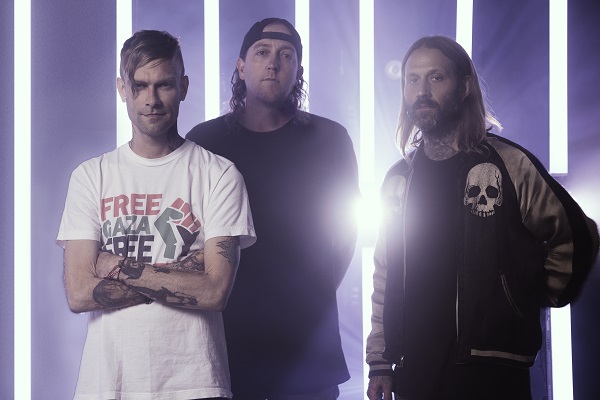 "I think playing the songs is the opportunity to get to hash out the emotion that was originally recorded in the song but it's incredible how the lyrics and the true deeper, feeling, meaning of a song kind of transcends through time if you let it."
From Release: Over the last 15 years The Used have released a collection of albums that have shaped the space of the alternative rock scene. High energy live shows, gut wrenching relatable lyrics, and melodies that blended pop sensibility and hard rock creating the perfect combination to make an everlasting impression on fans globally.
At home in Sydney, Bert gave us a call to talk about The Used's upcoming appearance at the Good Things festival, their live show, their latest album, and much more…
It's been just over four years since we last chatted, so let's catch up, how have the last four years been for you?
Wild, man, the wildest, craziest four years of my life being a dad is insanely fulfilling, had another daughter since I spoke to you last, she's about seven months old now her name's Minerva Bloom, well call her Minnie. The band's been a rock and roll quest continuing to express ourselves artistically like we were born to do *laughs*.
Of course, we're here because you're coming back to see us for the Good Things festival, it's a great line up, tell us what good things people can expect when they come to watch your set?
Well we decided that we're going to play everybody's favourite song, two times instead of just one which we haven't really asked the festival about yet but we'll sort it out when we get there. No, I think this festival is so cool and what a nostalgic festival, come and get soaking wet in nostalgia from your past, it's all things if you're anywhere near my age or two years younger you are such at the ripe age for these records, it's just gonna be such a kick ass time. At a festival like this we like to play a wide assortment of songs from every record just to keep it fun for everybody. When the crowd has the best time, we have the best time. So we celebrate our entire catalogue, I never understood how bands are afraid of their old stuff, it's never really affected me.
And then play them twice!
Yeah, three times if… we'll see *laughs*
It's such a cool line-up of artists on the bill and I always like to ask artists playing festivals what bands they're hoping to catch on the day?  Any take your eye?
Not a cop out answer, I've never really got to watch Offspring and never was a huge fan at the time, I think at that point in the 90's I was kind of consumed with this other world of music I was one of those obnoxious hardcore kids who just thought hardcore was the end all and be all, crisis or strife or something else like that *laughs* and I kind of missed it at that point. So going back and listening to those records and what a cool time in the 90's when punk rock music was still so cool and alternative and thrash and yeah, what a kick ass record too, I can't believe I missed it when I was growing up so that'll be awesome, it'll be really fantastic to watch them do something that, I mean how old is that record? Was it 96? So yeah holy shit…
Your live show has always been a spectacle, what is it about the live aspect of The Used that shines through in a live environment?
I think playing the songs is the opportunity to get to hash out the emotion that was originally recorded in the song but it's incredible how the lyrics and the true deeper, feeling, meaning of a song kind of transcends through time if you let it. What it is right now other than about my mundane existence as a seventeen / eighteen year old in Pleasant Grove, Utah it's about the entire world at this forced need for a more ethical, transparent gaps in equality which is really about that opportunity that humans have to learn from their mistakes and approach things rationally, to get up when they fail and try again. I think The Used has always been a band that's more of a philosophical question than background dance music.
Your latest album 'The Canyon' has been out for just over a year now, how has the cycle been for you since its release?
A lot has happened, it's been quite the year, it's one of my favourite records I've recorded in the history of recorded music. I've seen it impact in a lot of ways, I see it impacting in just the heady, streamlined consciousness of humanity and I see the need for something more real and more tangible and I see the need for a message that's more connected to what people actually understand and not this trite consumerism and materialism that we're bogged down with. At the same time it's been really tough because it's been two years since I lost one of my closest friends, someone I was deeply, deeply in love with and I knew it would be difficult but I guess I wasn't quite ready for how difficult it would be and how incredible that art can have this kind of impact. I had a really cool opportunity to lose myself in the grieving process and I don't think people can get the opportunity to afford when someone dies you must continue on with life, and what I was able to do was put my life on hold for almost a year and reflect on those steps. It's not something I've been able to just get up there and walk through but I'm glad we did it, I'm glad we made it. I've said it before and I'll probably end up saying it until the day I die but it's the only time I've made a record that's not for you, you as in the bigger collective, I didn't make this one for anyone but myself.
You did a number of different things for this album, was it really important for you to write and record this album the way you did?
Yeah we were strongly inspired by our live and acoustic record and back to what I was speaking about that need for something honest and tangible and full of human frailty, I think what's special about rock and roll is that human element and the struggle that makes it the pure artistic… we're bogged down in a world where everything could be computerised and you can hear the difference in recorded music, you take the rawness out of what I sing, tune them up and make them perfect and it's taking out the struggle I feel. So yeah, we make a rock record funnily enough the way I thought rock records were supposed to be made, the way that Pink Floyd and Led Zeppelin recorded music, on tape and from the heart.
So it's sometimes easy to say what's changed in your time in a band but what would you say is the one thing that's stayed the same in your time together in The Used?
The opportunity for a celebration of what's truly important as a human and that's in my mind it's that connection, it's the camaraderie that we share, it's the closest thing we have is this secular spiritualism that you get to be a part of at a rock show, nothing could ever touch that feeling, people get to come together for a common purpose, feel connected and in a sharing way. I don't know if anything could ever change that, that's what art is truly about in my mind.
And your music has always made such a connection with your fans and the people, what do you think it is about the music of The Used that they just attach to so much?
I think it's our exploration of these bigger questions, in your free time maybe when you're drifting off to sleep your mind can wander through the rat race maze of everything from mortality to the odd spaces in between, trust, love, death, destruction, I think that art and art's place in the world is to be constantly in conversation about these important things, so we're constantly reflecting on why is this day important? And what makes my life worth living? I think that people can connect to that, I think that people can really… it's the same reason and wow how conceded is this about to sound, but I think it's the same reason why people read the Iliad and The Odyssey is to see the parts of themselves in there that other people can explain better than they can.
Lastly let's predict the future finish this sentence for me. In 2019 The Used want to…
Put out a new record that changes the course of everyone's life who allows it to. The fragile place in music is the answer is my subtle way at trying to communicate our gratefulness, our feeling of wow, even after twenty years we still can't believe that this is what our lives are and we are so very grateful, blessed, or lucky or whichever way you feel comfortable putting it.
GOOD THINGS FESTIVAL LINE UP:
The Offspring (Performing 'Smash' In Full)
Stone Sour
All Time Low | Dropkick Murphys
Bullet For My Valentine | The Used
BABYMETAL | The Smith Street Band
Dashboard Confessional (Performing songs from 'The Places You Have Come To Fear The Most' + Fan Favourites)
Mayday Parade | La Dispute
Northlane | The Wonder Years
Waterparks | Tonight Alive | Scarlxrd | Emmure
Palaye Royale | Make Them Suffer | Waax
Boston Manor | Void Of Vision | Ecca Vandal
DATES AND VENUES:
Friday 7 December – Flemington Racecourse, Melbourne
Saturday 8 December – Parramatta Park, Sydney
Sunday 9 December – Brisbane Showgrounds, Brisbane
General Public tickets on sale NOW through www.oztix.com.au
All shows are licensed and all ages 15+ (Please see ticket conditions for age restrictions).
Venues and lineup subject to change
For more information head to www.goodthingsfestival.com.au
ALSO APPEARING AT:
Tuesday 11 December – MOLO LIVE @ ANU, CANBERRA (18+)
Essential Information
From: Orem, Utah, USA
Band members: Bert McCracken – lead vocals, piano, Jeph Howard – bass, Dan Whitesides – drums, Joey Bradford – guitar
Website: http://www.theused.net
Latest release: The Canyon (Out now)