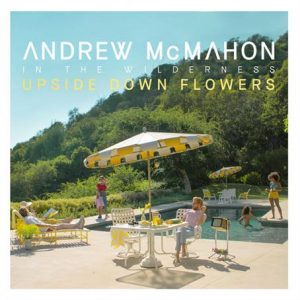 When Andrew McMahon went "into the wilderness" he started a transformative journey that was both introspective and imaginative. That journey comes full circle with the release of his third full length album Upside Down Flowers available worldwide on November 16th, 2018 via Fantasy Records / Caroline Australia and available for pre-order now.
Upside Down Flowers' 11 songs are slice-of-life vignettes animated by McMahon's vivid lyrics and dynamic melodies. The songs and concept are fully realized while retaining a vivid sense of both the natural and unnatural, including Upside Down Flowers' album cover—an iconic '60s-'70s SoCal pool scene with twist (inspired by jet-set photographer Slim Aarons.) "I have so much emotion wrapped up in this album," states McMahon, "Upside Down Flowers is a version of real and surreal Southern California that surrounds me physically and emotionally."
Upside Down Flowers first single "Ohio," which reached Top 40 at Alternative radio and the poignant, autobiographical track "Teenage Rockstars" are available for immediate download when pre-ordering the album,HERE.  The official music video for "Teenage Rockstars" features personal footage from McMahon's time performing and touring with Something Corporate, Jack's Mannequin and AMITW. Watch "Teenage Rockstars"  HERE.
Upside Down Flowers was produced by Butch Walker (Pink, Weezer, Panic! At The Disco) who also plays drums, bass and guitar on the album.  In addition, the album features guest keyboardist Roger Joseph Manning, Jr. (Beck), and strings arranged by Emmy-winning, Tony & Grammy nominated composer Rob Mathes and recorded at Abbey Road Studios.
"It was just this breath of fresh air to go 'Here's a bunch of songs I wrote on my piano," stated McMahon. Here's this great producer. And the two of us are gonna play everything and sing everything.' We would get into the weeds on the songs, yet the process was this really fast, kind of beautiful thing."
"The thing I tell people often is that when you write great songs, you can record them in any style or production aesthetic and it will still be a great song," said Walker. "This is Andrew with his songwriting craft. I'm glad to call him a friend and proud of the music we made together."
Upside Down Flowers is the follow up to 2017's Zombies on Broadway which featured Top 5 alternative singles "Fire Escape" and "So Close" and the subsequent Zombies in America Tour, their sold-out headlining jaunt across the U.S.  Earlier this year, AMITW thrilled fans and critics alike with the intimate setting of the Pen and Piano tour.  McMahon recently returned from a string of dates in the U.K., Japan and Australia.
Also check out: Ohio (Lyric Video)
Raised on the East Coast and in the Midwest, McMahon began writing songs at age nine, drawing inspiration from singer/songwriter/pianists such as Elton John and Billy Joel. While still in high school, McMahon co-founded an early incarnation of pop-punk band Something Corporate, whose 2002 major-label debut hit No. 1 on Billboard's Top Heat Seekers Chart. In 2004, he formed Jack's Mannequin and then-on the cusp of releasing the band's 2005 debut-was diagnosed with leukemia at age 22. Eventually fully recovering, McMahon went on to release two more studio albums with Jack's Mannequin, in addition to composing songs for the NBC series Smash (an endeavour that earned him an Emmy Award nomination in 2013) and established The Dear Jack Foundation one of the first Adolescent and Young Adult (AYA) specific cancer foundations which advocates for and supports initiatives that benefit AYAs diagnosed with cancer.  In 2014, he released Andrew McMahon in the Wilderness which featured the gold certified single "Cecilia and the Satellite". His television appearances include Today Show, Conan, Jimmy Kimmel Live.  McMahon lives in Los Angeles with his wife of 10 years Kelly and their daughter Cecilia, for whom the hit song was penned. http://www.dearjackfoundation.org/