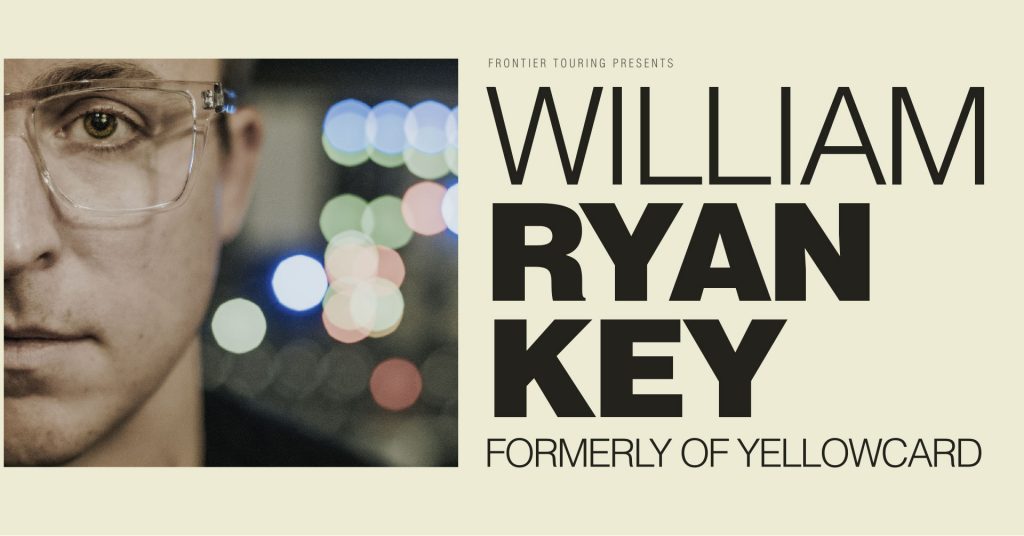 Last time William then known as Ryan Key was in Australia was on the Yellowcard farewell tour in 2017, now he's back and after stepping away from his band he's here to show us what he can do as a solo artist.
Alex Moses opened the night, you may or may not know him from his band Columbus. He's up there solo and with only a few murmurs coming from the crowd early on he's keeping everyone's attention and his raw delivery and raspy vocals really give these songs heart.
As Coldplay's 'Yellow' plays in between sets I'm really hoping maybe 'Ace of Spades' is next or maybe 'Two of Hearts' but we'll see if they're being clever and having fun or not. Well it was neither so nuts to that.
"Good evening friends" followed by a lovely welcome "you guys knew me as the dude that used to sing in Yellowcard and you can still call me Ryan", these being his first solo shows as a headliner he sets the scene and is ready to take us on a different journey and here we go on it with him. Starting with one of his solo tracks, 'Vultures' instantly it's just perfect hearing him sing with simply an acoustic guitar and as the song progresses Josh on the second guitar joins and truly takes it to another level atmospherically. Stepping away from a pop punk band and delivering a song like this and those to follow is a big move and WRK has it down. Straight into Yellowcard and 'Rough Landing, Holly' follows and picks up the tempo slightly but his vocals are flawless and as he hits the big notes you can truly feel these songs. It's a talent. The crowd quietly start to sing along as 'Hang You Up' kicks in, even with a lyric malfunction there's not even a speed bump here. Once again just these two guitars make these songs their own. There's a completely different dynamic when they're played this way.
Time for some newer tracks starting with 'Form and Figure' after a great introduction the silence of the crowd is truly respectful as they let WRK showcase his new music. I dig that. You can tell he truly loves what he's doing now. Giving us an even newer track only just released called 'The Bowery' that I haven't heard yet I'm ready to be impressed and I am as the tone on this one is superb and once again just the atmosphere this and these songs give off is truly something. 'Thirty Days' follows to a big reaction, and now it's time to 'reward' us with a couple of Yellowcard songs. As he talks about re-imagining these songs he takes us into 'Only One' that of course has everyone singing along and hearing this song played this way gives it a beautiful feel and the passion of how I feel it was written as striped back it's truly something as is 'California' which is just so peaceful for lack of a better word. Wow. That was just perfect.
Playing a brand new song and telling us to listen to Hammock and how this song 'Downtown (Up North)' came about and with a string backing track this song is actually in my opinion the best of the night so far. Can't wait to hear it again when 'Virtues' is released. Back to the Yellowcard catalogue with 'Empty Apartment', this great reworking has the crowd singing it back you know how much songs like this mean to them and I'll put money on the same reaction for WRK's solo material in the future. 'Keeper' continues the old and then we head back to the new from the 'Thirteen' EP starting with 'Great Unknown' which is probably my favourite on the EP so I'm glad he played it tonight. 'Old friends' follows and the place is silent. That's respect.
With a couple more to go and the first one that he never played with Yellowcard 'Fields and Fences' which was a new one to me but for a die-hard fan a deep cut like this would've been like gold! Then to close the show it was followed by 'Ocean Avenue' a song you know that the majority of the room was the introduction to William and Yellowcard. The crowd singing this back was exactly as you'd expect, and special mention to those doing the 'oh oh oh oh's' late in the song. With no encore the show is done and William Ryan Key has played his second headline set ever.
Tonight William Ryan Key showed us his vulnerability, but what that did was allowed him to step away from what he knew for almost twenty years to showcase his true talent as an artist and songwriter. I can't wait to see what he does next and will always remember being here to see him at this new beginning.
Essential Information
Venue: Oxford Art Factory – Sydney
Date: September 26, 2018
Presented by: Frontier Touring
Website: http://www.williamryankey.com
Set List:|
Vultures
Rough Landing, Holly
Hang You Up
Form and figure
The Bowery
Thirty Days
Only One
California
Downtown (Up North)
Empty Apartment
Keeper
Great Unknown
Old Friends
Fields and Fences
Ocean Avenue