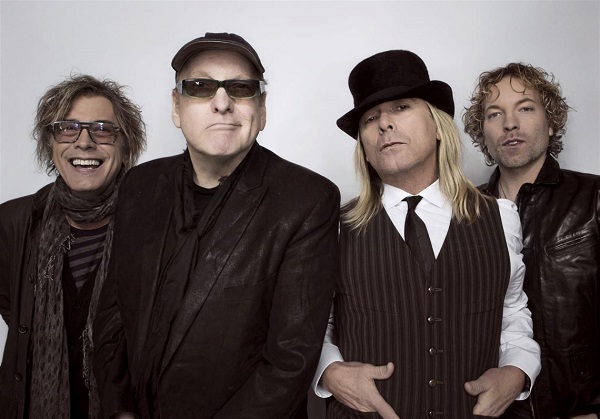 "…we aren't the kind of band that can figure out what people really want to hear, like it's just the luck of the draw and doing something that we would like to hear and that's all we can do."
From Release: Since exploding onto the music scene in the mid-1970's, they've been blending elements of pop, punk and even metal to create soundscapes that are immediately recognisable. Consistent touring over the past five decades – notching up more than 5,000 shows, appearances on 29 movie soundtracks plus 40 gold and platinum recording awards has seen them become one of the top and most prolific rock bands of all time.  Fronted by the dynamic Robin Zander, and comprising founding bassist Tom Petersson, famed for his 12-string bass, with Rick Nielsen on guitar and his son Daxx Nielsen on drums, Cheap Trick are a vibrant on-stage force like no other.
In Cleveland, Ohio, Tom Petersson of Cheap Trick gave us a call to talk about the band's return to Australia, creating music over four decades, being an influence, and a great story about one of their biggest songs.
You're heading back to Australia this October, tell us what can people expect if they come out to a Cheap Trick show?
Well I don't know what they expect because we don't know what to expect, we change our sets up all the time with all sorts of different stuff, we've got now twenty studio albums. It's just really kind of random, we just choose things as we feel like it and it drives our crew crazy as we should tell them a little ahead of time what we're gonna do but we really just change it up all the time and we show up and an hour before the show we'll write a set list.
Being to Australia a number of times, do you have a stand out memory of a previous trip here?
Of course the first time was still interesting, I love it in Australia, I don't even know how many times we've been there it's been many times and we'd like to be down there more than we are actually. We love the whole culture vibe.
'We're All Alright' was released about a year ago, looking back to your first record is there anything you still use or that you've done when making albums that you still use to this day?
Close, probably Rick may use a couple of the same guitars he had back then, I use a lot of the same,  not exactly the same ones I had but close, Gibson Thunderbird's, the twelve strings, I didn't have a twelve string bass at first, the only bass I owned at the time when we first started was a 1964 Gibson Thunderbird so really those are my favourite things.
In terms of song writing, what for you has been the biggest challenge in writing music over four decades?
I don't know if it's challenge but the biggest challenge is that we all come in with a lot of ideas and a lot of things, really the biggest challenge is sorting it out and figuring out what actually is worth perusing and it changes so much. We've got for example on our first album we recorded 'I Want You To Want Me' and it didn't even make the record, so who's to say what we do with that sort of thing, we keep writing and working out ideas constantly and it's been forty years of that, so there's a lot of back catalogue and a lot of things we go back through and go wow, I had this track or this one thing or this bridge in this one track it was great, we'll play stuff for each other and if it strikes somebody else as a fan they'll say let's work on that I've got an idea for that, that's really how it works. It doesn't necessarily mean that things are rejected or bad ideas it just didn't happen to strike somebody at the time, who knows? Then we go back and we go wow, why didn't we do this *laughs* and a lot of the time it's our producer that will look into the stuff we've done before and go what the hell why didn't you record that? Or what's this thing? And we're like oh I don't know, that was like twenty years ago that idea. He'll say oh my god that's great and we'll expand upon that. So we just keep kind of stock piling ideas and it's nice because you're always in a creative mode, when you're riding around in a car or whatever you're doing, you're on a plane and think oh that would be a good idea, or a great chord change we've always got a recorder so that's a big thing for us.
Cheap Trick have been cited as influences of many, many bands over the years, has there been one that's stood out as someone you wouldn't have pinned as a fan?
Well *laughs* we hear that occasionally and it always strikes us as funny because we don't really hear it, I'll hear somebody say 'wow you're one of our biggest influences' and then I'll listen to them and say wow, this sounds like The Kinks *laughs*. So nobody really, it's just so off the wall that it just doesn't make sense so none I can think of. The funny thing is that people will come up to you and say 'Oh you're one of my all-time favourites' and they'll say 'I love you guys' and then they'll add somebody else in that we can't stand *laughs* and it's like 'oh…' and it completely ruins it *laughs* let's just well enough alone don't throw in a bunch of others. Oh I see you like us and ewww…. *laughs*. We're the same, people are kind of snobbish and whatever about the music they like and I think in general if you don't like something that it's shit, it just means you don't like it, it doesn't mean it's no good, it's good for somebody, there's certainly no accounting for taste *laughs* so I don't know what the heck is in people's heads sometimes. If you hear something and you like it then you can't help it then you find out that you love the song and you find out it's Justin Bieber and you're like oh my god I can't believe I just said I love that song, now I have to hate it.
So it's sometimes easy to say what's changed in your time in a band but what would you say is the one thing that's stayed the same in your time together in Cheap Trick?
Just the way we approach recording, we really just record things that we think that sound good to us, we never were good about trying to figure out what people want to hear or what's happening or influenced by things that are happening or whatever it might be or we'll hear something and think oh I wish I thought of that, but we aren't the kind of band that can figure out what people really want to hear, like it's just the luck of the draw and doing something that we would like to hear and that's all we can do.
As a band for well over forty years, what is it about being in Cheap Trick that you still enjoy?
You know we're so used to doing this that it's like second nature, I don't know. I think we'd be kind of lost if we weren't doing it put it that way.
Is there one song out of the entire Cheap Trick catalogue that you feel epitomizes the band?
No. I think we are pretty diverse in the kind of material we do, we'll do a straight out pop thing, kind of like 'I Want You To Want Me' which was written, well a lot of the things we do is tongue in cheek but sort of a dig at an ultra pop song. A really poppy pop song, like let's just do one that's is really over the top pop. Then on the other hand we like heavy music and the hard edged so the actual live version and the way we did it originally it was like The Yardbirds doing a pop song. We recorded in another way, we recorded it for our second album and it was not a hit, the studio version, our producer decided that would be a great radio hit but it was way too heavy, we had to make it more radio friendly and said I know what people want to hear and yadda yadda, so that version of 'I Want You To Want Me' was a joke, it was terrible, it was not the way we sounded and it was as bad as we could get and it turned out that was not a hit, what became a hit was the live heavy version. On the other hand the one we did on the second album the reason we did a live album is that fans in Japan, that version we did was a big hit in japan so we did it live and prior to that we weren't even playing it in our set anymore in The US or anywhere else *laughs* but we were going to Japan on our first tour and it wasn't in our show and the promoter goes "what the hell, what's going on, where's I want You To Want Me, it's a big hit" and we go really, alright we'll put it in and we did it the way we normally do it and it became a hit, so I guess in a backwards way the studio version worked out for us, we thought back it was totally the wrong approach and it wasn't a hit anywhere except in Japan so there you are. So in other words what the hell do we know?
Lastly let's look ahead to the future, finish this sentence for me, by the end of 2018 Cheap Trick will…
Will still be working.
CHEAP TRICK | 2018 TOUR DATES
Presented by Chugg Entertainment 
MELBOURNE
Monday 15th October – Palais Theatre (All Ages)
ticketmaster.com.au
SYDNEY
Wednesday 17th October – Enmore Theatre (All Ages)
ticketek.com.au
BRISBANE
Thursday 18th October – The Tivoli (18+) 
ticketmaster.com.au
Also appearing at Botanic Park Adelaide, Sunday 14th October, with Foreigner 
Essential Information
From: Rockford, Illinois, USA
Band members: Robin Zander – lead vocals, rhythm guitar, Rick Nielsen – lead guitar, keyboards, backing vocals, Tom Petersson – bass, backing vocals, Daxx Nielsen – drums
Website: http://www.cheaptrick.com
Latest Release: We're All Alright (Out Now)