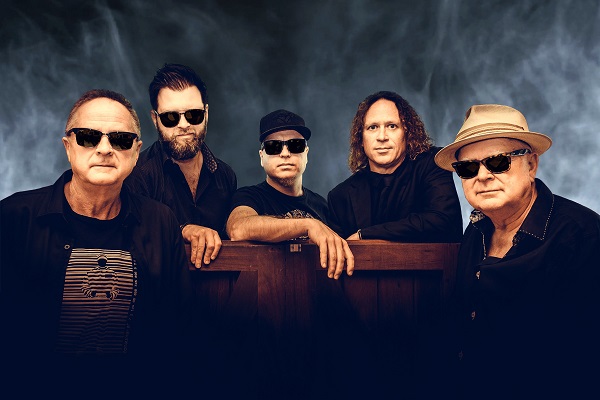 "Well we used to say to our mother when she asked how long can you keep doing this? We always just said five years we reckon and then we'll do something else, forty years later *laughs* what else are we gonna do?"
From Release: It has been a huge start to 2018 for The Angels. They kicked off the year with a series of sell-out shows on the coveted Red Hot Summer Tour, and are currently in the middle of a highly anticipated national tour to celebrate the 40th anniversary of their seminal album Face To Face. Now, by popular demand, The Angels are announcing the Face II Face tour – a second run of dates in the latter half of the year. To mark these tours, they have completely re-recorded a 2018 version of the album, both studio and live, including an extended version of Take A Long Line.
At home in Tassie, we gave Rick Brewster a call to talk about The Angels hitting the road again celebrating the 40th anniversary of 'Face To Face', re-recording the album, the album connecting the way it did, the future, and so much more….
You're out on the road again in support of the 40th anniversary of 'Face to Face', how have these shows been shaping up so far and are you changing it up a little for the second run?
No not really, I mean it remains to be seen we may do some different songs in the second set but the whole thing is about playing the 'Face To Face' album is that takes up the whole first set, then we take a break and come back on with some more.
You've also released a re-recorded version of it, what was it like going back into the studio and putting these tracks down again?
Fantastic, in the studio it took us two days to do the whole album, it was a bit different from forty years ago when we originally did it, we took the best part of a year but this time there were no arguments, we had all the arguments forty years ago.
Were there any tricks you used first time around that you used once again when recording it forty years later?
Not really, no, we just really we just played it in the studio the same way we play it live and obviously over forty years there are going to be a few changes that happen naturally just as songs evolve, you play something one night that's a bit different from the original and everyone says that sounds good let's keep it in and there are a few of those little changes, 'Take A Long Line' we extended the middle section and repeated the solo at the end, that's probably the most obvious change.
What do you think it is about that album that just connected with people and became so big for the band?
A lot of thing, I mean John and I have said for years it's all about the songs, it's not the band, the line-up, really it's the songs that's what people go away with and play in their homes or their backyard barbeques and whatever, and they're the things that have stood the test of time, we just happen to be the guys that are still out there playing them.
Especially when you have a song like 'Am I Ever Gonna See Your Face Again', it's become almost like an Aussie anthem…
Yeah, we have to play that song these days or they'll kill us *laughs*
Obviously Dave has been in the band for a long time now, what did he bring to the recording of the album, was it fun making this album with him?
Yeah it's great, we've done a couple of studio albums with Dave over the last five years which have been great fun, he's gotten right in there and involved with lyric writing as well, but doing the 'Face To Face' album it was so easy I mean he did his vocals I think in two hours the whole album, just bang, bang, bang and thanks very much gotta go, see ya! *laughs*
It seems like you're busier now more than ever, how is it being in The Angels in 2018?
I'm loving it, it's as good or better than it ever was. It's like not we're married to it, we don't play seven night a week like we used to, we don't go on tour for two months and mot see our families, it's a good life we go out on usually a Friday and Saturday night, come home and get into what we do there. I'm building my first guitar at the moment, and as far as playing goes it's just like it always was, playing those songs we never get sick of it.
Tell us more about the guitar, is this for you or for a series?
No its for me, yeah something I've always wanted to do but this this year I decided I would actually tackle it, I've had some really good help from a couple of guitar builders who just tell me where I'm going wrong, where I'm going right, what I should do. YouTube these days is fantastic for anyone who wants to do anything, you can just look it up on a tutorial and so I've studied those but I'm building a guitar I want to play on stage. I'd be amazed if it's not happened by the next tour, I'm about three quarters of the way through building it, all the wood work is done, just gotta do the lacquering now and assemble it.
Your book has been out now a year, how has everything been since its release?
Oh good, it got a really good response I think Bob Yates did a fantastic good job writing it, he's been a friend since the late 70's we came across him he was managing Mi-Sex at the time and so he was around for a lot of the early days and he's kept in touch over the years, he was the ideal person to write that book. It's interesting there's stuff in it I didn't know, Bob's researched it, he's got in touch with old roadies, people in record companies, agents and promoters and got their stories which are always completely different from the band stories.
Over the years it's easy to say what's changed but what would you say is the one thing that's stayed the same about The Angels after all this time?
I still stand still *laughs* I still hide behind my dark glasses *laughs*.
Did you ever think after forty four years you'd still be out there rockin'?
Well we used to say to our mother when she asked how long can you keep doing this? We always just said five years we reckon and then we'll do something else, forty years later *laughs* what else are we gonna do?
What's in the pipeline for the band?
Well we've got Red Hot Summer tour early next year, next February with a line-up of six or seven acts, they're really good days. We're doing pretty much the same line-up that we did early this year but going to different places with Suzi Quatro and Baby Animals and Screaming Jets which is interesting to see Dave in Screaming Jets then he puts on the shirt and tie to play with us *laughs*. We've just done a show in Adelaide with the Adelaide symphony orchestra and a forty piece choir which was an amazing show, we filmed it and recorded it and we're really hoping to do that again somewhere else next year, and we're looking at doing the same thing with the 'No Exit' album which is the one after 'Face To Face' and it was released forty years ago next year. So we may do the same thing.
Lastly let's look ahead to the future, finish this sentence for me by the end of 2018 The Angels want to?
The Angels will be ready for a Christmas break before we start, this is hard, I need to think about this, The Angels will take a break, recollect our thoughts and get ready for recording both a new album and the 'No Exit' album. Actually we're half way through recording a new album and we're hoping to release that next year as well. It's a gradual process these days we just chip away at it in our own time and when we're all in one place we get in a studio and do some recording. It's going to be a big year for us next year.
Don't miss The Angels Face II Face 40 Years On – Take A Long Line – Recharged in 2018.
Tickets are on sale now.
Friday 5th October 2018 Aussie World, PALMVIEW QLD www.aussieworld.com.au
Saturday 6th October 2018 Beach House Hotel, HERVEY BAY QLD www.beachhousehotel.com.au
Friday 12th October 2018 Gosnells Hotel, PERTH WA www.gosnellshotel.com.au
Friday 19th October 2018 Calamvale Hotel, CALAMVALE QLD www.thecalamvalehotel.com.au
Saturday 20th October 2018 Alexandra Hills Hotel, ALEXANDRA HILLS QLD www.alexandrahillshotel.com.au
Friday 26th October 2018 Commercial Hotel, SOUTH MORANG VIC www.commercialsouthmorang.com.au
Saturday 27th October 2018 Macs Hotel, MELTON VIC www.macshotel.com.au
Friday 2nd November 2018 RSL Southport, SOUTHPORT QLD www.rslclubsouthport.com.au
Saturday 3rd November 2018 Norths Leagues, KALLANGUR QLD www.northsleagues.com.au
Friday 9th November 2018 Dee Why RSL, DEE WHY NSW www.deewhyrsl.com.au
Saturday 10th November 2018 Wenty Leagues, WENTWORTHVILLE NSW www.wentyleagues.com.au
Friday 16th November 2018 The Gov, HINDMARSH SA www.thegov.com.au
Saturday 17th November 2018 The Gov, HINDMARSH SA www.thegov.com.au
Friday 23rd November 2018 Country Club Hotel, SHOAL BAY NSW www.shoalbaycountryclub.com.au
Saturday 24th November 2018 Doyalson RSL, DOYALSON NSW www.doylo.com.au
Essential Information
From: Australia
Band members: Rick Brewster – lead guitar, vocals, John Brewster – rhythm guitar, vocals, Dave Gleeson – lead vocals, Nick Norton – drums, vocals, Sam Brewster – bass
Website:  http://www.theangels.com.au
Latest Release: Face To Face Recharged (Out Now)