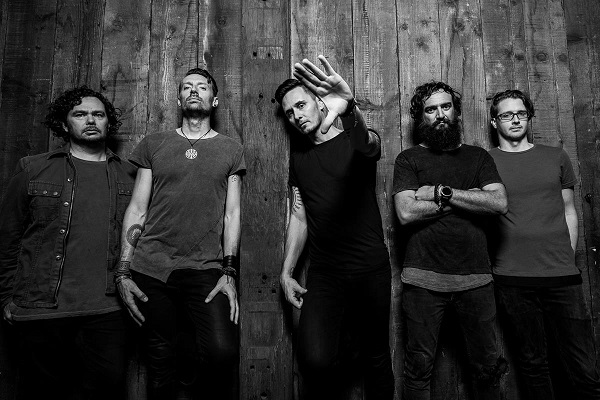 "…we have cracked the code on how to really interact with each other and the complete dissolving of any individual egos within the band…"
From Release: One of Australia's most loved bands Dead Letter Circus have released their brand new single 'The Real You' into the world today. To coincide with the release, the band has also shared eagerly awaited details on their forthcoming self-titled album. Dead Letter Circus was recorded over a six week period at Studio Circuit on the Gold Coast and will be released worldwide via BMG on September 21.
While at DLC HQ we gave Kim a call to talk about the band's new album, its creation, its inspiration, touring, and much more…
I'm always intrigued when into a career a band releases a self-titled, why was now the time for this?
Well there's a couple of reasons like the main one was how the idea was born I guess, all the themes I'm singing about on this album is kind of a return to where I started with the first EP, more fix yourself, positive mental health issues where we sort of for a couple of albums there we sort of drifted off into a sort of revolution mode I think slightly political or just trying to basically awaken the mass consciousness and that kind of thing. This one we sort of returned to our roots, well not even roots but the themes I was singing about when I started which was pretty much my own interactions with people and my own interaction with myself. Then the secondary reason was we had this realisation when we were doing the album about how amazing the moment is that we do and for some bands we hear stories where albums are really hard to do and we are amazingly proficient as a group at writing an album, like we have cracked the code on how to really interact with each other and the complete dissolving of any individual egos within the band to the point where we'd just come together and had the most amazing six weeks to two months of our life and write these awesome tunes *laughs* which is a bit of a testament to the brotherhood in the band I guess as well.
So as it is your fourth album, can you give us four words that you feel sum up the album perfectly?
Ooh… This is the shit! *laughs* Can I have an exclamation mark in that?
Of course! It really is such a cohesive album though, it's so good.
Yeah thanks, I hadn't listened for ages and I did a road trip on Friday and because we did it really quick and over the years one of the things I've noticed about myself and I'm pretty sure everyone in the band does it, when you record a song you celebrate it a bit too much and you listen to it way too many times and you become desensitized to the magic of it because you listen too much. So with this one because we conceived it and wrote it in such a short period of time and then we've had it for nearly the whole year, we finished it at the start of this year I've really only listened to it maybe five times since then, and I put it on this road trip and I had that moment of going "fuck this is really awesome, I really love it."
In the three years since your last album, was there anything that inspired what has become your new album?
Not really, nah, to warn you we're pretty much modern day hippies, we're not bongo drum hippies but we're quite spiritual cats and then I feel like we just channel this music so there's not much though it just kind of falls out of us I guess. If anything I think doing an acoustic album made this one a little heavier because I started writing the ideas for this one in the evenings while I was doing the harmonies for the re imagined album we did, so I'd basically had a gutful of violins and pianos and stuff and was like oh my god we need to be heavy *laughs* and we need to do something heavy and I feel like if anything that's the only thing that affected it, but we don't really think about the past unless we feel like we're ripping ourselves off so we try not to, I mean we could've written 'The Mile' like fifty times I guess if we were not conscious of not repeating ourselves too much.
After doing 'The Endless Mile' did that help in the creativity space for writing these new songs?
Yeah well we'd spend the day doing all that epic mellow stuff which is really fun and I really enjoyed doing it and then in the evening I was sleeping at the studio on my own in this big spooky scary studio and my evening relaxation was to write some heavy stuff.
What if anything did you do differently this time around compared to previous releases?
I'd say the actual process between the last two was really similar in that I create the seed of the idea, I had sort of twenty six to thirty ideas that I brought to the guys and they're pretty simplistic things so they might be just a beat or a synth riff or piano or something like that and I spend a couple of days on my own with them exploring the vocal possibilities of the story, just at the story level if that makes sense. So by the time I bring it to the guys I kinda have five to nine vocal parts already, but I don't really them to them all at once I say I'm pretty sure this is the start let's start here and then we just jam for five hours or three days whatever it takes per song and I kind of as we write a cool bit as the band I say I've got a vocal that's gonna fit over this because I've already got a stockpile of ideas that I've done pre. We cracked the code on the last album of how to do it, before that I'd say we just still harder to write in the past  where it was an over analytical experience whereas the last one we just reached a point with the gravy between us I guess where we all trust each other to do our bits and have no ego about it, so if someone happened to sing a vocal part and I loved it I would sing it and if a guitarist makes up a bass riff or a beat it's seamless and everyone adopts it as if it's their own.
You're also heading out on a headlining tour, what are people in for it they head out to one of these shows?
Look we're gonna play a lot of the new album on this tour, in the past I feel like just because how much people love our songs we've had for years, I mean people fucking love those songs *laughs* we generally tentatively play new songs, but we're gonna play a lot of the new album on this tour.
In playing shows for years and always killing it live, what do you enjoy most about the live aspect of the band?
Oh god, the actual energy that's coming back to us from the people at the gigs is there's no way to put it into words what it's like. There's something about these songs that I feel so privileged that we're the ones that actually accidentally write them *laughs* but just seeing the connection and how much people like them and the singalongs at our shows are fucking phenomenal, it's amazing, it's probably my favourite part. Then getting to meet people, if we go and meet people at the merch stand afterwards some of the stories about how the music integrates into people's lives I find really amazing, like Dead Letter being an uplifting spiritual band I guess you get a lot of people that say this music helped them get through a  really hard time in their life and some of those stories and there's maybe ten a tour or something they put goose bumps down your arms and you go fuck *laughs* no idea writing that tune that day that it would help someone in that desperate moment and help provide a bit of clarity and hope. That's pretty much my favourite part of being in the band I guess. I'm definitely emotionally paid at that point way, way above what I expected.
So it's sometimes easy to say what's changed in your time in a band but what would you say is the one thing that's stayed the same in your time together in Dead Letter Circus?
Good question, I'd say the actual fanbase of people, like we kind of remained at a point where it reached its mass consciousness point I guess where as much as a band like us going to resonate with people, like it's not for everyone, it's a bit nichey you know, I feel like the enthusiasm that comes back to us from the crowd has been there from pretty much the first shows where people knew the songs, like the first EP tour that we did where people could sing back, I feel like that's a definite constant.
In being a part of this band now for thirteen years what's on your bucket list of things to do as a band that you haven't yet had the chance to do?
Well, I'd like to play at Red Rocks in America as far as a gig, I really love obscure travel places so my favourite gig we've ever done is actually India and I love being as far removed from home as possible and have people look up to your music, it is a fucking buzz. So I'd like to play some amazing really out of the way places, like I'd like to go to South America for example.
Lastly, let's predict the future finish this sentence for me. In 2019 Dead Letter Circus will…
Be playing a headline tour of America and playing at Red Rocks.
DEAD LETTER CIRCUS ALBUM TOUR
For full ticket details see www.deadlettercircus.com
November 29  – Bunbury Tavern, Bunbury WA
November 30  – Settlers Tavern, Margaret River WA
December 1 – Amplifier Capitol, Perth WA
December 6  – Coolangatta Hotel, Coolangatta NSW
December 7 – Sol Bar, Maroochydore QLD
December 8  – The Valley Drive In, Brisbane QLD
December 13 – Cambridge Hotel, Newcastle NSW
December 14  – The Metro, Sydney NSW
December 15  – Uni Bar, Wollongong NSW
December 16 – ANU, Canberra ACT
December 19 – Taphouse, Bendigo VIC
December 20  – Barwon Club Hotel, South Geelong VIC
December 21  – 170 Russell Street, Melbourne VIC
December 22 – Governor Hindmarsh Hotel, Adelaide SA
Essential Information
From: Brisbane, Australia
Band members: Kim Benzie – Vocals, Clint Vincent – Guitar, Stewart Hill – Bass, Luke Williams – Drums, Luke Palmer – guitar
Website: http://www.deadlettercircus.com
Latest release: Dead Letter Circus (Out Now – BMG)