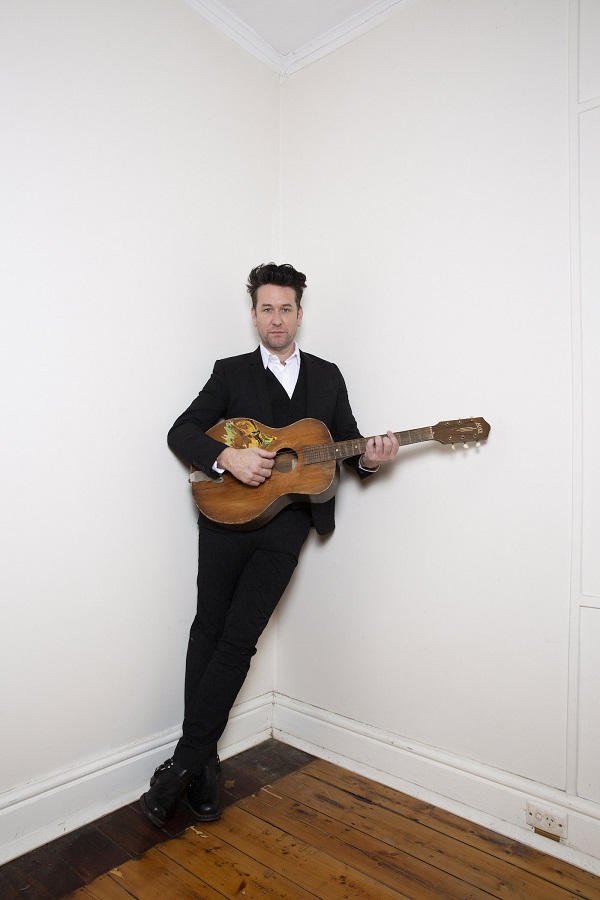 "I'd done a lot of collaborations with a lot of people, I'd done side projects and lots of things but I'd never sat down by myself in a room with an acoustic guitar and just written a record for myself."
From Release: Best known as the frontman of the Australian rock n roll luminaires, Eskimo Joe, acclaimed songwriter Kav Temperley is stepping out solo.  The first taste of his upcoming album dropped today in the form of new single, Pollyanna – an ominous reflection on the relativity of happiness – the single will be received instantly with all digital album pre-orders.  Pollyanna precedes Kav Temperley's highly anticipated debut solo album All Your Devotion, a collection of ruminating, thoughtful, and effecting songs from one of this country's greatest talents, set for release digitally and on vinyl on September 28.
In Fremantle, Kav gave us a call to talk about his debut solo album, his upcoming tour, what's happening with Eskimo Joe, and more…
It's been five years since we chatted, a lot has gone on in that time, so let's catch up. How have the last five years been for you?
Well, that's quite a large question, you know life in general it's filled with highs and lows and I guess the positive is that you end up at a place like this which is you and I talking about creation of new music and the rest of it, so we haven't done a lot of Eskies stuff in the last five years but I have managed to work towards getting this solo release out and it's always a lot more work than you think it is.
We have 'All Your Devotion' coming at the end of September, why was now the right time for a solo album?
Well I guess any time is the right time for a solo record *laughs* but really what happened was towards the end of 2013 we had all decided in Eskies that we were going to kind of step out of that cycle of two years write a record, rehearse and record a record, tour a record and we'd been doing that for a long time and we decided to step out of that cycle and one of my main things I'd never really done before. I'd done a lot of collaborations with a lot of people, I'd done side projects and lots of things but I'd never sat down by myself in a room with an acoustic guitar and just written a record for myself. When you do a solo record you can do all of your favourite things *laughs* you don't have to compromise at all in all of that kind of stuff, so that's why if there's ever an appropriate time for a solo record but that's what led us up to here. Everything was ready to go in about March and I pretty much have been working on it since about 2015 so it just goes to show you how long and how much work goes into every record.
What were you able to do with this album that you feel you weren't able to do with Eskimo Joe?
I guess it's all about collaboration, in Eskimo Joe which I love we're really lucky because we all get a long really well as friends and the rest of it, but I'll bring in a song to the band, we workshop that song and we end up with an Eskimo Joe record. I guess with doing it by yourself you just really get to look at the ideas and the sounds and all those kind of things that you loved, and that's a process. Making a record of any kind is not about having more options it's about creating less options and I guess what I mean by that is aesthetically I've ended up at this place that I always wanted to do which is this gentle, beautiful sound of that early 70's singer songwriters like your Neil Young 'Harvest' and Van Morrison's 'Moon Dance' and all those sorts of things, they're sounds that I've always loved and I kind have injected a little bit into Eskimo Joe then again Eskimo Joe is the sum of its parts you know, we make a record it sounds like an Eskimo Joe record, so I guess it was a really great chance to explore these musical loves that I have and end up at a place. I still wanted to make a modern sounding record but I wanted to make a record that sounded the tit for tat to that era, the beautiful soft sounding drums and acoustic guitars.
It's a different sounding album for you, did you go into it with an idea of how you wanted it to sound or did this evolve as you started writing and creating?
Absolutely, whenever you sit down to do a project all the people who are around you like your managers and the record company are like so what kind of record are you going to make and I'm usually like I don't know man, I just go into a room and start writing and hey presto songs come out. So, I had to kind of almost write the Eskimo Joe songs out of my system, I started writing songs and I've been writing songs for Eskies for a better part of my life, more than I haven't, so as I sat down to write these songs it just sounded like watered down Eskimo Joe, but what happened for me is obviously I had those sonic benchmarks, like the early 70's singer songwriter but I also met the love of my life in that period and it kind of allowed me for the first time because I wasn't having to represent two other guys in my lyrics and anything it allowed me to write really personal, upbeat love songs *laughs* you know, which I haven't done since our first Eskimo Joe record, we spent a lot of the time from 'A Song Is A City' onwards writing these kind of dark brooding tunes which was great because I could feel the potency in them as soon as I started writing them, but that can become quite insipid if you're just sitting there looking for really dark subject matter so you can write your dark song. So it was really refreshing to step out of that, it was a real benchmark moment, there was a song that is the opening track on the record called 'Queen of my Heart' and as soon as that song came along I really knew what kind of record I was making.
You're also heading out on a solo tour, have you got an idea on how these shows will shape up yet?
Well it's hard because my aesthetics are I love acoustic guitar and piano and stuff but I always write from also like a grove bass being a bass player by trade so I was kind of wondering how it was all going to work but  to tell you truth I really like the idea of, the whole thing is this isn't an Eskimo Joe record I'm really going out and winning fans over from day one again, some people might come over and listen to it but I really feel like I'm out there getting brand new fans again. So I really wanted people to come along and feel it's this embryonic thing so I love the idea of just sitting there with an acoustic guitar and playing the songs in their raw format, so people that come to these shows can be like when the whole thing evolves and there's a big band behind me playing these songs I'd love people to come along and be like oh yeah I went to these shows where it was just him and an acoustic guitar and it was really cool and I heard the stories behind these songs. So I really want people to feel like they've kind of got a fly on the wall experience from it all.
Will there be any Eskimo Joe songs in the set or purely focused on the solo material?
No I'll definitely play some Eskimo Joe stuff, it's probably be a little bit re imagined and more in the style of the record I've written but absolutely I'll play some Eskies classics as well.
Will it be weird for you up there without Joel and Stuart?
Yeah it's gonna be pretty scary *laughs* you kind of rely on your band mates so much, and also we have such great chemistry as people which is why it worked as a band straight away, as soon as we got on stage to start writing songs it just worked as far as a bunch of people on stage. So I'll really kind of miss that but there is something quite good about the evolution of having to just stand up there by yourself and make it work and not rely on your brothers.
Solo albums sometimes freak fans out, but can I just check in and to appease people, Eskimo Joe still of course still a thing, right?
Yeah, absolutely.
Good, so any word on what's happening in the Eskimo Joe camp as it's been a long time between albums for the band?
We haven't sat down to write anything yet but as soon as I've finished this tour I'll start writing some songs again, there might be another Kav solo album or it might be an Eskies album, who knows? We do have some recordings in the bag of our symphony orchestra shows that we played throughout the year so we recorded them and we'll put that out as a record next year but as far as sitting down and doing a whole album of brand new material hopefully early in the new year we'll get to sit down and just write one song then if that goes well and we're enjoying ourselves I'm sure we'll keep going from there. Whatever we do with Eskimo Joe I just want to put out something because we want to be in the studio making music together not because I feel like we have to make another Eskimo Joe record.
So it's sometimes easy to say what's changed in your time in a band but what would you say is the one thing that's stayed the same in your time making music?
I think the craft is a really big thing and it's an interesting era because you have all these what we call the bedroom producers which is your dudes making music in their bedroom but nothing's changed as far as people just making good music, out of every genre or era you have a bunch of people who obviously get played on the radio because it's the style at the time, but out of all those if you look back at the new rock thing that kind of happened with The Strokes and all those kinds of bands there were some key bands that came out through that era that you still listen to now like hey this is great music and you stop thinking about the genre and the rest of it. I think this era and every era is exactly the same, good tunes are just good tunes and they will always rise above whatever is trending or whatever's happening at that point in time and these amazing characters and these new people will stick around. I mean I guess probably not so much on the programmy Flume side of things but a really good example is probably Kev from Tame Impala, I mean you've kind of watched him come up and essentially he's like a bedroom producer but he's making psychedelic rock and roll and you've seen him grow and turn into this amazing guy who's really just an absolute heavyweight of the industry now, so I think that just keeps happening over and over again. There's never going to be the death of creativity, there's always going to be amazing characters that are just going to rise out of any scene and just blow us away all the time.
Lastly let's look ahead to the future, finish this sentence for me, by the end of 2018 Kav Temperley will…
Be in the road playing his ass off with a whole lot of new tunes and thinking about what he's going to do next, probably. *laughs*
ALL YOUR DEVOTION NATIONAL ALBUM TOUR
FRI 5 OCT | THE MILK FACTORY, BRISBANE QLD | 18+
Tickets available from www.kavtemperley.com.au or www.oztix.com.au | 1300 762 545 | All Oztix Outlets
SAT 6 OCT | VILLA NOOSA HOTEL, SUNSHINE COAST QLD | 18+
Tickets available from www.kavtemperley.com.au or www.oztix.com.au | 1300 762 545 | All Oztix Outlets
SUN 7 OCT | PUBLIC BAR @ COOLANGATTA HOTEL, GOLD COAST QLD | 18+ | Free show
THU 11 OCT | GRACE EMILY, ADELAIDE SA | 18+
Tickets available from www.kavtemperley.com.au or www.oztix.com.au | 1300 762 545 | All Oztix Outlets
FRI 12 OCT | SOOKI LOUNGE, BELGRAVE VIC | 18+
Tickets available from www.kavtemperley.com.au or www.oztix.com.au | 1300 762 545 | All Oztix Outlets
SAT 13 OCT | THE TOFF IN TOWN, MELBOURNE VIC | 18+
Tickets available from www.kavtemperley.com.au or www.moshtix.com.au | 1300 GET TIX | All Moshtix Outlets
FRI 19 OCT | LEADBELLY, SYDNEY NSW | 18+
Tickets available from www.kavtemperley.com.au or www.moshtix.com.au | 1300 GET TIX | All Moshtix Outlets
SAT 20 OCT | LIZOTTES, NEWCASTLE NSW | 18+
Tickets available from www.kavtemperley.com.au or www.lizottes.com.au | (02) 4956 2066
SAT 27 OCT | MOJOS, FREMANTLE WA | 18+
Tickets available from www.kavtemperley.com.au or www.oztix.com.au | 1300 762 545 | All Oztix Outlets
FRI 2 NOV | RIVER HOTEL, MARGARET RIVER WA | 18+
Tickets available from www.kavtemperley.com.au or www.oztix.com.au | 1300 762 545 | All Oztix Outlets
SAT 3 NOV | PRINCE OF WALES, BUNBURY WA | 18+
Tickets available from www.kavtemperley.com.au or www.oztix.com.au | 1300 762 545 | All Oztix Outlets
Essential Information
From: Fremantle, WA, Australia
Website: http://www.kavtemperley.com.au
Forthcoming Release: All Your Devotion (Released September 28)