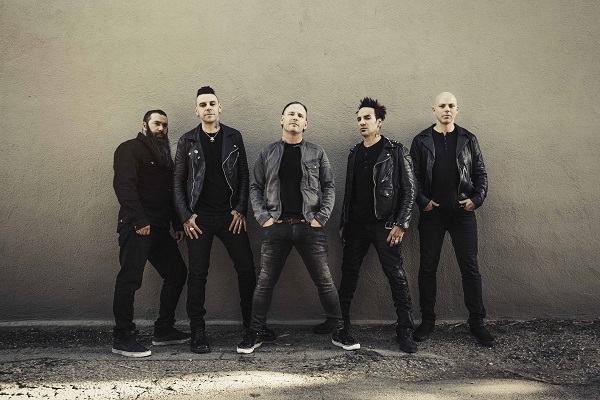 "…we truly enjoy doing what we do and I just think that when you come out and play with that energy and then the crowd feeds off of it, and then you feed off the crowd's energy, and it's just this cycle."
From Release: Known far and wide as a truly incendiary live act, Stone Sour has built an international fan following through countless headline tours and performances at famed festivals such as Rock In Rio. They've achieved great success across all of their releases. From their eponymous debut album in 2002 where singles such as Get Inside and Inhale each received Grammy Award nominations for Best Metal Performance. They continued to have success with 2006 Come What(Ever) May reaching #21 on the ARIA chart, 2010's Audio Secrecy debuted at #6 on the ARIA chart. The House Of Gold & Bones Part 1 debuted at #13 while Part 2 saw Stone Sour reach #4 on the ARIA chart. Their most recent album Hydrograd debuted at #2 on the ARIA chart.
While in New York on a day off, Josh Rand gave us a call to talk about Stone Sour's return to Australia for the Good Things festival, as well as the band's deluxe version of Hydrograd, choosing covers, and more!
Of course we're here because you're coming back to see us for the Good Things festival, it's a great line up, tell us what good things people can expect when they come to watch your set?
Honestly to be honest I don't know yet *laughs* we haven't decided what set list we're gonna play and what production we're gonna do down there, we're in the process of doing that, still being several months out we're in the process of figuring that out. I can say this, I know it will be a different set from what we played a year ago when we were down there, and what we've done is we've followed the same theme is we've added a new song to every new tour that we've done. So we'll play a song that we haven't played on this album cycle, but from a production side we're still having meetings on what it'll be.
As your catalogue grows are you finding it harder to create a set list?
Actually for us it's been actually easy, since we started a year ago we keep adding songs and changing stuff out so then that just means the library of pulling from just becomes bigger, so we're in a pretty cool place so who knows, maybe all three nights will be different. It's so early right now I'm not sure.
As long as when you're in Sydney if you  want to add in 'Hesitate' that would be appreciated.
*laughs* Well maybe. We're gonna look at the set list, I know we were playing it on this record cycle.
It's such a cool line up of artists on the bill and I always like to ask artists playing festivals what bands they're hoping to catch on the day?  Any take your eye?
The Offspring out of everybody, we never have played with them on anything and they've been doing it for quite a while and just to see, being in the business there's a certain professionalism along with the music that I'm just curious seeing whether you can maintain staying at a certain level for as long as a band like they have and that's who I'm really curious to see.
Do you know if there's been talks of any side shows while you're here?
No I don't think so to be honest, initially we were going to end the tour cycle in November and then this opportunity happened and we were stoked to be a part of it. I think that it'll just be the three shows and I know a lot of people are mad because I know we didn't get to Perth and a couple of other places last time but unfortunately it just probably isn't going to work in our schedule.
Do you have a favourite memory of a previous tour here?
Oh man, I mean just being able to come down the first time and those were times when I was drinking and I ended up at The Cherry Bar, I remember going but I don't remember leaving or how I got back *laughs* so that's the one that sticks out to me, because I remember how I felt the next morning when I got up, that didn't leave me. Yeah I mean, I love it down there, I love the weather I come from the mid-west in The US so it's one of two extremes, either it's super-hot and muggy or four feet of snow and freezing *laughs* so yeah I'm stoked to be able to come back down it's going to be awesome.
I've seen you guys a few times and the show is always energetic and full of so much passion, what is it about the stage that makes Stone Sour the entity it is?
I think it's that we truly enjoy doing what we do and I just think that when you come out and play with that energy and then the crowd feeds off of it, and then you feed off the crowd's energy, and it's just this cycle. I think it all starts with the fact that we love being able to do what we do.
You've recently released a deluxe edition of Hydrograd, when an album has been out for a year or so what was it like going back and picking extra material for a special release?
Actually it was pretty much already put together, we had the four original tracks that were part of the Hydrograd recording session itself, then we had the four acoustic songs that we had set aside for Record Store Day, did a couple of other live tracks from the studio, and then the covers which a couple of those covers that we recorded because initially there was going to be a third EP, covers EP but then once we started working on it we ended up going right into the writing process of Hydrograd, so it kind of got pushed to the side, but we had five other covers that we didn't release. That material was used in a couple of things, I can't remember, I know 'Bombtrack' was used for something, and 'Unchained' ended up being the bonus track on the japan edition, then we added the Soundgarden cover that we did as a tribute to Chris, so the material was kind of always there and it really came down to the label and did it make sense on the band's side, especially for me for a deluxe edition it has to be worth it. I'm a collector and a fan myself and I see a lot of other acts in all the genres of music will release a deluxe edition like OK here's a couple of live songs and here's two other songs and yeah that doesn't fly to me anyway. So we felt that we had enough content and good content to justify doing a deluxe.
Yeah, I've always been intrigued by the covers you guys do as your choices are always perfect. How do you decide what songs to cover?
Well all of us are into different stuff *laughs* as we are as a band we're diverse as everybody brings influences, that's how we figure out the covers, it's kind of like each one of us picked a song or whatever, or maybe a group and we might whittle it down to a song for instance, like Motley Crue, we ended up doing 'Too Fast For Love' and my initial pick was going to be 'Wildside' we just bounced around and ended up doing 'Too Fast For Love'. I'm trying to think of another song that we kind of bounced around on, oh on Iron Maiden, trying to figure out what Maiden song we were going to do and then we just decided on 'Running Free' and I thought what was cool with 'Running Free' was I pushed for us to do the live after death version so the middle part is different from the original album recording off of the self-titled record. So yeah we just kick it around, usually each one of us picks a band or a song and then we kind of just pick from there. Most of the time it's been the song that we picked, oh another one that I picked that got changed on the first one I wanted to do 'Seek and Destroy' from Metallica and then everybody else was we're more into 'Creeping Death'. I was fine with it, I would've been fine with any Metallica song but that's how it comes about, and to show all the influences of all of us that's why we did The Stones cover and Bad Brains and a couple of other bands that I can't say that are a little different that you might not expect us to do because we haven't put them out yet, but yeah, it's just us having fun and goofing around.
Lastly as always let's predict the future finish this sentence for me. In 2019 Stone Sour will…
We'll put something out, I don't know what it'll be yet, either it'll be a possibly another covers EP, a live record, it will be one of those two thigs, it's easy for me especially for that is because Corey's gonna be in Slipknot next year *laughs* so there's only so much stuff we can do.
Thanks for your time Josh, looking forward to seeing you guys in Sydney.
Awesome, and we'll see about 'Hesitate' you never know, I don't know, it could happen.
GOOD THINGS FESTIVAL LINE UP:
The Offspring (Performing 'Smash' In Full)
Stone Sour
All Time Low | Dropkick Murphys
Bullet For My Valentine | The Used
BABYMETAL | The Smith Street Band
Dashboard Confessional (Performing songs from 'The Places You Have Come To Fear The Most' + Fan Favourites)
Mayday Parade | La Dispute
Northlane | The Wonder Years
Waterparks | Tonight Alive | Scarlxrd | Emmure
Palaye Royale | Make Them Suffer | Waax
Boston Manor | Void Of Vision | Ecca Vandal
DATES AND VENUES:
Friday 7 December – Flemington Racecourse, Melbourne
Saturday 8 December – Parramatta Park, Sydney
Sunday 9 December – Brisbane Showgrounds, Brisbane
General Public tickets on sale NOW through www.oztix.com.au
All shows are licensed and all ages 15+ (Please see ticket conditions for age restrictions).
Venues and lineup subject to change
For more information head to www.goodthingsfestival.com.au
Essential Information
From: Des Moines, IOWA, USA
Band members: Corey Taylor – vocals, Josh Rand – guitar, Roy Mayorga – drums, Johny Chow – bass, and Christian Martucci – guitar.
Website:  http://www.stonesour.com
Latest release: Hydrograd – Deluxe Edition – (Out Now – Warner Music Australia / Roadrunner Records)