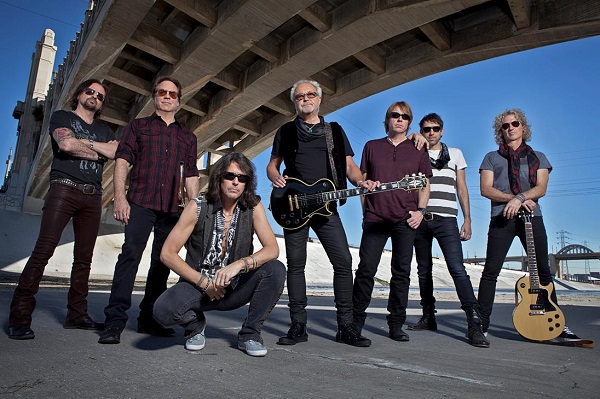 "So I'm feeling very confident coming to Australia that the show is going to be really together and that you guys are going to enjoy it way more than you even think."
From Release: Legendary rock band FOREIGNER will return to Australia this October to perform a series of newly envisaged orchestral concerts. Fans will be treated to a string of shows in Canberra, Adelaide, Perth, Melbourne and a night at the iconic Sydney Opera House Concert Hall on Thursday 18th October. See full tour dates below. With ten multi-platinum albums and 16 US Billboard Top 30 hits, Foreigner are universally hailed as one of the most popular rock acts in the world with a formidable musical arsenal that continues to propel sold-out tours and album sales, now exceeding 75 million.
While in Manchester, UK, Jeff Pilson gave us a call to talk about Foreigner's upcoming orchestral tour of Australia, how it came about, the songs taking on a different meaning, the legacy of Foreigner, Steel Dragon reunions, and much more!
You're headed back to Australia, tell us how will the shows will shape up here?
I think they're going to be fabulous, we have an orchestra with us but it's still going to rock which is great. It's really interesting how we do this orchestral stuff, it's very dynamic but like I say it still rocks, and that was what Mick Jones wanted to be the case, he wanted a situation where yes we have an orchestra, yes we have all these wonderful dynamics involved but it still rocks and it does. So it's a very exciting show, it's so much fun to do, I mean I can't even begin to tell you how much fun it is to do. We're just looking forward to coming down there, always love coming to Australia and can't wait to come back.
What is the challenge like playing with an orchestra and what was it like getting used to it?
Well the biggest change is down to logistics and the planning and when we did the first two shows it was in Lucerne, Switzerland at the invitation from the city of Lucerne to attend a yearly festival that they hold with their orchestra and we had a lot of planning involved but for me because I produced the live records, the extra amount of work in preparation for recording and filming was quite intense and then the production work afterwards *laughs* dealing with that much recorded material and that much sound *laughs* was a lot of work. So for me it was a question of it was more about the logistics and the technical aspects that was a big change for me, as far as playing with the orchestra it was a joy because the arrangements were made so that they didn't interfere with the essential elements of the songs but only enhanced and then had their own sections that they did real interesting little orchestral interludes. So it was just a joy, just a joy, we did some shows in the states recently we wanted to test touring with an orchestra because we knew we were coming to Australia and we wanted to make sure we had it down, and it worked out quite well. So I'm feeling very confident coming to Australia that the show is going to be really together and that you guys are going to enjoy it way more than you even think.
Do you find the songs taking on a completely different feel or meaning sometimes when played this way?
Yes absolutely, for instance 'Urgent' which was a total surprise to all of us it ended up having this Egyptian kind of feel to it, who would have guessed that on the song 'Urgent' *laughs* but it works out amazingly well and it was one of those moments where the spontaneous energy between the orchestra, the band and the audience all just kind of connected together and you could feel like everybody almost moving rhythmically together and that's the magic that you shoot for in a show, that's what you're looking for, you're looking for the moments where everybody just connects and they're on the same pathway and they're all feeling it together and that's why I do what I do because moments like that make all this travel and all the stress *laughs* and all the dealing all the bull crap of the music industry worthwhile when you have moments like that and there were several songs that happened with. There were several that exceeded where I thought they would go, I never thought 'Jukebox Hero' would get as dramatic as it did which works really well for me, I mean I guess I kind of imagined it was going to go in that direction but it really got there, and I love the overture to the whole show, I just love that I think it's just a fabulous piece of music. DAVE AGAR who was responsible for the arrangements with Mick quite a guy, amazing musician, great human being, it was a real joy and you're gonna find there's several moments in the show that will surprise you but in a way that's really cool.
What have you been able to do in Foreigner that you feel you haven't been able to in any other project you've been a part of?
For me actually getting to work with an orchestra is a big thing I've always wanted to do because you know I was a classically trained musician and I went to the university of Washington and my major was string bass performance, I didn't last long because I wanted to rock *laughs* but I've always wanted to do that. Even in 2011 when we came out with our 'Acoustique' record which was our acoustic takes on things, we recorded a string quartet on one song and I always wanted to do that, I mean I'm a huge Beatles fan and 'Eleanor Rigby' and 'Yesterday' are very, very important songs for me so getting to go into the studio where Brian Wilson recorded 'Good Vibrations' and take a string quartet and record them with microphones that Frank Sinatra used *laughs* getting to do things like that I've gotten to do some things like that in Foreigner that are just so amazing that it's an experience I will always be forever grateful for.
I do suppose it lends itself more to Foreigner than Dokken…
Although don't be surprised, I've done on my own just for the fun of it I've done some string quartet arrangements on Dokken things  that will surprise you on how good they sound *laughs*. Maybe someday you'll get to hear then… maybe.
Being in the band now for fourteen years, as part of the forty year legacy of the band, what do you think it is about Foreigner that just keeps on rolling?
It's the songs, I mean the songs are just timeless and that's the sign of a genius song is when it's timeless and we have several and we're very, very fortunate in that. The songs themselves are the legacy of the band I mean that's kind of unique I mean it's not a personality driven band as it is a song driven band and because of that and because songs don't die and in particular our songs seem to resonate with people I mean we have a lot of young people coming to our shows and they seem to resonate with the songs as good as anybody. So I would say it's just the songs.
Obviously over the years things change but what would you say has been the one thing that's stayed the same over your time making music?
The thing that's stayed the same that is if you gut feels good it's right *laughs* you know music should be enjoyable, you should feel it and that hasn't changed probably since a caveman was beating on a log *laughs* let's hope not anyways. So I think that part of music is unchanged and let's hope it's forever unchanged.
Outside of Foreigner, do you have anything else in the works at the moment?
Oh boy, yeah a couple of things. I have a project with George Lynch and Mick Brown from Dokken and Robert Mason who is currently the singer for Warrant, we have a project which I can't tell you the name but we've figured out a name for it that we really like but we're going to be announcing that shortly. It was being called Super Stroke but we have a better name now *laughs* and we have time to change the name so we're gonna do it. That music is coming out amazing, that'll be finished in June, it's gonna be coming out probably March of next year but that music is just fabulous, it's George Lynch playing at some of his best in as long as I can remember, it just came out really, really fabulous and it's something we're very proud of. I can't wait until people get to hear it, it's very exciting. I'm also recording the second record for the band Last In Line, the original Dio band who came out with a record I did a couple of years ago called 'Heavy Crown' and we're currently recording the second record and it is coming out if anything stronger than the last record so I'm really, really excited about that as well. Those two are my two main projects, like I said there's going to be another Foreigner release at the end of the year, but I'm really fortunate that I've got a lot of interesting projects going on it keeps me creative and happy.
Now I asked Zakk Wylde and I'll ask you, with the resurgence and continuing love of all things 80's do you think we'll ever get to see Steel Dragon together again?
*laughs* I bet Zakk said no *laughs* you know listen, who knows, stranger things have happened, I mean I adore Zakk and every time I see him we just have big smiles on our faces because making that movie was really, really fun and we spent a lot of time together and we had a lot of time just jamming together and the whole thing was just quite an experience. So listen, from our end it would certainly be an enjoyable experience if it ever happened, I think the movie has obtained a sort of cult status over time now which is kind of col but I don't think it achieved the kind of mainstream success that would necessitate forming a band around it and touring. But listen *laughs* stranger things have happened and like I said, Jason and I are still close, Zakk and I are still close so I mean it would be so much fun and if the right occasion was there we'd have a lot of fun doing it but I just don't see the occasion for it, but if it happened, sign me up!
Being in the business for a long time, is there still anything on your list of things you want to do but haven't yet had the chance to?
Yes, write the greatest song in the world *laughs* seriously, you've gotta set the goals high, I would like to write a real classic song, I mean I'd like to write a song that has the kind of life that 'I Want To Know What Love Is' has, I haven't done that yet, Mick Jones has done it, I haven't done that yet, so that, yeah, that's on my list. Will I go to my grave disappointed if it doesn't happen, I mean I may be disappointed but will I be upset no, of course not because I realise that's a very far fetched goal but that's still a goal none the less. I want to continue working on my craft and get better and better and better and even to be a part as a producer on a record that has some real resonance and some real mainstream connectivity I would be very, very excited and that's always the goal if I were to write a soundtrack or whatever, any of that, those are big goals for me and that does remain a goal, so until that happens *laughs* don't hold your breath, but until that happens I'm still tryin'.
Lastly let's look ahead to the future, finish this sentence for me, by the end of 2018 Foreigner will…
Will have done a tremendous successful summer tour of dates with Whitesnake and Jason Bonham and have played Australia with an orchestra including the Sydney Opera House, we can all know that 2018 was a very wild and successful year.
FOREIGNER | 2018 TOUR DATES
Presented by Chugg Entertainment & Artist Network
CANBERRA
Friday 12th October – Royal Theatre 
ticketek.com.au
ADELAIDE
(Presented by Space Events)
Sunday 14th October – Botanic Park
ticketmaster.com.au
PERTH
Tuesday 16th October – Riverside Theatre 
ticketek.com.au
SYDNEY
Thursday 18th October – Sydney Opera House 
sydneyoperahouse.com
ROCK THE BOAT
Sunday 21st – Sunday 28th October 
rocktheboatcruise.com.au
MELBOURNE
Tuesday 30th October – Hamer Hall 
ticketmaster.com.au
HAMILTON, NZ
Thursday 1st November – Claudelands Arena 
ticketek.co.nz
Essential Information
From: New York, USA
Band members: Mick Jones – lead guitar, keyboards, backing vocals, Thom Gimbel – rhythm guitar, saxophone, flute, backing vocals, Jeff Pilson – bass, backing vocals, Kelly Hansen – lead vocals, Michael Bluestein – keyboards, backing vocals, Bruce Watson – rhythm and lead guitar, Chris Frazier – drums
Website: http://www.foreigneronline.com
Latest Release: Foreigner With The 21st Century Symphony Orchestra & Chorus (Out Now)