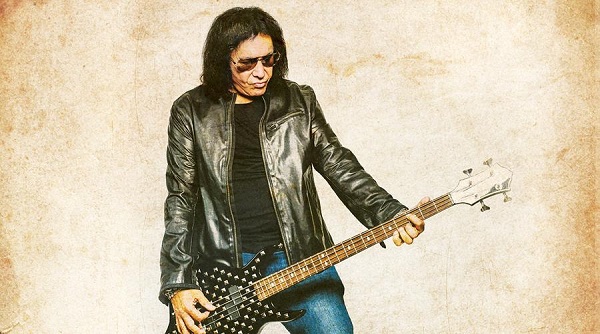 There's a first for everything with KISS members and tonight is one of those here in Australia, not only is it Gene Simmons' first solo tour of Australia he has his old friend and original KISS member Ace Frehley supporting him. Bet you never saw that coming!
The earlier start meant I made it in just as Ace Frehley took the stage and straight into 'Parasite' and it's sounding good! His playing is on point and the band sound great from the opening note. Without wasting any time 'Hard Times' keeps things rockin' and with a "Sydney how you doin' tonight?" then explaining his idea to cover The Rolling Stones back in the 70's he kicks off '2000 man' and they loved that one, but then 'Rock Soldiers' and its almost doom style groove has a few fists pumping and heads banging. 'Rip It Out' takes us back to his solo album from 40 years ago and they nail it complete with bitchin' drum interlude and solo from Ace.
Now we're talkin' as that all too familiar opening of the KISS classic 'Love Gun' starts as Phil from the band takes lead vocals on my second favourite KISS song. They nailed that. Amazing. Damn that's a good song and always awesome to hear live. The big riff of 'Rocket Ride' hits and with Ace back on vocals. We get all Phil Collins with the drummer taking vocals for 'Strange Ways' leaving Ace free to play and play up to the crowd a little and hit the big notes.
It's time to get back in the 'New York Groove' and with a light up guitar and that well, groove we've all loved for a long, long time everyone is loving it in here. With an awesome intro worthy of a Dad joke 'Shock me' is up and is still a kick ass rocker after all these years. As the song finishes the band leave Ace on stage to deliver a solo. And it wouldn't be an Ace Frehley solo without that smoking guitar. It's always going to be classic and gets the cheer it deserves every time. Finishing off the solo as the band returns to close it out he introduces 'Detroit Rock City' and although tonight it was missing the immense amounts of pyro we're used to when it's played tonight it sounded just fine. GET UP!! GET DOWN!! Sorry just had to join in. Closing out his set with 'Cold Gin' and as they rock it out until the closing note, and with a "Sydney we love you" the crowd cheers and Ace's set comes to an end.
The lights dim and with a "here we go" from Gene Simmons it's time to 'Shout It Out Loud' and with the same band who killed Ace's set who are Gene's band up again they are maintaining the level of tightness from before. Opening with that KISS classic got everyone in the mood and lead into 'I' and after a chat he straps on the axe bass and takes lead vocals on 'Are You Ready' and rocks it out. Now we're talkin' they hit the big riff of 'War Machine' and this is where it's at and got the crowd rockin'. As each of the band say hi and it's chat time again, they bust into 'Long Tall Sally' an unexpected Little Richard cover which nicely blended into a little bit of 'Whole Lotta Love' before jumping straight back into 'Long Tall Sally' to finish it off. It's kinda cool to hear a song like that done this way! They smashed it out of the park.
Back into the KISS catalogue with 'Calling Dr Love' and as you can imagine the phones come out to record this classic. With the three guitar assault this band has this one sounds fuller than ever. 'Charisma' keeps the groove going and the dynamic of this band really is great, these are killer players and with that driving bass out front it just fills the room. Another obscure one in 'She's So European' then the band rock out before 'Let Me Go, Rock 'N Roll' with a great jam session once again showcasing the talent in this band. OK finally time for one that absolutely everyone knows as local rocker Virginia Lillye takes lead vocals on 'I Was Made For Loving You' and it's always good hearing this played live as it's so much heavier in a live environment. She's kicking ass oh and thank god the drummer got the drum fill part right. That's very important. After that awesome performance a sea of women make their way onto the stage for 'Do You Love Me' which was fun. Man these songs are just great!!
'Watchin' You' gets that rockier vibe back then back to his first solo record with 'Radioactive' which won them over once again, these songs are forty years old and absolutely still stand up. Now it's time for another crowd invasion for 'I Love It Loud' followed by 'Plaster Caster' and we must be getting to the pointy end of the set as 'deuce' kicks into high gear as Ace Frehley joins the band on stage and plays the solo how it's supposed to sound. Oh man that was so good and what a moment!! Ace stays on the stage as they're joined by a bevy of people again as we get ready for 'Rock N Roll All Nite' to close the show.
There's no encore, the band leave the stage as the house lights come up and a full Enmore Theatre truly got a great night of rock and roll tonight. It was weird in a way seeing Gene perform this way tonight but with talks of KISS calling it a day soon well we just may get to see Mr Simmons back solo again one day.
Essential Information
Venue: The Enmore Theatre – Sydney
Date: August 31, 2018
Presented by: TEG Live
Website: http://www.genesimmons.com
ACE FREHLEY SETLIST
Parasite
Hard Times
2000 Man
Rock Soldiers
Rip It Out
Love Gun
Rocket Ride
Strange Ways
New York Groove
Shock Me
Guitar solo
Detroit Rock City
Cold Gin
GENE SIMMONS SETLIST
Shout It Out Loud
I
Are You Ready
War Machine
Long Tall Sally
Calling Dr Love
Charisma
She's So European
Let Me Go, Rock 'N Roll
I Was Made For Loving You
Do You Love Me
Watchin' You
Radioactive
I Love It Loud
Plaster Caster
Deuce
Rock N Roll All Nite