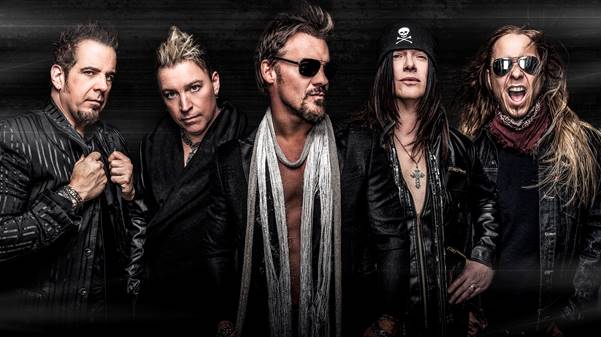 "I think just when you're in a band, it's a team, it's like a good football team and you've got to let everybody play their position and don't try and do other people's jobs, if everyone plays up to their strengths you'll always win…"
From Release: Following their most successful US & UK tours EVER, FOZZY is bringing the Judas Rising Tour to Australia for their first headline run since 2010 & their first Aussie appearance since 2013! Armed with two top 10 US Active Rock hits off their monster record 'Judas', the band is ready to turn the country into Fozztralia once again this November and for the first time ever New Zealand!
In Columbus, Ohio we gave Chris Jericho a call ahead of their return to FOZZTRALIA, he filled us in on touring, set lists, new music, anniversaries, his 'Talk Is Jericho' bucket list, and more!
We last spoke a few days before 'Judas' was released, so since then how has the cycle been since its release?
It's been non-stop, man. The band is really at a different level now, we knew it was only a matter of time before it happened, but it's gone through the roof now. The fact that it's happening is just a really cool feeling and it's very exciting it's definitely taken us to a completely different level and it's still continuing to grow. The album is still doing great we just released the third single 'Burn Me Out' which in nowadays if you have three songs from one record as a single it's the equivalent of 'Hysteria' or 'The Black Album', or 'Appetite For Destruction' and those albums that had five or six or seven singles. So for us to have our third on this record like it said it just shows how much the band is growing.
Of course you're coming back to see us, tell us how a Fozzy live show shapes up in 2018.
Its Rock and Roll with a smile, that's the best way to put it, we make sure everybody has a great time when they come to our shows. There's a lot of mosh pits at a Fozzy show but there's people jumping up and down and chanting Fozzy and drinking some beer and showing their boobs whether they're girls or guys we don't care, so having a good time that's what it's all about. It's a very energetic, entertaining show because we are the show, we don't have giant dragons flying down from the ceiling or anything along those lines, we just make are we leave it all on stage every night and that's the way that we do it. It's a very demanding show, it's a very taxing show physically for us but it's worth it when you see the reactions from the crowd.
As the catalogue grows are you finding it harder to create a set list?
Well that's always the million dollar question, yeah it's always harder to do and even on this album cycle I love the songs that we're playing and suddenly you think what are we gonna drop and it becomes more and more of a tough proposition when you have we're getting to the point now where it's an all hits show every song that we play is a song that people love and want to hear and have probably heard on the radio or whatever, so it is challenging because there are certain songs that you want to play that are fun to sing that have to be dropped because there are other ones that have more steam or more YouTube views or whatever it may be, so it's always challenging to have to deal with that.
Are you finding that people are really taking to the new material so much better live?
There are certain songs you play within in a cycle like 'Elevator' now where on the record it's a good song but really comes alive when you play it in concert, but we knew that it had that type of vibe as to being a great live song and it is, it's got a lot of energy to it, people enjoy hearing it and it's much better in a concert environment for me than it is listening to it on the album.
I've seen you guys a few times and the show is always energetic and full of so much passion, coming from your wrestling background did you find that being able to entertain on the stage came as natural as in the ring?
There's a lot of similarities like being in front of a live audience and there's a certain, you have to connect with the crowd. You can connect with the crowd no matter what you're doing if it's music or wrestling or stand-up comedy or any of those kind of things you'll always have a good show and get a great reaction because that's what it's all about.  There are elements where you have a little larger than life persona, you have to have that and people want to see that, they want to see the showbiz element, they want to see characters on stage and rock stars and that's basically my position, I've been doing it since I was nineteen years old so it's just natural for me at that point.
Do you have a favourite memory of a previous tour here?
Yeah they've all been fun, I believe this is going to be our fifth Fozzy tour of Australia, I remember we did Soundwave in 2015 where Metallica was headlining and that was a blast because it was like one big travelling summer camp with all of the guys in Anthrax, Slayer, Duff McKagan, the Metallica guys, just going from town to town together and just flying together and that sort of stuff, it was a really cool tour and I really, really enjoyed it. Then we followed it right up with a tour with Steel Panther which was a lot of fun as well and you can't not have fun when you tour with those guys. So I think the only bad memory I have of Australia is the fact that Fozzy hasn't been there in five years, it's just criminal to me that it's taken so long but it's cool, we're coming back and we're really excited about it for sure.
Next year you'll celebrate ten years as a band, over that time what do you think is the biggest lesson you've learned about being in Fozzy?
I think just when you're in a band, it's a team, it's like a good football team and you've got to let everybody play their position and don't try and do other people's jobs, if everyone plays up to their strengths you'll always win and I think in the past we had a tendency especially me and Rich to try and do everything and that's not the shot and I think once everyone kind of learns what they do best or what their roles should be I think that's when the band comes together when you gel, and we don't ever have disagreements or issues with anybody in the band, everybody gets along really well, the crew gets along really well and it's just a lot of fun to be on tour with these guys and something that I really appreciate and enjoy now more than ever.
Can we expect anything to celebrate the decade of Fozzy?
I think at this point when we come to Australia it's towards the end of the 'Judas Rising' tour, we have one more loop through Canada that we're going to be doing and other than that it's time to get back into the studio and start working on our new record soon. That'll be the anniversary present, the release of a new record hopefully.
So what's on your bucket list of things to do as a band that you haven't yet had the chance to do?
I just think to continue to grow and build, that's always my goal for Fozzy is to continue to get to the next level, and we're there but there's a big difference between the last tour and when the 'Judas Rising' tour started in last May, and it's a great time, so just to continue to build and grow I mean the goal is to headline arenas, that's what we want to do and it feels like every step of the way and everything that we've been doing so far is allowing us to get to that position, so just continue to build and grow our fan base.
I have to say I'm a big fan of 'Talk Is Jericho' and from someone who does interviews like me I know I have a bucket list of artists I want to interview, but who is your number one you'd love to have on your show?
I've done pretty good, man, but I'd love to have McCartney and Keith Richards, Jagger, those type of guys, I'd love to have Ozzy on the show I think that would be a blast. You know there's a lot of people out there that haven't been on yet and there's been a lot that we always enjoy having on, so it's always fun having William Shatner on, Paul Stanley, Eli Roth and those guys, so once again my mission statement is that if it's someone that I find interesting then I'll have them on my show, and there's a whole lot of interesting people out there, so there's no shortage of great guests that's for sure.
Lastly as always let's predict the future finish this sentence for me. In 2019 Fozzy will…
Do an arena tour and release a new record.
I'm loving this arena dream and I really want it to happen for you…
I appreciate it, man and we're an arena band that's had a chance to play a few on this tour and the band comes alive so well in that atmosphere so like I said that's the mission statement.
FOZZY Judas Rising Australian & NZ Tour Dates:
Wednesday 7th November AUCKLAND The Studio
Friday 9th November MELBOURNE Max Watts
Saturday 10th November SYDNEY Manning Bar
Tuesday 13th November ADELAIDE The Gov
Wednesday 14th November BRISBANE The Triffid
Tickets on sale now from: http://silverbacktouring.com.au/fozztralia
Essential Information
From: Atlanta, GA, USA
Band members:  Chris Jericho – Vocals, Rich Ward – Lead Guitar, Frank Fontsere – Drums, Billy Grey – Rhythm Guitar, Paul Di Leo – Bass
Website:  http://www.fozzyrock.com
Latest Release: Judas (Out Now – Century Media)