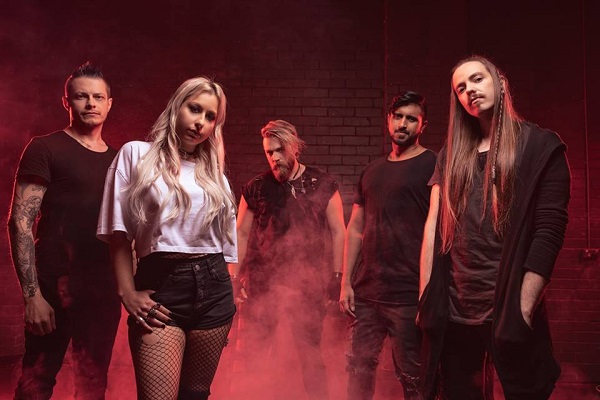 "Imagine the hooks of a pop song, riffage of a metal tune, guitar spins of a 2010 screamo band and singing/screaming by a weird long haired blonde girl."
From Release: Melbourne's The Last Martyr debut single 'Into The Black' was mixed and mastered by Circles' Ted Furuhashi and video was directed by Dave Hunter of Band Factory Media. The video depicts vocalist, Monica Strut, alone in a white room slowly being engulfed by black ink.  Meanwhile in contrast, the full band gives a blistering performance in a dark space. Featuring members of Burn Halo (USA), and local bands Renegade Armada and Vanity Riots, The Last Martyr have been silently working away for the past 6 months and will be releasing their debut EP before the year is out.
Off the back of their debut single we know there's definitely something here with The Last Martyr so we had them answer some questions for us and proclaim them our newest Best Thing You've Never Heard.
Let's start with the basics; for those that aren't aware of you, can you please give us the abridged version of The Last Martyr story, and how you would best describe your music?
Yo! The boys had previously worked with each other in various other projects.  Not all together but Vin and Matt had worked together, Ben and Travis in another project etc. I found Ben on a music forum shortly after moving to Melbourne. After some back and forth Travis, Ben and I met up one day at a cafe and within a week we had a band name, logo and several demos! Our music is melodic rock/metal. We try to write stuff that's heavy but catchy.
Can you now please introduce each band member including yourself, and give us a rock 'n' roll fact or myth about each of you?
Our guitarist is Ben. We do most of our songwriting/drinking at his place by the beach. Travis our other guitarist and token American. He's our chief motivator always pumping up the team and talking about freedom. Matty is our 4 string bandit. He's the type to sit there in silence for a good half hour during a conversation, then bust out with a one-liner that causes a deep deep burn. Vinny is our drummer beast who has a wide range of skills including engineering, video editing and being in the army. I'm Monica the vocalist and I have a bad habit of adopting stray cats despite the fact I'm allergic and don't even really like cats.
In terms of your music, instead of giving us a standard review, let's say if you had to give us your best door to door sales pitch to try and convince someone to listen to it before they slam the door in your face, what do you say to them?
Imagine the hooks of a pop song, riffage of a metal tune, guitar spins of a 2010 screamo band and singing/screaming by a weird long haired blonde girl.
With your song writing, what do you consider to be the most important ingredients that make up one of your songs?
Solid hooks, whether they be guitars or vocals.
You've just released your debut single and video for 'Into The Black', tell us about how this rocker was chosen to introduce your band to the world?
We actually had another song lined up to release earlier in the year but our guitarist Ben kept pumping out more and more music.  Once I wrote the vocals we quickly changed our minds and headed into the studio.  It's a pretty powerful track and represents the band and what we are trying to achieve with our music.
Obviously with more to come, what can we expect release wise in the near future?
We already have a follow-up single ready to go which we'll be releasing shortly.  In the meantime we're about to head back into the studio and track the rest of the EP which will be out later this year. Woo!
So what bands did you grow up listening to and how did they help create the style of music that can now be heard throughout your music?
As with most bands we all have a mix of influences.  Matty is a hardcore kid whereas Ben and Vin love prog which has really influenced their playing.  I grew up as a little emo kid and Travis and I love rock and metalcore and basically anything catchy AF.  I guess the bands we grew up with have influenced us in our own ways.  For me it's really about conveying emotion and creating songs that make the listener feel inspired or less alone.
In terms of touring, as a new band any plans on when we can expect to see some shows coming up?
Right now we've been focusing on recording and getting our songs up to scratch.  Once that's out of the way we will be able to really hone our live show and start getting out there in the next few months!
For a bit of fun, say you get the chance to open for any artist or band in the world, who would they be and why?
That's hard as we'd probably all have different answers!  I've always dreamed of opening for Avenged Sevenfold.  Shadows is an incredible vocalist and they're one of the bands that got me into metal!
If you were to cover one song that no one would expect that you'd cover what would it be and why?
If it were up to me it'd probably be Lady Gaga or Sia.  Love pop songs played metal, works so well.  Or maybe Danger Zone lol.
Lastly, here's a chance to grab a magic lamp and from it you are granted three wishes.  They are:
1. Play UNIFY Gathering
2. Be featured on Punk Goes Pop
3. Help at least one person through our music
Essential Information
Location: Melbourne, VIC, Australia
Band members:  Monica (vocals), Ben (guitar), Travis (guitar), Matt (bass), Vin (drums)
Website:  www.facebook.com/thelastmartyr
Current Release: 'Into the Black' (single)