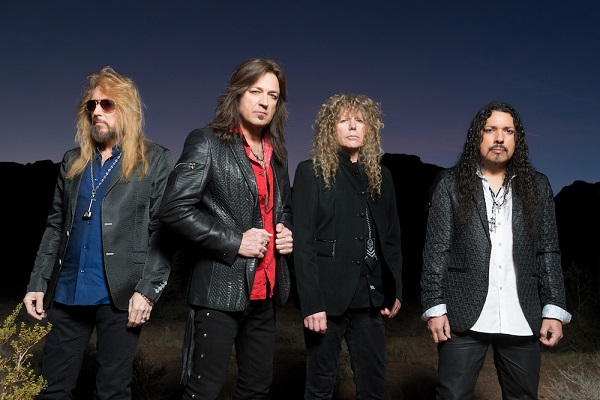 Tonight after eight years, Stryper return to Sydney! This time though as a three piece minus guitarist Oz Fox who is currently unwell, so tonight Stryper will be knows as Tri-per as they show us what they can do as a trio!
Gypsy kick things off with some rock and Roll and a mix of originals and covers, and I have to say their version of KISS's 'Love Gun' was well done and the crowd involved. Balloons and confetti well, guns was a nice touch and good for a laugh in lieu of pyro. Closing with 'Hell Bent For Leather' they did a good job. And yes, we're with you.
The Radio Sun up next came on and showed us that melodic rock is alive and well in Australia, their catchy songs are reminiscent of those good times, those songs that are uplifting and make you want to have a good time. I've always loved their work and their AOR / power pop rock blend is something to most definitely check out from four kick ass players.
Before Stryper are set to take the stage Michael Sweet comes out on stage and talks about Oz Fox not being here followed by an audio message from Oz that received the cheers it deserved. Get well soon, Oz, we'll see you next time. After that the three piece Stryper take to the stage and open with 'Yahweh' and they sound killer! Michael Sweet's voice and skills are out of this world as the song breaks down into the heavy chunky bass driven section only to return to the shredding. Wow what an opener. Tearing straight into the opening riff of 'The Valley' from 'God Damn Evil' and they smash it out of the park, big chorus and big harmonies make this an instant stand out. After throwing out some bibles and having a chat they get back into it and head back to 1986 with 'Calling On You' and as amazing as that was watching Robert Sweet play this one with arms flailing and with the crowd joining in as we yelled the closing line they hit the intro to 'Free' and Michael's guitar work in this one was just superb.
Introducing their newest member Perry Richardson who is doing one hell of a job so far, they go back to 'Against The Law' with my favourite Stryper song 'All For One' and I didn't think they'd play it but they did and they nailed it. What a treat that was. 'Revelation' Keeps things going but as the guitar chunks the opening chords of 'In God We Trust' it's back on in a big way. That by far was the biggest reception of the night and rightfully so. Perry's harmonies are outstanding and suit the band so well, it's a pleasure to hear.
We jump to 2018 and from their newest album they deliver 'Sorry' and damn, this is heavy. Real heavy. The new material fits in so well and it's so good hearing it here tonight. This band truly is impressive with what they've done tonight in coming and playing as a three piece and if you didn't know any better you'd think this is how it was supposed to be. Wow, I can't imagine how much bigger it would've been with two guitars. After a chat about slang and C words we head back to 1984 and 'The Yellow and Black Attack' and 'Loving You' and once again some ridiculous guitar work steals the show. Back to the newest album and the title track 'God Damn Evil' and it slayed. Man it's so good hearing these new tracks.
Perry and Robert take a rest as Michael straps on an acoustic guitar for a singalong with the big ballad 'Lady' which was awesome but as the band comes back out and they give us "something old" which just happens to be my other favourite Stryper song 'Always There For You' which sounded great but was also really cool to hear played as a trio as the obvious missing second guitar harmonies showcased Michael's parts and you get to hear a little different side of it. That song kicks so much ass by the way.
We go back further to 'Soldiers Under Command' and once again, smashed it out of the park even to the point of that final note that Sweet hit perfectly, that cat can sing, like really sing. They leave the stage only to return and it's time to say 'To Hell With The Devil' as the song opens with just drums and vocals it explodes into the monster that it is and is the perfect way to end this set.
A very appreciative Stryper thank the crowd and promise to return a lot sooner and judging by tonight's performance and with the promise of Oz coming back with them next time, I'm A) going to remember to bring ear plugs next time as that was LOUD, and 2) enjoy every second of seeing a truly amazing live band again very soon.
Thank you, Tri-per, tonight you kicked ass!
Essential Information
Venue: Max Watts – Sydney
Date: August 18, 2018
Presented by: Silverback Touring
Website: http://www.stryper.com
Set List:
Yahweh
The Valley
Calling On You
Free
All For One
Revelation
In God We Trust
Sorry
Loving You
God Damn Evil
Lady
Always There For You
Soldiers Under Command
To Hell With The Devil