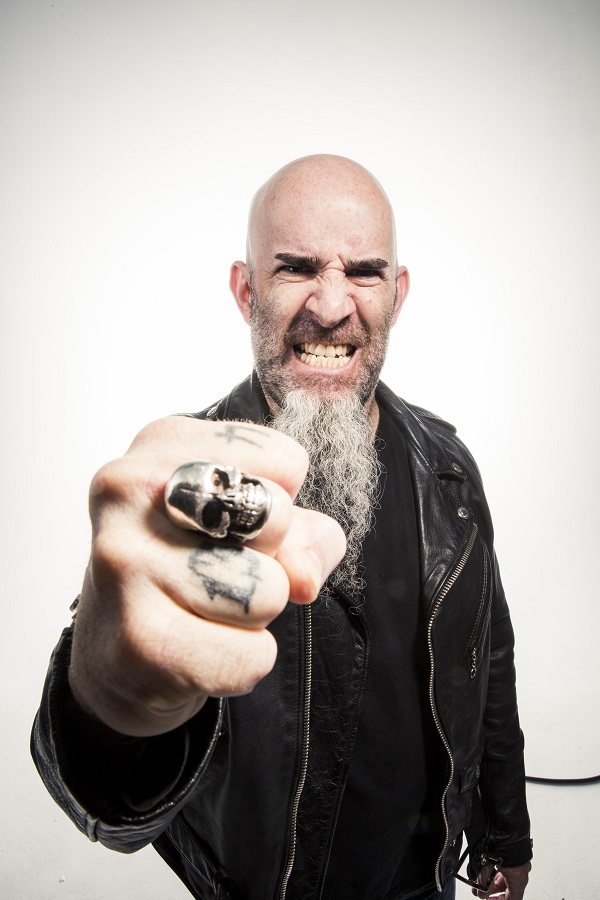 "…I've been in a band for four decades I've done a lot, I've seen a lot, I've met a lot of people, I've done things, crazy things with a lot of the people I've met you know, if you know anything about my life and my time travelling the planet for the last thirty seven years then you know I probably have a lot to talk about…"
From Release: One of the metal world's most recognisable, praised and iconic figures, Scott Ian, will be in Australia for a series of spoken word events this September! The co-founding rhythm guitarist of 'Big 4' legends Anthrax practically invented Thrash Metal and in a career spanning nearly four decades remains as vital as ever. Scott's rapid fire riffs, unmistakable crunchy tone and incisive lyrics continue to spawn generations of new bands who wear Anthrax's influence on their tattooed sleeves.
Now, fans can hear and see Scott on stage in an entirely different way, behind a mike, telling wildly entertaining road stories about the people he has met, crazy experiences he has had and all the mischief, shenanigans and back stage antics he and his peers have gotten into over the past 38 years of touring the world!
In Missoula, Montana while out on tour with Anthrax we gave Scott Ian a call to catch up on his upcoming Australian 'One Man Riot' spoken word tour, telling stories, pop culture, what's happening musically, and much more…
It's been about four years since we last chatted so let's catch up, how have the last four years been for you?
Great, busy, pretty much non-stop!
Last time we saw you here in Australia was doing some spoken word shows with Jericho, now you're coming back with a 'One Man Riot' so tell us how these shows will shape up?
I was down there on tour with Anthrax at the time and we were able to put those two shows together but I only did about an hour on those shows because I was actually opening for Chris so this will be a much longer version *laughs* of what I did on those shows, an hour is barely an anecdote but it's an interesting anecdote when it's an hour long. Anyway, yeah I've got a lot of shit to talk about, I've been in a band for four decades I've done a lot, I've seen a lot, I've met a lot of people, I've done things, crazy things with a lot of the people I've met you know, if you know anything about my life and my time travelling the planet for the last thirty seven years then you know I probably have a lot to talk about and I've done I don't know about forty or fifty of these talking shows in the last five years and you know, the way I judge it to see if it's working or not is do people laugh in the right places, do people laugh where they're supposed to laugh? Most of the audiences have been doing that fairly consistently so I think it's safe to say I'm doing something right.
Do you have an idea of a set or do you just start talking and go from there?
No I have an idea, because there are a few specific stories that I just really enjoy telling and this is really still my first time through as far as bringing this show and what I do around the planet, so it's still kind of new. If I came back to Australia eighteen months or so from now to do it again or two years from now I would certainly do different material, but at the same time you never know because I've talked to some of my comedian friends about this and I said is it hard for you like when your jokes get on YouTube or you've played a club in the city now you're back six months later playing that same club and do you feel like you need a new set? They said, sometimes yeah you do feel like you need new material but for comedians a lot of their jokes they compare it to a band who has hit songs and if you come back to a city over and over again there's probably a few songs that you're always gonna play no matter what people just wanna hear 'em and for comedians and I'm not saying I'm a comedian, I'm a storyteller, but one of my comedian buddies said some of your stories, they're your hits, there are some stories that no matter how many times people hear you tell it they're just gonna want to hear you tell it again. So I don't really have to worry about that yet because it's not like it's my sixth time touring the planet doing this, but I do have a good idea. I also have so much to pull from, there's so much material that there's stories that I'm working on now that I want to try and get in the set, stuff that I've ever done before and it'll just be on the night pretty much every night. I always know where I'm starting put it that way, I always know what I'm gonna open with and then based on the reaction of that first five or ten minutes I'll have a really good idea of where I'm going next and that's kind of how I do it.
Do you have a favourite story that you love telling?
Yeah my story about meeting Lemmy in 1985, that's my favourite story by far, there's so much to it, there's so many different levels, there's so many things that happened, there's so many tangents and different roads I go down when I tell that story because as a I tell it more and more doors open, and because it's about Lemmy, it's someone I was fortunate to spend a lot of time with over thirty years from like '85  to 2105. Hey I guess it's similar with I have a story I tell about Dimebag Darrell, also another guy that's no longer with us anymore and I have a great, great story that I tell. I guess in a nutshell my answer I probably should have when people ask what's the show about it's pretty much like I get interviewed a lot and have been interviewed a lot over the years and nine times out of ten you get asked 'what's the craziest thing you've ever seen?' or 'What's the craziest thing you've ever been a part of?' that question and that's what this show is, you're hearing the craziest shit, that's what me getting on stage for two hours and telling stories, it is the craziest stuff that I've been a part of in thirty seven years.
You're also a writer in terms of two books of your own and worked with DC comics with a new series coming, when can we expect to read that and can you give us a little idea of what it will entail?
I wrote another book for their character The Demon but it was at a time when DC went into transition a couple of years ago and they basically just changed everything and my book just kind of got lost in the shuffle, badly, and so yeah I don't think that's ever coming out. It wasn't finished, it's not like it was done with art but I had written a whole story and gotten a lot of pages but it wasn't like a finished, done comic book, but who knows I've got the story in my back pocket, whether I end up using it for The Demon or who knows, I change it to fit another character in their universe or someone else's universe.
We've spoken pop culture before and a lot has happened over the years, finally seeing The Avengers and The Justice League on the big screen, Jodi Whittaker is the first female Doctor Who, it's a great time to love this sort of stuff, what has been your highlight and what are you most looking forward to?
Oh man, the Marvel movies just keep getting better and better, they're on such a winning streak in my opinion they just keep getting better and better and this universe that they've created and this plan that they put into effect ten years ago to get to where we are now with 'Infinity War 2' coming out next May. It's just mind blowing to me just these movies that we're getting to see and these stories and these characters realised in such an incredible way, look it all comes down to the story really, it all comes down to the written word for these movies and if the story is shit then I don't care how many effects and I don't care about anything else, it's gonna suck. But these Marvel movies are written really well and they're directed really well and they're acted really well and they look great and they're fun and they're entertaining bottom line. I know going into these movies that it's going to be two hours and fifteen minutes of fucking sheer entertainment, and I just love 'em. The Deadpool movies are brilliant, I know it's not Marvel studios I guess it is now because they own that character again I can only look forward to seeing Deadpool interacting with other characters in the Marvel universe and the X-Men, Wolverine interacting with other characters and I'm sure that's all coming in the next ten years, just amazing. I can't say the same about the DC movies, I really loved the Wonder Woman movie, beyond that there's things I like about Justice League and there were things that I liked about Batman vs Superman but I don't think they're great movies, I think they're still trying to figure out how to represent these characters and maybe they just need to start looking for new writers because in my opinion they're just nearly and good as the Marvel movies. I do have high hopes for the Shazam movie I saw the trailer for that and it looks like they're really capturing a vibe with that movie and I know people will probably say 'oh they're trying to make it like Thor Ragnarok' they're trying to make it lighter and finnier but so what, they have to try something to break out of this place they're in with all these blue tinted depressing movies that they make, you know just have some fun with these characters, still be serious but everyone fucking dies in Infinity War and it's still a fun movie, Marvel's really figured it out. Look I love all the DC characters, I love 'em, I just feel they have not represented them right on the screen yet.
What would you love to do as a musician or writer or simply fan that you haven't yet had the chance to do?
Yeah if we could just play one show with AC/DC, that's the one band we've never played with, I guess that would be top of my wish list. We've never even played on the same festival on different days, we've never even come close. I can only hope with the rumoured album with Brian Johnson next year that they'll do a big tour and hopefully somehow we'll get to play with them.
Are you up to anything exciting musically of late?
No not yet, we're so in the thick of this Slayer tour, right now we're on a run we've just done twenty two shows in twenty six days so right now there's no room for creativity *laughs* really it's just sheer focus of getting on stage every night and we do the best that we can do every night and entertain the people coming to see this tour. When this tour is done we finish up with them in Europe in December and as far as I know right now early next year will be quiet as far as touring goes and the plan is for us to get together and start arranging some new music then.
Lastly let's look ahead to the future, finish this sentence for me, by the end of 2018 Scott Ian will…
*laughs* Be really, really tired *laughs* but happy, very happy.
Come and listen to Scott tell his legendary tales (for several hours) at one of the venues below
Monday, September 24: Dunstan Play House, Adelaide
Wednesday, September 26: Goldfields Theatre – MCEC, Melbourne
Saturday, September 29: Metro Theatre, Sydney 
Monday, October 1: The Tivoli, Brisbane
Tickets on sale now
Official Event Page
www.dinnerforwolves.com/one-man-riot
VIP Packages Available From 
Essential Information
From: USA
Website: http://www.scott-ian.com