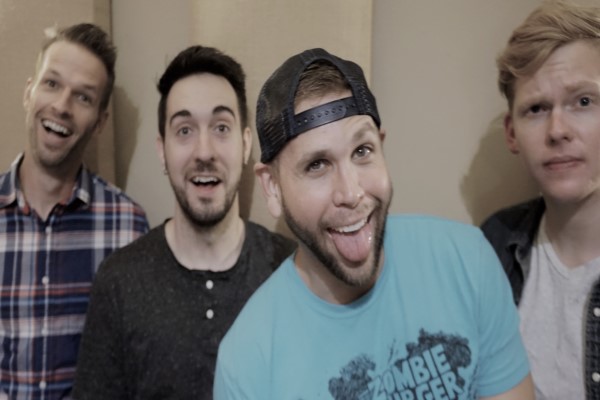 "Common side effects of listening to Schmoolio include: Driving fast, banging head, singing along, having songs stuck in your head for weeks on end, being in a generally awesome mood, and ladies love Schmoolio fans wayyyy more than they love Schmoolio."
From Bio: Since their inception in 2017, Schmoolio has begun to gain a local following by teaming with 91.7's Jimmy K Show for an on air interview and airplay of their single "The Art Of The Friendzone".  That airplay coupled with opening for local and regional acts has helped them to secure a spot on the 2018 World's Largest Bratfest lineup. Their debut album, Can't Hang, showcases catchy hooks, harmonizing guitars, and captures the emotion of teen angst with a more mature take on their life situations.  Can't Hang starts off with "The Art Of The Friendzone", an upbeat, tongue and cheek take on modern dating.  "Undiagnosed" touches on the importance of mental health and how it is a seemingly taboo topic for discussion of those suffering from any mental health issues.  Their influences of pop-punk bands like Blink 182, New Found Glory, and The Ataris are obvious in the hook driven choruses of "Late Nights" and "Hit The Reset Button", where their influences of more modern punk/hardcore bands like A Day To Remember show their more aggressive side in songs like "Welcome" and "She Gone…Bye Felicia!"
We teamed up with ReverbNation to share some talent with the world, check out Schmoolio from Madison, Wisconsin, we dug their sound and found them very worthy of being one of our Best Things You've Never Heard!
Let's start with the basics; for those that aren't aware of you, can you please give us the abridged version of your story, and how you would best describe your music?
Our music?  It's fun…that's what it's all about!  Just upbeat music that makes people wanna drive fast and get weird.  Schmoolio is a mix of 2000's bubblegum pop punk with a little heavier undertones/breakdowns at times.  We actually started out as a 90's cover band believe it or not. Dan (Carlson), Andy, and I (Dan Schmuhl) were playing together and our singer had to quit due to personal reasons.  I started writing some songs and got offered a show, so I called the guys up and said "we're gettin' the band back together!"
Can you now please introduce each band member including yourself, and give us a rock 'n' roll fact or myth about each of you?
Dan Schmuhl – Vocals and Guitar – Dan is ambidextrous and bought a neutral guitar so he could play tap guitar solos right OR left handed when he is simultaneously fist bumping the crowd.
Dan Carlson – Drums – Dan actually put a down payment on a custom drum kit but he couldn't afford it, so he ended up bartering with the guys at the drum company and they let him build his own kit and just charged him cost of materials.  He still plays his home-made kit today!
Andy Schultz – Bass and Vocals – Easily the best looking dude in the band.  Andy is often mistaken for Jack Barakat from All Time Low.
Mike Brace – Guitar and Vocals – When Mike joined the band he didn't own any of his own gear.  He had no guitar, no amp, and no chops. We let him join under the condition that he take guitar lessons and get a side hustle.
In terms of your music and any releases, instead of giving us a standard review, let's say if you had to give us your best door to door sales pitch to try and convince someone to listen to it before they slam the door in your face, what do you say to them?
Make your mom proud and listen to Schmoolio.  Common side effects of listening to Schmoolio include: Driving fast, banging head, singing along, having songs stuck in your head for weeks on end, being in a generally awesome mood, and ladies love Schmoolio fans wayyyy more than they love Schmoolio.
With your song writing, what do you consider to be the most important ingredients that make up one of your songs?
For us, the songs have to be real, but also relatable.  If you can code your specific situation into something that everyone has been through and can understand, people like to hear the story and walk away knowing other people feel the same way they do.
Are there current plans for any future releases you can give us the scoop on?
We just wrapped up an unplugged split EP with our friends, Four 5 Dive.  We did four songs off of "Can't Hang" acoustically for the split and they turned out pretty well.  That album is set to release August 3rd, 2018. We're also starting to track our next album which we're hoping to have finished up by the end of the year.
So what bands did you grow up listening to and how did they help create the style of music that can now be heard throughout your music?
Dan S. – I loved bands like The Startingline, MxPx, The Ataris, and Hit The Lights.  I started listening to pop punk because bands like Greenday and Offspring were on the radio and I just loved the genre.
Dan C. –  I grew up in Minneapolis so I saw a lot of local bands on their way up like Sing It Loud, Four Letter Lie, and Motion City Soundtrack.  I was also a pretty big fan of Underoath.
In terms of touring, here's your chance to plug any upcoming shows, and for those that haven't seen you, how would you describe a typical live show of yours?
We're doing dual CD release shows in Madison (our hometown) and Four 5 Dive's hometown for our unplugged split EP.  After that, we're taking some time to polish up and track our next album. We're working with Drew Palasini (of Help Desk) which we're stoked about!
For a bit of fun, say you get the chance to open for any artist or band in the world, who would they be and why?
It would be awesome to share the stage with State Champs, Seaway, or even Neckdeep.  Neckdeep and WSTR are coming through and playing in Milwaukee in the fall. If you guys read this and need an opening act, hit us up!
If you were to cover one song that no one would expect that you'd cover what would it be and why?
Since we kind of formed out of a 90's cover band, we can already play a bunch of 90's pop songs, but everyone would expect that so I guess those are out of the question.  Maybe cover Fantastic Voyage by Coolio. A. Absolutely no one would see it coming. B. Schmoolio covering Coolio just seems so obviously awesome. Maybe we could open for Coolio and be his backing band?  Coolio, if you read this, hit us up!
Lastly, here's a chance to grab a magic lamp and from it you are granted three wishes.  They are:
1.  Milwaukee's Classic Light would reintroduce the "Keg Pack"!  (They used to sell the "Keg Pack", 40ish beers in a plastic garbage bag with a cardboard cylinder down the middle.  You'd pour ice down the middle, remove the cardboard, and you had a tear away keg. Genius marketing, no idea why it went away).
2.  Freshman 15 (band) would get back together, write a new album, and tour with us.
3.  We would have a team of roadies at our disposal so we wouldn't have to load gear.
Essential Information
From:  Madison, WI, USA
Band members:  Dan Schmuhl, Dan Carlson, Andy Schultz, Mike Brace
Website:  https://www.facebook.com/schmoolio
Forthcoming / Current Release: Current release "Can't Hang" – http://schmoolio.bandcamp.com/.  Forthcoming release "Unplugged Split EP" – August 3, 2018