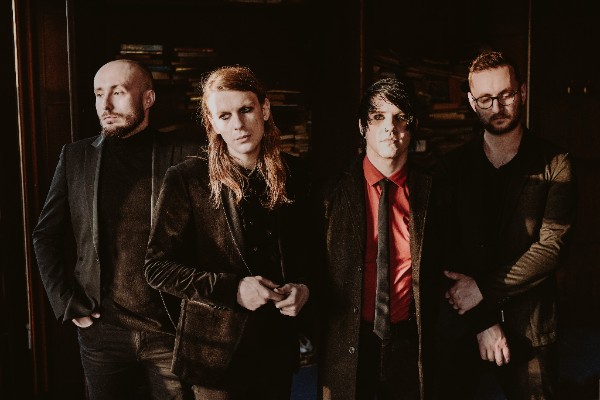 "We wanted it to be in first person so it could still feel as personal as previous other releases, but it demanded a lot more I don't know, just a different kind of appreciation of the much kind of broader world instead of an immediate world and for that it was really fulfilling and rewarding as an experience."
From Release: When music is as its best, it is capable of holding a mirror up to the human condition in a way few other art forms can ever match. In the hands of the observant, the erudite, the compassionate and the philosophical, music allows us to better understand who we are and feel powerfully less alone. With their third album 'The Great Depression', As it Is are comprehensively proving themselves to be such artists. Stepping out of their comfort zone with aplomb while asking, and answering, complex questions in a way precious few bands ever do.
Across 'The Great Depression's dozen tracks, As It Is take the listener on a journey which delves into every aspect of arguably the most prevalent social ill of our time. From public perception, to internal war, the quartet unflinchingly confront the most difficult questions around depression, the value of life over death, and whether the rhetoric around 'reaching out to talk' is ostensibly hollow, if no one is prepared to hear those words.
While in Savannah, Georgia on VANS Warped tour, Patty Walters gave us a call to talk about the band's new album 'The Great Depression', its creation, touring, and more…
Of course we're here because album number three is out next week and as it's the third album can you give me three words that you think sum it up perfectly?
Oh my goodness, unexpected, dark *laughs* and polarising, let's go with that.
Tell us a bit about 'The Great Depression', did you go into making this album with a concept or ideas in mind?
Yeah we absolutely did, we had the title of this record in place before we really had a lyric or a riff or a song or anything like that. This record is about the potential romanticisation of mental illness that society is guilty of. It offers more questions than answers I believe in the sense that it's really like an exploration, we really wanted this record to be as subjective as possible where people can find their own truth within it, but yeah it's about the idea in kind of attempt to eradicate the stigma behind depression, anxiety and mental illness that we are at times doing that in a way perpetuating things, something harmful. That's the kind of idea.
It's only just over eighteen months since 'Okay.' was released, in that time how was the process in putting 'The Great Depression' if in any way different to that or your debut?
Yeah I mean it was quite different, what's so strange is 'Okay.' came out in late January of 2017 and we started writing this record in early January 2017 so before 'Okay.' was out we were already kind of living in this world. I don't even know if we lived and appreciated the 'Okay.' cycle as much as we should've done at the time, it was just all about this album and about this world and all about this concept of decision. So much in writing this record was different because it's not inherently about us I suppose, like a lot of injected truth within the narrative and the characters, but it is about somebody else and somebody else's journey. We wanted it to be in first person so it could still feel as personal as previous other releases, but it demanded a lot more I don't know, just a different kind of appreciation of the much kind of broader world instead of an immediate world and for that it was really fulfilling and rewarding as an experience.
Are you finding as you continue to make music that you're picking up things from being out on the road that you bring back and use in the studio?
Absolutely, we always write together whether that begins separately or together, we will always just kind of like really combine our ideas and make sure that every song is something that we love and see a piece of ourselves in, and the more you're just kind of surrounded by the same kind of genre I feel you look towards other sources of inspiration , so I think this is more of a diverse and eclectic record as far as it goes but at the same time we have a true kind of identity with this record that we never had, there's a real kind of confidence in this record and the performances on this record that there never have been. For that it's the record I'm most proud of for sure.
You guys were in Australia last year of course I have to ask when can we expect you back?
We are hoping to be back early or in the middle of next year, we're piecing together when we come back to where and we will just take this record anywhere and everywhere, Australia especially is always a fun time like you guys are always so wild, so I think with these songs that are so much more ambitious and so much more dark than our previous releases it's going to be a really fun time.
So it's sometimes easy to say what's changed in your time in a band but what would you say is the one thing that's stayed the same in your time together in As It Is?
That's interesting, we chose to write this record that was bigger and braver because we wanted to remember why we did this in the first place, I mean nobody joins a band because it's a sensible decision *laughs* and I don't know why'd we write a sensible record with that exactly in mind, so instead of diluting our sound and writing safe songs or going with a safe producer we just wanted to embrace the vision and the integrity of the band and the record. So we took every risk and made every stupid decision possible I guess *laughs*.
As a band for six years now what's the one thing you've discovered about being in a band that you didn't think was part of it all when you began?
That's interesting, I mean when you're in a band you're effectively for the most part running a small business and there are so many things I was just not prepared for when we started the band, and equally there's so much responsibility to be a good role model that we have all kind of had to learn and space and embrace, so yeah there's a couple of things that you don't really plan on but as long as you've got a level head on your shoulders for the most part you're gonna be fine.
What's on your list of things to do as a band that you haven't yet had the chance to do?
I would love to just see so much more of the world. We've never been to South America, we've never been to Africa, I guess more realistically South Africa, people play Johannesburg, we've only played a small selection of South East Asia. I would love to just travel anywhere and everywhere as a band and really just kind of meet as many of our fans as we can and just see so much more of the world.
Lastly let's look ahead to the future, finish this sentence for me, by the end of 2018 As It Is will…
Still be a band because that necessarily wasn't a certainty for a long time *laughs*.  It's just a kind of refreshing optimism these days.
Essential Information
From: Brighton via Minneapolis
Band members: Benjamin Langford-Biss- Guitar/Vocals, Patrick Foley – Drums, Patty Walters – Vocals, Ali Testo – Bass
Website: http://www.asitisofficial.com
Latest release: The Great Depression (Out now – Fearless Records / Caroline Australia)