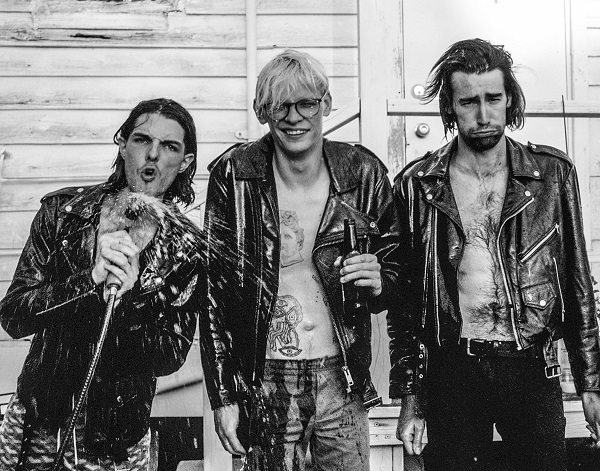 "We play high energy guitar music that draws on a lot of influences. We try keep our songs immediate and to the point. The guitars are a bit psychy with the effects we use but we write punky songs."
From Release: When music fans were first hit with the impulsive, chaotic notes of 'Hard Out' for the first time last year, Hideous Sun Demon had demonstrated the perfect blend of bombastic energy and refined psych-punk that has been years in development. Fast forward to earlier this month, which saw the blistering new single – 'Antithesis' – land with fans and newcomers to the Hideous Sun Demon sound. A taster of what was to come from the band's forthcoming third studio record and now, fans will be introduced to the full menu, with the release of FAME, EROTIC, DREAM.
We had Hideous Sun Demon answer some questions for us, check out their style and why we think they're one of the Best Things You've Never Heard…
Let's start with the basics; for those that aren't aware of you, can you please give us the abridged version of the Hideous Sun Demon story, and how you would best describe your music?
An abridged version of our history is tricky. Jake and Vin and Blake all know each other from mid 2000s. We've done an EP & 3 albums. Won a bunch of money one time in a band comp. Played some festivals and toured heaps. We went to NZ last year which was pretty wild. We were originally based in Perth but recently moved to Melbourne. We've had 8 members total (including the current 3).
We play high energy guitar music that draws on a lot of influences. We try keep our songs immediate and to the point. The guitars are a bit psychy with the effects we use but we write punky songs.
Can you now please introduce each band member including yourself, and give us a rock 'n' roll fact or myth about each of you?
Blake – plays guitar. He stole Kevin Parkers kick pedal once.  He loves hip hop and had toured in some cool bands like his old group koi child.
Vin – sings and plays guitar. He drinks too much vanilla Coke. He studied jazz bass at WAAPA but realised rock n roll is cooler. One time he worked a festival and snuck into Iggy pops dressing room and put his belt on.
Jake – plays bass and manages. He just moved to Collingwood & loves pasta classica. He sung in kitchen people which Vin played synth in. He's had 6 different jobs this financial year.
In terms of your music and your releases, instead of giving us a standard review, let's say if you had to give us your best door to door sales pitch to try and convince someone to listen to it before they slam the door in your face, what do you say to them?
All of the albums are pretty short and you'll understand what we are doing quickly. Even if you hate it it's better then feeling nothing at all. You won't hate it though.
With your song writing, what do you consider to be the most important ingredients that make up one of your songs?
Energy and intensity. We also are very collaborative and try to work everyone's ideas and opinions into songs. We do certain things that make our playing unique so we try mix that together.
Three albums in now, how do you feel you've evolved as a band as you continue to create music?
'Fame erotic dream' feels more immediate then the last 2 albums. Less drawn out repetitive jam sections. We used to be less dynamic and we control the release of energy better now.
The EP was bouncier and more garage. We got heavier and riffier, more half time etc with 'sweat' and especially 'industry connections'.
So what bands did you grow up listening to and how did they help create the style of music that can now be heard throughout your music?
Blake listened to alot of psych and hip hop. He brings that vibe through his playing.
Jake listened to heaps of 70s punk and 60s garage. He does alot of down picking and wants to be Dee Dee Ramone.
Vin's dad has a great music taste so he likes heaps of different stuff. He learnt heaps of weird chords and scales from piano and jazz bass which he uses for lead lines.
In terms of touring, here's your chance to plug any upcoming shows, and for those that haven't seen you, how would you describe a typical live show of yours?
We jump around, you jump around, maybe someone will stage dive, Vin will break a guitar string, we will get sweaty. Our Booker also gets great supports
For a bit of fun, say you get the chance to open for any artist or band in the world, who would they be and why?
Hideous sun demon. We wanna see how good we look on stage and possibly heckle ourselves. Double trouble.
If you were to cover one song that no one would expect that you'd cover what would it be and why?
Tears for fears 'head over heels'. Why? Because we like it and the guitar diddlies. Synth pop rules, love the drum production.
Lastly, here's a chance to grab a magic lamp and from it you are granted three wishes.  They are:
1. We didn't miss our flight to Adelaide this morning
2. To move Australia so it's perfectly in-between Europe and America so touring is cheaper.
3. Uber drivers never again cancel the ride when you have 1 more piece of gear to put in the car.
Essential Information
Location: Perth moving but relocating Melbourne 2018
Band members:  Jake, Vin & Blake
Website:  https://hell-beach.lnk.to/FameEroticDream
Current Release: 'Fame Erotic Dream'