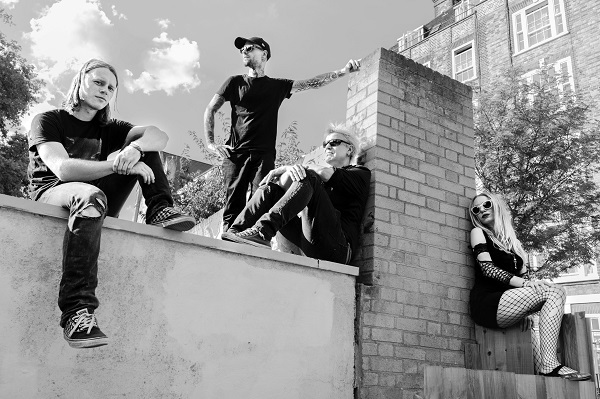 "Our live shows are a combination of theatre courtesy of Nina, raw high octane energy, melodies that will wrap around your conscience, and pure incitement of the senses."
From Bio: Founder members Nina Courson and Phil Honey-Jones played their first gig together in late 2010 supporting Goldblade at a disastrous punk festival in Brighton where Healthy Junkies only played for 10 minutes before the festival was shut down and the promoter ran off with the money. Undeterred they continued to play shows all over the UK, travelling miles and playing anywhere and everywhere including Europe and festivals such as the mighty Rebellion festival, Blackpool, The Whitby Goth festival and The Camden Rocks festival, London. They have also played support slots to iconic UK bands such as The UK Subs, The Professionals, Sham 69, GBH, The Rezillos and Theatre of hate. They have gathered so much momentum along the way, building an audience and crafting their sound all the while. With 3 studio albums (2 of them on Manchester based STP Records) and 2 EPs under their belt Healthy Junkies have just finished mixing a fourth album. This is set for released on October 12th on Cargo records. Also In 2018 tours to Ireland and Germany have already been booked, plus on the back of continued support from Legendary radio DJ Rodney Bingenheimer on Sirius XM and also support from Brian Foss of KEXP Radio in Seattle a tour to the west coast of the U.S.A. is happening in October/November 2018.
We teamed up with ReverbNation to share some talent with the world, check out Healthy Junkies from London, we dug their sound and found them very worthy of being one of our Best Things You've Never Heard!
Let's start with the basics; for those that aren't aware of you, can you please give us the abridged version of your story, and how you would best describe your music?
Nina and I met on Myspace initially, she asked me to book a London show for a band from New York who were coming over. Several months later we arranged to meet so that she could thank me. It was at a gig in Soho, London at a venue called Punk. I had just come back off a European tour with the band I was in at the time. I saw a touch of magic in her the moment our eyes met but it took about a year before we managed to actually write any songs together. When we finally did it was a birthday present for one of Nina's close friends and the song we wrote was called Glam Sister. Thereafter the songs came thick and fast. We both have similar influences which show in your songs. Nina has always been a diehard Nirvana fan and so grunge definitely features in our sound. I have always loved Bowie and when I first started playing the guitar new wave and punk bands like The Clash, Stiff little fingers and The Skids heavily influenced me. People have trouble defining what our sound is and often it depends on the song. We have some psychedelic moments in the Hawkwind vain and also some Bauhaus/Siouxie Sioux moments. Sonic Youth is a band we both love and that shows too. So Grunge/New Wave/Punk/Garage Rock/Post Punk/70s rock. It's all in there.
Can you now please introduce each band member including yourself, and give us a rock 'n' roll fact or myth about each of you?
Nina Courson-Lead Vocals . She once stole a 50,000 Euros royalty check from a very famous French band. (Guilt free now knowing that he simply would have had the check redrawn and she could not cash it anyway!) .. Still..
Phil Honey-Jones-Guitar/Vocals. I make an elixir of life that I drink everyday
Dave Whitmore-Bass guitar. His father is a successful producer
Adam Lewis-Drums. He used to play the drums for the rock band Breed 77.
Pumpy-Drums. He used to play drums for legendary punk band The UK Subs.
In terms of your music and any releases, instead of giving us a standard review, let's say if you had to give us your best door to door sales pitch to try and convince someone to listen to it before they slam the door in your face, what do you say to them?
I would say this: Does your life ever feel monotonous? Do you seek meaning in your day to day existence or seek ways to distract yourself from the mundanity of it all? Do you like to feel good? Would you like to go on a sonic journey with us, into the land of inspiration and temptation? Well hop on board the good ship Healthy and listen to this new album. It will take you there and beyond.
With your song writing, what do you consider to be the most important ingredients that make up one of your songs?
Truth, something that will mean something to others as well as ourselves, a story within a story, it has to happen naturally and flow. It has to have an identity.

Are there current plans for any future releases you can give us the scoop on?
Yes. We will be releasing our fourth studio album on October 12th on Cargo Records. The album is Called Delirious Dream and we can't wait to get it out there. There will be a launch party in London plus a bunch of U and Irish dates. Then we will be touring the album on the West Coast of the USA in October/November.
So what bands did you grow up listening to and how did they help create the style of music that can now be heard throughout your music?
Phil.
I was fortunate enough to come into possession of a card board box full of vinyl 45s and a bunch of LPs too discarded by my older brothers and sisters when I was about 7 years old. There were so many gems in this collection. Bands like The Kinks, The Stones, The Amen Corner, The Beatles as well as rock bands like Deep Purple, Led Zeppelin, The Groundhogs, The Allman Brothers and Glam rock from the likes of T-Rex and Bowie. This was a great start. Later on I got into Punk and NewWave, also loving the punk ethic that 'Anyone can do it!' made me want to pick up a guitar. However I became disillusioned with guitar music for a while experimenting with other styles like Techno, Psychedelic Trance and Break beats and it wasn't until I first  heard Nirvana that my desire to rock out on the guitar came back. Particular guitarists have inspired me in finding my sound and they include Mick Ronson, Robert Fripp, The Edge (Even though U2 get a lot of criticism nowadays their early stuff is awesome) Kurt Cobain and Daniel Ash.
Nina.
For me it started with new wave stuff from the 80's which is probably where I get this pop edge in my vocal melodies. Then it went from there to grunge and heavier bands like Nirvana . That's probably my punk side even though a lot of punks don't consider them as such. It also gave me a sense of performance watching Kurt roll around the floor and torturing his guitars. The riot grrrls bands such as L7 and Hole were a huge inspiration as a woman, it gave me some balls just to watch them.  I also like The Sex Pistols and The Doors. Jim Morrison has definitely inspired me in a lot of ad libs and improvisations that I sometimes do in songs. Patti Smith is also someone I've looked up to for years and I love the way she incorporates poetry into her music. There is something very theatrical about her which obviously speaks to me a lot.
In terms of touring, here's your chance to plug any upcoming shows, and for those that haven't seen you, how would you describe a typical live show of yours?
Our live shows are a combination of theatre courtesy of Nina, raw high octane energy, melodies that will wrap around your conscience, and pure incitement of the senses. We have a UK and Irish tour coming up, some European dates plus some USA dates to be added soon.
For a bit of fun, say you get the chance to open for any artist or band in the world, who would they be and why?
Queens of the Stoneage. They have everything: Power, melody, harmony, energy and we love what they do. We also saw Josh Homme play with Iggy Pop at The Albert Hall in London fairly recently. That was mind blowing…
If you were to cover one song that no one would expect that you'd cover what would it be and why?
We do a cover of 'These boots are made for walking'. It was Nina's suggestion to play this song and the rocked out version we do with a moody atmospheric verse after the guitar break is a beautiful moment. We have played the song live quite a bit and the punk crowds particularly love it with its reference to boots. Everyone loves that song. How can you not?
Lastly, here's a chance to grab a magic lamp and from it you are granted three wishes.  They are:
This is from Nina :
1. To resurrect all the dead rock stars
2. To write a song that people will listen and love forever
3. Be forever young
Essential Information
From: London, England
Band members:  Phil HoneyJones, Nina Courson, Dave Whitmore, Adam Lewis, Pumpy.
Website:  www.healthyjunkies.co.uk
Forthcoming / Current Release: No Control – single, out now. Delirious Dream-Album, due out on October 12th.