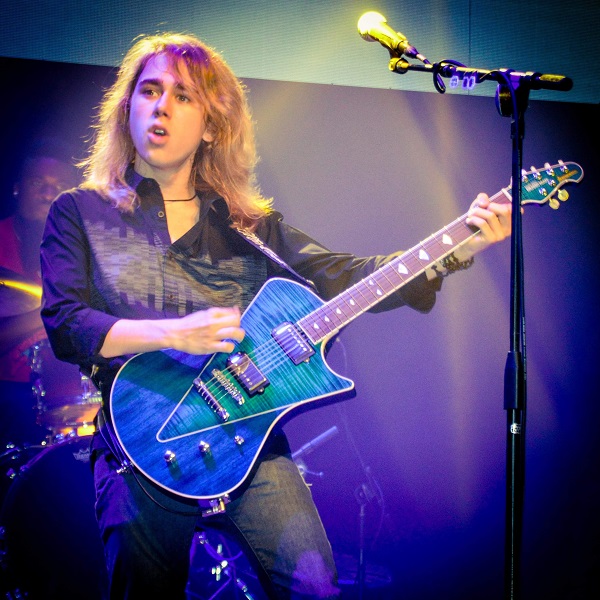 "Then, when I stepped back, I realized all of my songs share one key ingredient – a solid rhythm section. Every one of my songs rests on a solid base & everything else is just icing on the cake."
How does a 16-year-old rock musician crack today's music code of formulaic beats and electronic music? First, he must have a disobedient music spirit that can surpass the industry saturated by musicians chasing beats. Second, he must obtain enough cultural significance as most famous rockers have done in stirring passion and deconstruction of the norm. Griffin Tucker and his "no excuses" rock act doesn't conform to his predecessors. Instead, he's created his own musical path for his "GrifFANS".
"Believe It", Griffin's debut EP, dropped in the summer of 2017 and was an instant GrifFAN fave. This album rocks like none you've heard in recent times! And, although you may wonder how many great musicians helped bring this amazing album to life, the answer is ONE: Griffin Tucker – an extremely talented emerging rock artist that plays, sings and writes it ALL.
We teamed up with ReverbNation to share some talent with the world, check out Griffin Tucker from Dallas, Texas, we dug his sound and found him very worthy of being one of our Best Things You've Never Heard!
Let's start with the basics; for those that aren't aware of you, can you please give us the abridged version of your story, and how you would best describe your music?
I'm a 16 year old rock artist from TX. I've been gigging since I was 8. I play guitar, bass, mandolin, ukulele, piano & drums. And I sing – I was on the Voice at 14 yr's old and American Idol at 15.
I call my music – Retro Rock. It's like a modern twist on classic rock.
Can you now please introduce each band member including yourself, and give us a rock 'n' roll fact or myth about each of you?
Well, it's just me on all my songs & videos. I sing & play everything on them. But when I gig, my band is called The Real Rock Revolution. My bassist's name is Patrick Smith, and he might or might not be in every band in north Texas. My drummer's name is Larry Clemon, and he just might be the coolest drummer I know.
In terms of your music and any releases, instead of giving us a standard review, let's say if you had to give us your best door to door sales pitch to try and convince someone to listen to it before they slam the door in your face, what do you say to them?
"If you dig rock and roll, check this out!"
With your song writing, what do you consider to be the most important ingredients that make up one of your songs?
When I first though about this, I thought about the riffs in my songs. Then, when I stepped back, I realized all of my songs share one key ingredient – a solid rhythm section. Every one of my songs rests on a solid base & everything else is just icing on the cake.
Are there current plans for any future releases you can give us the scoop on?
I'm working another album right now. Currently, they are more blues than my previous stuff but they're very rock at the same time.
So what bands did you grow up listening to and how did they help create the style of music that can now be heard throughout your music?
I've grown up listening to a lot of classic rock. But The Beatles, AC/DC, KISS, Led Zeppelin, Queen – these are the bands I've studied & listened to every album, every song. They have each influenced me & you can definitely hear them in my music.
In terms of touring, here's your chance to plug any upcoming shows, and for those that haven't seen you, how would you describe a typical live show of yours?
I play a lot of solo, acoustic shows. I currently have four scheduled in the month of August. My favorite shows to play are with my band because we can really rock out. We have several coming up.
My shows are super high energy rock & roll!
For a bit of fun, say you get the chance to open for any artist or band in the world, who would they be and why?
If I could open for any band in the world right now, I'd pick Greta Van Fleet because they're a young rock band like me & I'd love to go on the road with them.
If you were to cover one song that no one would expect that you'd cover what would it be and why?
ABBA – "The Winner Takes It All". That would be… interesting!
Lastly, here's a chance to grab a magic lamp and from it you are granted three wishes.  They are:
1. Meet Paul McCartney
2. End world hunger
3. Be featured on May The Rock Be With You.
1 down! 2 to go!
KEEP ROCK ALIVE! Griffin Tucker
Essential Information
Location: Dallas, TX, USA
Band members:  Griffin Tucker
Website:  www.GriffinTuckerMusic.rocks
Current Release: 'Believe It' (Out Now)