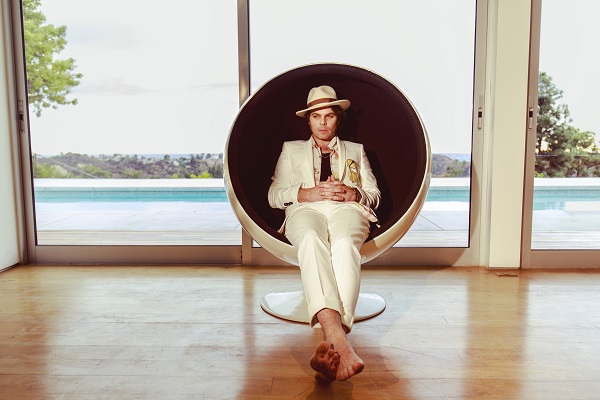 "…all the new songs are feeling great and they're really connecting with the audience and it's been really exciting, so I haven't really felt the need to kind of remind people of what I've done before, this is what's happening, this is what I'm doing and I hope you like it."
From Release: Gaz Coombes has announced a series of East Coast dates in support of his third solo album, World's Strongest Man. Gaz has evolved from 'former Supergrass frontman' to hugely respected Mercury nominated solo artist, with last album, Matador, nominated for the U.K.'s prestigious Mercury Prize. World's Strongest Man was released on Hot Fruit/Caroline Australia on 4 May 2018. The record is inspired variously by Grayson Perry's The Descent of Man, Frank Ocean's Blonde, Californian weed, British woodlands, unchecked toxic masculinity and hip hop (and a whole lot more besides), it is a bold, ambitious, free-thinking, future-facing rock'n'roll record. This will be Gaz Coombes first solo tour to Australia. Gaz is a long way away from the Britpop frontman in Supergrass, but his songwriting chops, charm and trademark sideburns remain.
At home in Oxford Gaz gave us a call to talk about his upcoming debut solo tour of Australia, his newest album 'World's Strongest Man', being a solo artist, and much more…
This is your first solo tour of Australia, have you got an idea of how these shows are going to shape up?
Yeah I mean it's been a really, really exciting year or two working on the live set ups and I've got different formats I guess for the shows and that's been a really exciting and kind of cool challenge as well. So this solo set up I've been working on it for fifteen months now and it feels really cool, it's kind of experimental and kind of fun and I'm using different instruments here and there, like drum machines and samples and loops and it's kind of fun. It's been really, really exciting. It's been going down really well, so I'm just going to bring that over and hopefully everyone will enjoy it.
When you're essentially introducing yourself to an audience again, how do you go about putting together a set list?
Well it's quite sort of, I don't know I was definitely kind of song minded about it I think when I first started, I don't know maybe I felt the confidence in the songs and the first record that I had, the first couple of records that I had I did a lot of that material and was quite stubborn about it. It still works and I guess what I'm saying is I'm not really doing much Supergrass stuff. Look it's now a take of I'll do the odd Supergrass song if the gigs kind of vibey and in a good place I might slip one in. As far as I can feel man it hasn't needed it, all the new songs are feeling great and they're really connecting with the audience and it's been really exciting, so I haven't really felt the need to kind of remind people of what I've done before, this is what's happening, this is what I'm doing and I hope you like it.
Your newest album 'World's Strongest Man' has been out now for around two months, how has the cycle been since its release?
Yeah it's been pretty amazing, it was a really exciting month when it was released and that whole kind of momentum that I picked up on the last record just really launched it really, really well this record and it's been great, all the fans are really digging it so yeah it's just made all the live shows really make sense. It's that beautiful thing where you write these songs that are really quite intense and can be isolated making a record and I'm so inside it until I can perform them live they're not really alive themselves you know, they need that kind of burst of energy to bring them to life, so that's been really satisfying and great to be a part of.
Working on the three year cycles between records, are you finding as you grow older that with each record you go into it with a different mindset?
Kind of yeah, I do feel like I've got my internal clock telling me when it's time to stop touring and time to start writing again, something in my head that tells when it's time to stop the live shows and get on with the new record so it seems to work out about two and a half three years but it's mainly about touring really, the touring cycle is kind of open ended you know it just depends if the people keep coming along and there's shows on the horizon there's no reason to stop. Yeah it's usually like eighteen months of touring but I'm just really, really glad with this album I've got the chance to get over to Australia, it was a real moment for me when the tour came through, because it's different these days I guess the 90's and early 2000's the music industry was different and not so reliant on big kind of corporate monies which is a good thing that it did so well, it can be difficult for us to run the project and be able to make it out to see everyone, it can be really difficult to do that without the support of big label money and stuff. So it's kind of a double edged thing, I'm really pleased I'm a musician of the time but so sort of liberated and free in a way to make music with no kind of tired middle men running the show it's just that straight to audience thing that's really exciting about music but it does make it hard to get out and visit people so yeah I'm really chuffed man, I'm really, really happy.
Stepping out solo, what do you feel you've been able to do as an artist that you weren't able to do as a part of Supergrass?
It's just a different thing, when you're a band I think you don't get that single voice you get to plan together whether it's the touring, whether it's the live show, or it's the record, then I guess at the moment It's just whatever ideas I have personally and kind of singular approach and a singular viewpoint really that I'm really enjoying. Just exploring what I can do, many businesses run that way but I guess the energy and the ethos is kind of the same I've always had, that energy to put on a great show and to really sort of dive into the writing that's sort of how it always was.
So, it's easy to say what's changed over time but what is the one thing you would say has stayed the same in your time making music?
I think writing, you know? Writing music and writing a record, when I begin I guess what drives me to do it is the same, my techniques and my approach has changed a lot and evolved, but basically what drives me still remains the same.
Looking back, was there one piece of advice you were given when you started making music that's stuck with you to this day that you still go back to?
No not really, not one piece of advice I think there's probably lots of little pieces that kind of worked here or there over the years, I think working in the studio with people I've worked with over the years I think there's been all these cool minds that I've worked with and their tricks and techniques and ways of looking at things and not overplaying, not overthinking, not overproducing, and yeah so when I'm making a record all these little bits of advice or just conversations that kind of creep in and helps and kinds of shapes me on how it works I guess.
Lastly let's look ahead to the future, finish this sentence for me, by the end of 2018, Gaz Coombes will…
laughs* Be in Australia and I don't know… I'll be a year older *laughs*
Catch GAZ COOMBES At the following dates
THURSDAY 13 SEPTEMBER, OXFORD ART FACTORY, SYDNEY
BUY TICKETS

FRIDAY 14 SEPTEMBER, THE ZOO, BRISBANE
BUY TICKETS

SUNDAY 16 SEPTEMBER, CORNER HOTEL, MELBOURNE
BUY TICKETS
TICKETS ON SALE NOW
Presented by XIII Touring
Essential Information
From: Oxford, England
Website: http://www.gazcoombes.com
Latest Release: World's Strongest Man (Out Now)