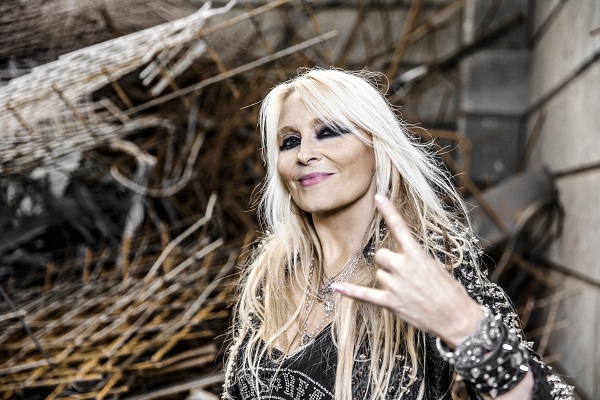 "Sometimes we are making records and it is so stressful but this one it was just really, really pure joy and it was hard, the work is hard but in feeling it was always very, very positive and that might be a good sign, I've only had it one time in my life and that was with the 'Triumph and Agony' album."
From Release: This is DORO's 20th album – and it's arriving just in time for her 35th live stage anniversary! And yet it's not just these two great anniversaries that make »Forever Warriors, Forever United« a truly extraordinary album. It's also not just the fact that the metal queen is releasing her very first double album. No, »Forever Warriors, Forever United« is so special because DORO presents 25 (!) brand new hot tracks that all have one thing in common; an incredible variety and stylistic range, paired with the highest quality. There is simply no weak song on this album – it's "All killer, no filler!" On »Forever Warriors, Forever United«, DORO delivers a musical firecracker with an unbelievable amount of hits. From stadium anthems to ballads, from heavy metal to classical – the queen of rock & metal proves beyond doubt on this double album that she rules all facets within the rock genre (and far beyond)! And: »Forever Warriors, Forever United« is also more than just a double album – it's actually two new DORO albums in one!
In Germany and on her way to Siberia for the start of her tour Doro gave us a call to talk about her new double album 'Forever Warriors, Forever United', creating music, anniversaries, generations, Australia, and much more…
Thank you so much for your time today, Doro, we're here because you're about to release your twentieth album, an amazing feat, and not only that but it's a double album, your first, why at this stage of your career was now the right time for a double slab of metal?
Yeah *laughs* well Troy it just really came out, it was not pre-planned I was just starting working on a new record and actually the initial song was the song for Lemmy 'Living Life To The Fullest' because I said oh man I don't want to wait another year and stuff, you never know what will happen and then we wrote the song 'Living Life To The Fullest' to honour Lemmy and then I went into to the studio and I thought I want to do this Motorhead song 'Lost In The Ozone' as well because I loved it so much and I loved Lemmy as a lyricist so much. So we started working on the record and then suddenly after a couple of months we had thirty five songs, close to forty and I thought oh shit, and everybody said you have to cut it down to twelve songs and I thought it's impossible, I love them all and they all mean something and they're all different. Then I talked to the record company and I said I would love to do a double album because there are some songs which Troy I can't miss and cannot not put on the album, so I said let's think about it because they said well the record industry is not in such good shape and double albums are very unusual in this day and age and then a couple of months ago they said 'OK Doro, go for it it's your thirtieth anniversary we know and let's do it.' Then I could put all songs and some more like bonus tracks there are some more songs that I thought were interesting for the fans and special so it came about, but they were all written on pure heart and soul and energy and nothing was ever sitting down and writing a song it was all just coming out of the heart and I always had my little cell phone and recorded my ideas and melodies on the cell phone and if I think ooh there's some magic behind this idea or this melody then I think let's work on it and I have a great song writing partner, he was the guitar player in Sisters of Mercy his name is Andreas Bruhn in Hamburg and we worked together for a long time and I said "Andreas I need to record right away" and we started and I went to some different studios and then it was becoming suddenly a real record with many, many guests as well and it all just happened and was very, very joyful and smooth production, no problems. Sometimes we are making records and it is so stressful but this one it was just really, really pure joy and it was hard, the work is hard but in feeling it was always very, very positive and that might be a good sign, I've only had it one time in my life and that was with the 'Triumph and Agony' album.
So in splitting it across 'Forever Warriors' and 'Forever United' what does each title represent to you personally?
Actually 'Forever Warriors' is a record that is maybe a little more fighting spirit then we all together fighting the good fight and it's maybe a little bit heavier and some more anthems on it, and for 'Forever United' is maybe a little more soulful and personal and emotional and some deep songs in it and I think both together I love them both the same I couldn't say which one I love more but the whole message of these albums is a positive one too, stick together like us metalheads and fighting the good fight and stand up for what you believe in and not let other forces take over and fight for the good stuff you know. That's the meaning about that song, why is there so much turmoil right now? It's important to stick together and people with a good heart and I always say that metalheads they have the heart in right place and that's the most powerful and the greatest thing to me.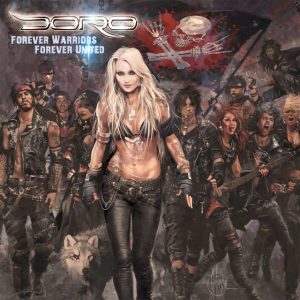 There are some great guests on these albums but I have to ask what was it like working with Tommy Bolan in the studio again after so long?
Super! It was super, Troy , we were always friends and we always remained friends and he came up on stage when we toured in New York and about two years ago I called him and I said "You know, Tommy, the journalists told me that the 'Triumph and Agony' is almost thirty years old, that was last year, and I said shall we do something, should we celebrate something like play the whole record and he said "Doro I'm so glad you say that!" Then we did a couple of festivals, Sweden Rock was the first one and immediately the biggest one and we've never played the whole record in its entirety but it sounded really great, it sounded really nice and then we did the second festival it was Norway Rock and we got along so great, talking, talking, and then I had to leave at seven o'clock in the morning because I was catching a plane and I said should we jam in our hotel room a little bit, so at five o'clock in the morning we started jamming and then we cam up with this idea 'if I Can't Have You No One Will' and I said "Tommy, it's such a great idea, I think Johan (Hegg) would maybe be so great on this and maybe we should do it as a duet." So I called Johan, I sent him the demo and to let me know what you think he loved it and wrote all the lyrics for the verses Johan did and then we finished it all and it was great talking to Tommy, working with Tommy, we've played many festivals together, some gigs, we did and American tour together, we had three guitar players it was a lot of guitar *laughs* but it was awesome. Tommy is somebody who is high energy at all times, like on stage, off stage, he's super sweet, he's such a nice person, very soulful and still he has a pure heart and I love that. I loved him in '87 and he's the same, like he learned a lot of stuff but in his heart he stayed the same Tommy which I loved and sometimes with so much energy sometimes you say 'wow' he's bloody and sweaty and ripping up all his strings at once *laughs* he's a powerhouse and very unique, very unique.
Obviously technology has changed so much since you began making music, what for you has been the biggest and most notable change in the way you make music and work in the studio?
Ahh Troy, I still most of the time I do it old school, the big production in a nice studio where you feel at home and now technology is sometimes great when people are at the other end of the world and they can do some licks or some solos and send the files which would've been impossible to get everyone in one place at the same time, so that's really good, you can do some stuff. Even when you have an idea you can send to somebody and ask what do you think? And then they work on it and send it back so I think that's awesome, I love that. There's another thing I love so much, in the 80's and 90's we always did like demos and then we would pick the best songs, then we'd go into a studio and do the whole record and honestly I always loved the demos much more because there's so much more energy and better feeling it was so powerful and so real and I always thought while we were doing a record the demo was feeling so much better and we couldn't use the demo and now in this day and age if you do something you think the initial idea is great you can always work up from the demo and you don't have to reproduce, you don't have to do it over again and when you do something over immediately you lose so much I think, so I love that, I love that. I love the old school way but some new things where you have the choice of what to do that's pretty awesome, and that you don't have to be in the same room at all times, I love it but sometimes if it's not possible then it's cool when somebody says OK well I'll go into my own studio and send it to you that's pretty great, even when we're on our cell phone usually we're on Viber and we say do it like this or do it like that like when you can see each other and talk about an idea that's awesome. I love that.
This year also marks the 35th anniversary of your live career how are you planning on celebrating this milestone?
Wow, man Troy, since we just did the record I'm doing a couple of festivals, the tour's coming up in Winter time then I'm going to celebrate nice in Wacken because usually at Wacken there's people from all over the world, from Australia, from South America, from Russia, so we want to put on a great show at Wacken. Johan Hegg will be there and a couple of other great musicians and I was growing up in the glam rock times with Sweet, Slade and T-Rex, I don't know if you remember all these cool bands and I made friends with the guys in Sweet so they will come up and play 'Ballroom Blitz' and the stuff that inspired me when I was five, six, seven years old and so we want to do a big show with many special guests and we're still working on some more, but we have one and a half hours and of course playing all the songs and all the highlights like 'All We Are', 'All For Metal' and with Johan 'If I Can't Have You No One Will' which will be probably the first time we do it live, then the tile tracks from all of the albums, like 'Burning The Witches' and 'Hellbound' and that stuff. All killers no fillers, that's the idea, we have to rehearse and of course a great show a little bit like the album cover looks like a little bit of a Mad Max style, people are just building the stage so it should look really nice. Then maybe celebrating it many, many more times all over the world.
Can we maybe expect to see you in Australia as a part of it?
Yes I hope so, many years ago when we came there it's too long and that's another thing because of Wacken there were these diehard fans in Wacken actually called the Metal Warriors Australia and we were talking and stuff and they said you've gotta come over to Australia and we don't know who we would talk to and any connections, and they said we do and actually they did it and they brought us over and they're all diehard metal fans and it was so awesome so I'm hoping that something like this will happen again but I'm dying to come over. Not confirmed and no dates yet but I hope as soon as we get a chance. I'd love to.
You also would've seen generations of fans now come along to your shows, is this something you've witnessed personally and how does it make you feel to see how much the music has allowed this to happen?
Yeah that's great, when you see like the fans of the early 80's like when it first started and they're still coming and that's awesome and when they bring their kids or sometimes they bring their grandkids so it's great that everybody's coming, everybody's having a good time and getting along, it's like a family feeling. Young and old and everybody seems to be a diehard fan, if you fall in love with that type of music once I think you never let go so we still have the same fans from the 80's and tonnes of new fans and the festivals there are sometimes some first timers and they're twelve or thirteen years old and just seeing their first metal festival or concert and that's so great because when they love something and they have many, many things to check out, maybe check out the 'Triumph and Agony' album which they didn't know existed. So I think it's awesome and seeing that metal is doing so well and all festivals are all totally sold out and metal has such a big place in life, I love it, and I saw the good and the bad times of metal in the 80's when we started and when metal became big we thought it would always be that way and it was great and then in the 90's when grunge was suddenly taking over it was so heartbreaking that I think the industry didn't serve the metalheads anymore, no more videos, no more records coming out, it was a tough time, and then in the year 2000 I heard it was coming back. You wouldn't know that it would make it this big again but thank god it came back, so I know how it is to live with metal when it's big and live with metal when it's really only for the diehard fans which was tough, man, that was tough because they didn't release any records any more the record companies. When I delivered a new record I was so excited and they were great songs and I was thinking this could be the single and this could be the video and they said "is it grunge?" I said 'No it's more metal" and they said "If it's not grunge we can't release it" and I said "but check it out, it's great songs" they said "It doesn't matter, if it's not grunge, no release." So that happened for many, many more records and many more years and actually it was very tough to survive because therefore no more tour, no more festivals and then ever since 2000 metal is in such great shape and I'm so grateful for it and I think in some places it's bigger than ever and I think even bigger than the 80's and that makes me so happy.
And you've always remained the Queen so that's the most important thing
Oh Troy I'm just a big Metalhead, a big metal fan still *laughs* when it makes people happy I'm happy, whatever it takes. It doesn't have to be the Metal Queen, if somebody says I like it, I love your music that's cool too.
Lastly, let's predict the future, finish this sentence for me, by the end of 2018, Doro will…
Oh… Doro will be still on tour *laughs* celebrate Christmas and New Years with the diehard fans and will get inspiration and motivation for the new year for more shows and new music to come.
And come to Australia…
And come to Australia! Yes Troy, yes yes! Thank you for that, that's the most important thing in that sentence *laughs*
Essential Information
From: Germany
Band Members: Bas Maas – Guitars, Luca Princiotta- Guitars, Nick Douglas – Bass, Johnny Dee – Drums, Doro – Vocals
Website: http://www.doromusic.de
Forthcoming Release: Forever Warriors, Forever United (17th August – Nuclear Blast)