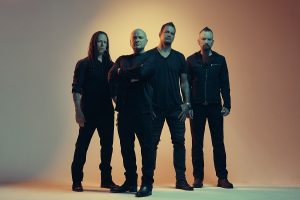 GRAMMY® Award-nominated multi-platinum hard rock leaders Disturbed will unleash their seventh full-length album, Evolution, via Reprise Records on October 19. The album is available to pre-order now.
Disturbed said: "It is with tremendous pride, joy, and anticipation that we look forward to sharing the next chapter in the creative life of Disturbed with the world. This record is truly unique, and very special to us, and we can only hope that upon listening to it, that the world will feel the same. The record showcases the most adventurous and eclectic combination of musical styles and moods that we've ever attempted in our careers. Each song truly has its own identity, feel, and power. The writing and recording sessions that fostered this album were truly an emotional and magical experience for us, creating without boundaries or limitations, and simply going where each day's musical inspiration led us. Influenced by some of the great classic rock records of our youth, it is an experience unlike anything we've previously created. Its time is drawing near for the world to finally hear what is undoubtedly the most daring record of our lives. 'Evolution' is coming. Are you ready?"
Evolution arrives in the wake of the group's 2015 full-length Immortalized, which became their fifth consecutive #1 debut on the Billboard Top 200 and also debuted at #1 in Australia. Immortalized returned again to the #1 spot on the ARIA chart in April 2016 and earned ARIA platinum certification. The album featured the double-platinum crossover smash The Sound of Silence – which received a nomination at the 2017 GRAMMY® Awards for "Best Rock Performance" – as well as The Light and The Vengeful One.
Evolution makes good on the promise of its title. Disturbed unwaveringly cling to the uncompromising spirit that solidified them as a history-making force, while boldly progressing at the same time. Reteaming with Immortalized producer Kevin Churko behind the board at the Hideout in Las Vegas, Disturbed retain their signature thunderous grooves and hypnotic heaviness as they further refine their ambitious melodies and penchant for progression, spanning the gamut of their potential.
Preceding the announcement, Disturbed engaged their diehard fan base to actually choose the first single—another historic first. They launched a site giving fans the option to vote for a "Heavy" or "Ballad" song. The people spoke and picked Are You Ready.
Check out the full track listing below.
Standard edition:
Are You Ready
No More
A Reason to Fight
In Another Time
Stronger On Your Own
Hold On To Memories
Savior of Nothing
Watch You Burn
The Best Ones Lie
Already Gone
Deluxe edition features the additional tracks:
The Sound of Silence [Live] (Featuring Myles Kennedy)
This Venom
Are You Ready (Sam de Jong Remix)
Uninvited Guest
ABOUT DISTURBED:
By challenging convention, breaking boundaries, and innovating at every turn, Disturbed consistently push rock music forward. The multiplatinum Chicago hard rock juggernaut accomplished the rare feat of achieving "five consecutive number one debuts on the Billboard Top 200." That accolade historically elevated them to rarefied air alongside Metallica, the only other hard rock group to do so in the history of the chart. They have also had two #1 albums in Australia – 2008's Indestructible and 2015's Immortalized.
Disturbed have sold 16 million albums globally and scored eleven #1 singles at U.S. Active Rock Radio. Their U.S. quadruple-platinum 2000 debut The Sickness formally announced their arrival as hard rock leaders; with that status solidified by subsequent GRAMMY® Award nominations, U.S. gold, platinum- and double platinum-certified records, and countless sold out shows around the globe, including their most recent arena tour of Australia in November 2016.
Named "Best Rock Artist" during the 2017 iHeartRadio Music Awards, Disturbed continue to boldly forge ahead in 2018 with the release of their aptly titled seventh offering, Evolution, and lead single Are You Ready.
FOLLOW DISTURBED
OFFICIAL WEBSITE | FACEBOOK | TWITTER | INSTAGRAM | SOUNDCLOUD | YOUTUBE