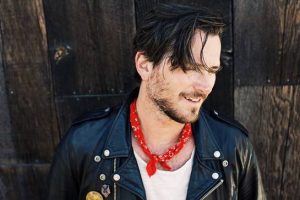 BUTCH WALKER is a singer, songwriter, and producer whose skills run from radio-friendly pop to high-attitude hard rock. Walker launched his public career with the band SOUTHGANG, who inked a contract with Virgin Records. The hard rock band group released two albums before splitting up, and Walker eventually resurfaced with MARVELOUS 3. Walker gained a brief taste of major-label success during the '80s and '90s — particularly with MARVELOUS 3, whose single "Freak of the Week" became a modern rock hit in 1999 — Walker traded his bandmates for a solo career. Meanwhile, he also established himself as an in-demand producer by working with high-profile artists like Avril Lavigne, Katy Perry, and P!nk.
The production work increased his reputation within the industry, and he quickly signed a solo contract with Arista. Left of Self Centered marked his solo debut in 2002; embodying the singer's nonconformist attitude and playful rock & roll swagger. This was followed by 2004's Letters which was released on Epic!
The production work kept rolling in and was at the helm for some for such big-name artists as Avril Lavigne (Under My Skin), P!nk (I'm Not Dead), and Tommy Lee (Tommyland: The Ride). The experience further boosted his industry profile and helped shape the sound of his next solo album, 2006's The Rise and Fall of Butch Walker and the Let's-Go-Out-Tonites. The album spun stories of drugged-out starlets, struggling wannabes, late-night adventures, and wild parties in L.A.; it was also Walker's most fully realized record to date. Ever the multitasker, he returned to the production booth for several new projects — most notably Katy Perry's One of the Boys, which became a smash success during the summer of 2008 — before returning to his solo career that fall with Sycamore Meadows.
I Liked It Better When You Had No Heart followed in 2010 and featured a new backup band, the Black Widows. The new group also played on Walker's next album, Spade, which appeared 2011; that same year, he published an autobiography called Drinking with Strangers: Music Lessons from a Teenage Bullet Belt. Walker did some production work in the next two years — he showed up on Taylor Swift's 2012 album Red and helmed Fall Out Boy's 2013 comeback Save Rock and Roll — and teamed with producer Ryan Adams for his next solo album, 2015's Afraid of Ghosts. His production credits don't stop there he has steered the ship for Panic! At The Disco, Gavin DeGraw, Keith Urban, Weezer, Carley Rae Jepsen, The Wombats and many many more…
After producing the solo debut for Gaslight Anthem leader Brian Fallon Painkillers, Walker returned to the studio to cut another solo effort, the country-accented 2016 effort Stay Gold.
Walker is also an incredible songwriter and many of his songs have been hits for other artists, including Avril Lavigne, Sevendust, Injected, The Donnas, Hot Hot Heat, American Hi-Fi, Default, Gob, Midtown, Puffy AmiYumi, Pete Yorn, Fall Out Boy, Quietdrive, The All-American Rejects, SR-71, The Academy Is… and recently The Cab, Saosin, Never Shout Never, Weezer, Dashboard Confessional and All Time Low.
This is one show not to be missed. A master singer and songwriter performing songs that span his illustrious career.
Butch Walker January 2019 Tour Dates:
Friday 25 January Melbourne Northcote Social
Saturday 26 January – Brisbane Woolly Mammoth
Sunday 27 January – Sydney Oxford Art Factory
Tickets On Sale: Friday 24th August @ 9:00am AEST
From: http://silverbacktouring.com.au/
Proudly supported by May The Rock Be With You