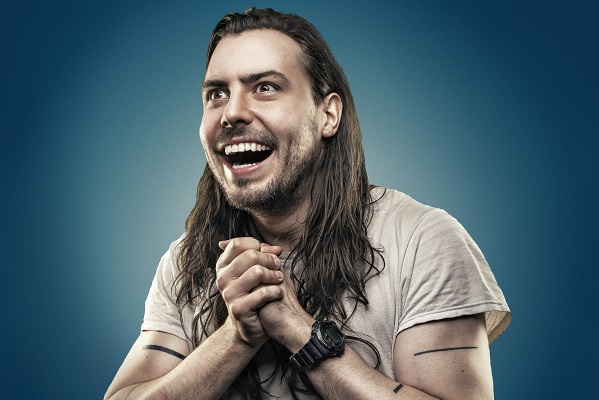 It's been a long time between tours for Andrew W.K. so tonight Sydney is ready to party, and dare I say Party Hard!!!
Opening the show tonight, Bare Bones as always delivered a loud, tight, heavy set. These guys get better every time I see them and I look forward to hearing more as they continue to smash these kinds of slots.
With an intro reminiscent of Ross Gellar's amazing keyboard work on Friends, The Bennies tell us they're here to party as we all are and they deliver a set that was a whole lot of fun. They were having the best time up there and it really shone through. With horns, scratching and just a whole lot of ruckus they had many a punter jumping along and enjoying what they threw out.
Now it's time to PARTY!!!
The band take to the stage and 'The Power Of Partying' begins as guitarist Dave Pino shreds before Andrew W.K. walks on and gives us a metal scream as the band explodes into 'Music Is Worth Living For' and what a wall of sound! This is a three guitar assault in this band and it's massive. This one from his newest album 'You're Not Alone' is a stand out and to open with this sense of optimism is outstanding. After some crowd love and a sing back we stick with the new album with 'Ever Again' and this massive almost rock ballad is superb. Then from the new to the old as he jumps behind the keys and we head back to his debut album and we 'Take It Off' and this song like them all is pure party! Ending it with a perfectly timed thumbs up he sticks to the keys and the debut with 'Ready To Die' and this upbeat one has them all going nuts on the floor and you can't help but smile at these songs and at this show. Andrew is throwing more rock shapes than I knew existed and the band is just on fire.
Andrew straps on a Pizza guitar which is amazing in itself and it's time for an unexpectedly awesome guitar solo from him. That tricky guitar solo turns into 'She Is Beautiful' and it's heavy!! Oh man he has the crowd locked in and they are loving every second of this and joining in at any opportunity. Heading to 'The Wolf' we get to 'Tear It Up' which is a song perfect for the stage. 'You Will Remember Tonight' is something we all will as will the band not only in song but in principal. There's just something about the frantic pace of these songs that just make you smile. This is Rock and Roll as some excellent guitar shredding from all three of them turns this song into a monster. 'Never Let Down' somewhat slows things down but still keeps things heavy. The drums kick in as he introduces 'We Want Fun' oh and a mini circle pit has opened up, nice. It's short and sharp and that's what's amazing about these songs, they're just a brutal assault and a super quick one at that.
'Break The Curse' sounds like it should be sung by Vikings. This is rad. That was epic. After the epicness of that it's time for a keyboard solo! There isn't much more Rock and Roll than a keyboard solo especially when performed by Andrew W.K. and one that takes us into the title track of the first album 'I Get Wet' and as per everything else tonight it blows things up, there's just so much power in these songs. Back on the keys as fists raise before the epic title track of his newest album kicks in and 'You're Not Alone' and as he says "your journey is not over it's just begun" and I said it before but I love the messages in these songs. The band leave the stage as the 'party' chants begin.
The drummer returns to rev us up and solo a little for us. Things get metal in here with 'Violent Life' as another pit opens up and the band absolutely rock the hell out of the place. Andrew comes back and asks us if we know what time it is and yes, yes we do! 'It's Time To Party' and that was the shortest of the night and one of the most intense. So good!! Band introductions followed by 'Pushing Drugs' from his third album takes on a different feel but it rocked! The countdown begins as new life begins tonight. A partier life for all and as we countdown from 100 (who does that?!) but when it's time to party we will 'Party Hard'!!
This is absolutely perfect, the place has gone nuts for the partiest song that ever partied! I'm not kidding when I say that the floor is going crazy, there are bodies flying across the crowd, people moshing, fists pumping and not an unhappy person in the place. I mean truly how can you not love this song, it is pure energy and shines through. The band smash it out and the intensity is exactly the same as it was when the show started, true testament to a great act! With a massive rock ending the show comes to a close.
Through the whole show Andrew W.K. never stopped smiling and never, ever stopped partying. That was so much fun, and although the night has ended here, may your party never end!!
Essential Information
Venue: The Manning Bar – Sydney
Date: August 26, 2018
Presented by: Destroy All Lines
Website: http://www.andrewwk.com
Set list:
The Power Of Partying
Music Is Worth Living For
Ever Again
Take It Off
Ready To Die
(Guitar Solo)
She Is Beautiful
Tear It Up
You Will Remember Tonight
Never Let Down
We Want Fun
Break The Curse
(Keyboard Solo)
I Get Wet
You're Not Alone
Violent Life
It's Time To Party
Pushing Drugs
Party Hard