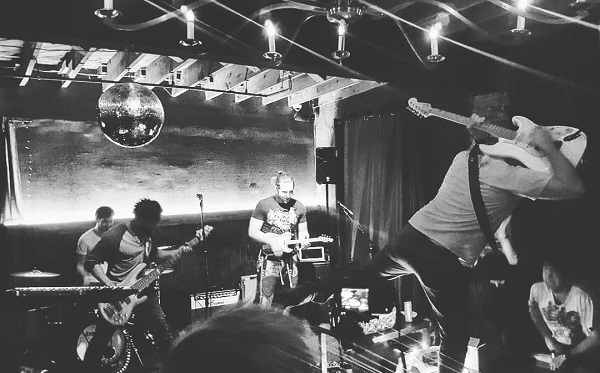 "Listening to Touch the Buffalo has been shown to reverse Male Pattern Baldness. This band is making new rock that old rock would be proud of. With a five-handed drummer. A twelve-fingered bassist. A guitarist from the year 2038. And an electric. Ukulele."
From Bio: "Four musicians were flung together in the blender of the DC music scene. After jamming together in a basement for a few months, they started gigging with their original songs around the DC area as Touch the Buffalo. Their playful (and sometimes haunting) melodies, and high energy rock quickly caught on. In their first 18 months as a band, they released their debut EP "Ulrich", they were featured in a local magazine, have had their music played on a few local radio shows, and have played in three music festivals with headliners such as Good Charlotte, Sugar Ray, Gin Blossoms, and Jimmy's Chicken Shack."
We teamed up with ReverbNation to share some talent with the world, check out Touch The Buffalo from Arlington, VA, we dug their sound and found them very worthy of being one of our Best Things You've Never Heard!
Let's start with the basics; for those that aren't aware of you, can you please give us the abridged version of your story, and how you would best describe your music?
We are Touch the Buffalo, an indie rock band out of Arlington, Virginia in the United States. I first started playing my songs on a ukulele around Virginia, and eventually, out of curiosity, bought an electric ukulele. I put a distortion effect on that electric ukulele, and in my ecstasy found the nerve to start a band.
Our bass player, Manny, was the second member of our band, but as the drummer. I met him while he was playing bass in my friends' band. He said he really wanted to play drums. Oops.
Our drummer, Mike, was a friend of mine for a few years before we ever jammed together. Crazy talented drummer – he agreed to play a set with us for a charity show, so we bumped our "drummer" back to bass – which was for the best, because there aren't many bass players that groove and shred on bass like Manny.
After playing the charity show as a trio, I got the guys on board to give this band a real shot. They begged me to bring on a guitarist. For a while our friend Sully was playing guitar with us – he's recorded on our first EP "Ulrich". We now have a permanent guitarist, Tyler, who has been friends and playing music with Manny since they were kids. He's a total gear head, which allows us to experiment more with different sounds. Our sound is kind of hard to pin down, we have so many heroes, and so many ideas about what directions to go in. I'd like to think we're capturing a fun kind of rock, that can be melodic, and at times heavy, and at times screamy.
Can you now please introduce each band member including yourself, and give us a rock 'n' roll fact or myth about each of you?
I'm Jon Johnson, I play electric ukulele, piano and I provide the lead vocals for TTB. I touched a wild buffalo once.
Mike Falcon is our drummer. Mike had his sneakers autographed by the saxophonist in Foxy Shazam, who had his sneakers autographed by Mike.
Manny B. is our bass player. Manny showed up to practice SO drunk once, he played bass while lying on the floor with his eyes closed. While drunk on the floor, he wrote the bridge for our song Nerd Love. We had to teach it to him at the next practice because he didn't remember the previous practice…
Tyler Beard is our guitarist, and backup vocals. He has a blue tooth connector for his amp, so he's completely free to move throughout whatever venue we're playing. He's likely to play a guitar solo on someone's table.
In terms of your music and any releases, instead of giving us a standard review, let's say if you had to give us your best door to door sales pitch to try and convince someone to listen to it before they slam the door in your face, what do you say to them?
Listening to Touch the Buffalo has been shown to reverse Male Pattern Baldness. This band is making new rock that old rock would be proud of. With a five-handed drummer. A twelve-fingered bassist. A guitarist from the year 2038. And an electric. Ukulele.
With your song writing, what do you consider to be the most important ingredients that make up one of your songs?
I care a lot about the melodies, and the song structure. When I bring it to band, we then iron out how to build the song up, layer the instruments so that every sound gets to shine, and make sure the rhythm gets toes tapping.
Are there current plans for any future releases you can give us the scoop on?
We are recording a 7 song EP this August, entitled "Schrodinger's Boyfriend". It will be released in Spring 2019. We should be releasing a single off that EP this winter. We also have a music video coming out this fall for our song "Wake Up" off of our first EP. We're really excited about that, we're working with a really talented stop motion animator for this video.
So what bands did you grow up listening to and how did they help create the style of music that can now be heard throughout your music?
Between all of us, these are the bands we group up on: Weather Report, the Red Hot Chili Peppers, Led Zepplin, Foxy Shazam, Green Day, Creedance Clearwater Revival, The Beatles, The Kinks, America, Dean Martin, the Eagles, Rod Stewart, Eric Clapton, Weezer, Jimmy Eat World, The Used, My Chemical Romance, Hello Goodbye and Imogen Heap.
I think we all have a serious reverence for the energy and instrumental prowess of the Classic Rock legends, and so we aim create sounds that build on the what they pioneered. But none of us are purists, and we love the angsty energy of 90's rock, and we love a lot of new sounds that are coming out now, and we're itching to break some rules.
In terms of touring, here's your chance to plug any upcoming shows, and for those that haven't seen you, how would you describe a typical live show of yours?
We are playing at Audioteka on August 17th. It's a very cool music festival in Washington DC. We'll start lining up more gigs this fall once we finish recording our new EP. We are also putting together a US tour for Spring 2019 to promote our upcoming EP.
For a bit of fun, say you get the chance to open for any artist or band in the world, who would they be and why?
We would love to open up for the Foo Fighters. We want Dave Grohl to be our uncle.
If you were to cover one song that no one would expect that you'd cover what would it be and why?
Duke of Earl by Gene Chandler. F#*kin love that song.
Lastly, here's a chance to grab a magic lamp and from it you are granted three wishes. They are:
1. $1 Billion
2. The ability to teleport
3. The ability to control time
Essential Information
From: Arlington, VA, USA
Band members: Jon Johnson, Mike Falcon, Manny Barfield, Tyler Beard
Website: https://www.touchthebuffalo.com/
Forthcoming / Current Release: Ulrich
Connect with Touch the Buffalo: Facebook, Twitter, Spotify and Instagram?