Slash Ft. Myles Kennedy & The Conspirators will release their new album titled Living The Dream on September 21 via Slash's own label Snakepit Records in partnership with Sony Music Australia. The group unleashed Driving Rain–-the first single off Living The Dream—to radio.
Slash describes the creation of Driving Rain, "This is a riff I specifically remember playing with the guys for the first time at a venue in New Hampshire on the World on Fire tour," explains Slash. "It's a cool guitar part we ran though, and from that point forward the rest of the song started to come together in my mind while on the road. We put it all together this year and Myles came up with a great melody for it."  Myles Kennedy adds, "The riff is very reminiscent of vintage Aerosmith. It's got a certain funk to it that's compelling. Lyrically, it's a story about somebody who works on the road–it could be a musician, and it could be a traveling salesman. What makes it interesting is this guy has an addict girlfriend or spouse who continues to relapse, and she ends up getting him to come home. She's miserable and falls back into bad old habits, and that compels him to head back to her to save the day.
Living The Dream
 is
 Slash's 
fourth solo album, and third with 
Slash 
and his bandmates 
Myles Kennedy 
(Vocals), 
Brent Fitz
 (Drums), 
Todd Kerns
 (Bass & Vocals) and 
Frank Sidoris 
(Guitar & Vocals).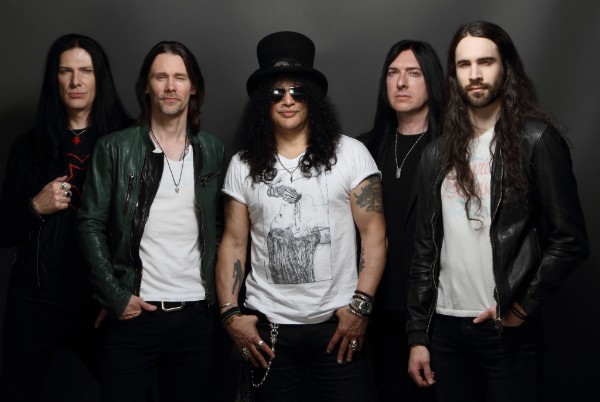 SLASH FT. MYLES KENNEDY & THE CONSPIRATORS (L-R): TODD KERNS (bass & vocals), MYLES KENNEDY (vocals), SLASH (guitar), BRENT FITZ (drums) and FRANK SIDORIS (guitar & vocals)
Pre-order Living The Dream From JB HIFI for your chance to win your way to LA to see Slash ft. Myles Kennedy & The Conspirators up close at the World Famous Whisky A Go Go on Sunset Strip. The prize includes 2 x economy flights to Los Angeles, 2 x tickets to Slash ft. Myles Kennedy & The Conspirators, 3 x night accommodation LA (Hotel to be booked upon Winner Announced and we have Winner's Details), Return Transfer from LAX to Hotel and Whiskey A Go Go. Entrants must have a valid passport.
PRE-ORDER LIVING THE DREAM HERE
PRE-ORDER ALBUM TEE AND HOODIE BUNDLES HERE
The band has also unveiled the album cover art and track listing for Living The Dream. The artwork was created by renowned visual artist Ron English. View the cover art and track listing below.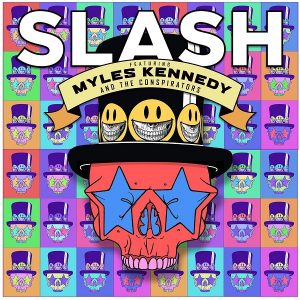 LIVING THE DREAM TRACK LISTING:
01. The Call of the Wild
02. Serve You Right
03. My Antidote
04. Mind Your Manners
05. Lost Inside the Girl
06. Read Between the Lines
07. Slow Grind
08. The One You Loved Is Gone
09. Driving Rain
10. Sugar Cane
11. The Great Pretender
12. Boulevard of Broken Hearts
For Living The Dream, Slash and his band re-teamed with producer Michael "Elvis" Baskette (Alter Bridge, Iggy Pop, Incubus); the group are currently putting the finishing touches on the powerful 12 song collection. The band's previous album, World On Fireentered the Australian ARIA chart at #2 andApocalyptic Love alsodebuted at #2 on the Australian ARIA chart and is Gold Accredited. Both albums debuted in the Top Ten on 12 charts globally, spawned three #1 hit singles at U.S. Rock Radio and earned worldwide praise garnering Slash some of the best critical acclaim of his career. World On Fire and was tagged by Guitar World as "another bold and unapologetically riffy statement" and "a varied, immersive and incredibly hard rocking effort" (December 2014). Rolling Stone describedApocalyptic Love–the band's debut album–as "filled with head bangers and plenty of fancy fretwork"andRevolver declared it "a collection of lean, high-octane rock-and-roll tunes built to be blasted out of open-top sports cars, or more suitably, open-air stadiums" (May 2012).
The group's North American headlining tour begins September 13 in Los Angeles visiting 20 major cities including New York, Denver, Philadelphia, Boston, Washington, DC (Silver Spring, MD), Chicago (New Buffalo, MI), Dallas (Thackerville, OK), Austin, Houston, and more before endingOctober 14 in Sacramento (all dates below). Tickets for the fall tour are available at:http://www.slashonline.com.
TOUR DATES:Thursday 13 September: Whisky A Go Go – Los Angeles, CA
Saturday 15 September: The Van Buren – Phoenix, AZ
*Sunday 16 September: KAABOO Music Festival – Del Mar, CA
Tuesday 18 September: The Depot – Salt Lake City, UT
Wednesday 19 September: Filmore Auditorium – Denver, CO
Friday 21 September: Paradise Cove Margaritaville – Tulsa, OK
Saturday 22 September: WinStar World Casino – Thackerville, OK (Dallas)
Monday 24 September: Stubb's Waller Creek Amphitheater – Austin, TX
Wednesday 26 September: House Of Blues – Houston, TX
Friday 28 September: Louder Than Life Festival – Louisville, KY
Saturday 29 September: Four Winds Casino Resort – New Buffalo, MI
Monday 1 October: Wellmont Theatre, Montclair, NJ
Tuesday 2 October: The Fillmore Silver Spring – Silver Spring, MD
Thursday 4 October: Casino Rama – Rama, ON
Friday 5 October: Pier 17 @ South Street Seaport – New York, NY
Saturday 6 October: Mohegan Sun – Wolf's Den – Uncasville, CT
Tuesday 9 October: The Paramount – Huntington, NY
Wednesday 10 October: Electric Factory – Philadelphia, PA
Thursday 11 October: House Of Blues – Boston, MA
Sunday 14 October – Aftershock Festival – Sacramento, CA\
About Slash Ft. Myles Kennedy & The Conspirators:
Slash–the iconic, GRAMMY-winning, American rock guitarist, songwriter and film producer–has amassed album sales of over 100 million copies, garnered a GRAMMY Award and seven GRAMMY nominations and was inducted into the Rock and Roll Hall of Fame. Slash landed on the top of the charts with his first solo album, Slash (2010) which featured Ozzy Osbourne, Fergie, Myles Kennedyand more. The album debuted at #2 on the Australian ARIA chart and is certified as an ARIA Accredited Platinum album. Shortly after, he formed his current bandSlash Ft. Myles Kennedy & The Conspirators–which features Myles Kennedy (lead vocals), Brent Fitz (drums), Todd Kerns (bass/vocals) and Frank Sidoris (rhythm guitar)–who've been touring worldwide and making music for over four years. Slash Ft. Myles Kennedy & The Conspirators released the critically acclaimed Apocalyptic Love(2012) which stormed the Australian ARIA Chart at #2 and certified as an ARIA Accredited Gold album,Billboard Top 200 Albums Chart debuting at #4 as the top rock album. Apocalyptic Love has the added distinction of spawning Slash's first-ever #1 rock radio solo hits: You're A Lie and Standing In The Sun.Slash released Nothing Left To Fear (2013) the first-ever motion picture he co-produced from SLASHfiction, his film/TV production company specialising in the horror genre. He is currently working on a new film project. Slash Ft. Myles Kennedy & The Conspirators  unleashed their second album World On Fire to worldwide praise garnering Slash some of the best critical acclaim of his career. Slash's third straight solo album to debut in the Top Ten,World On Fire achieved over 12, Top Ten chart debuts around the world and seeing them debut on Australian ARIA Chart at #2. The album's title track, first single World On Fireascended to #1 at U.S. Rock Radio. In 2016, Guns N' Roses re-united and Slash joined Axl Rose and Duff McKagan for the ongoing "Not In This Lifetime Tour" which Billboardnow ranks as the fourth-highest grossing tour of all time.