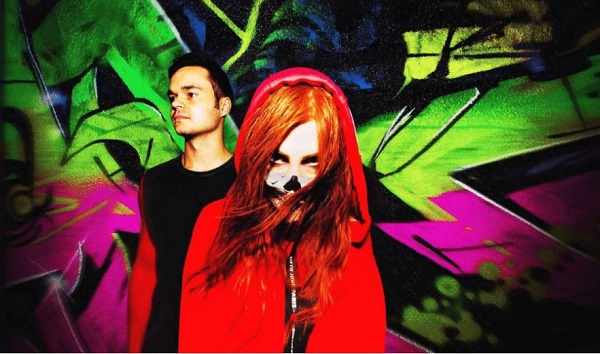 "Imagine putting, Meteora-era Linkin Park, current-era Bring Me The Horizon and Halsey in a blender and making a frozen ice pop out of it. Worth a solid lick!"
From Release: Sydney-based screaming rap-rock-electro-pop mutants RedHook have officially spawned with the arrival of their debut single, 'Minute On Fire'. Produced by Stevie Knight (Trophy Eyes, The Dead Love) and Dave Petrovic (Northlane, Tonight Alive, Dream On Dreamer) and mixed/mastered by Andrew Wade (A Day To Remember, Neck Deep), the heavy alternative duo's maiden offering is a nuclear fusion of visceral metallic power, otherworldly electronics and emotionally-wrought female vocals that jerk between sweet and psycho.
We love RedHook, their sound, their attitude, their passion and we found them more than worthy of being one of our 'Best Things You've Never Heard' of the back of their debut single. So we had Emmy answer some questions for us and you can check out what they're all about here…
Let's start with the basics; for those that aren't aware of you, can you please give us the abridged version of the RedHook story, and how you would best describe the music of the band?
We're two musicians from pretty different backgrounds who met last year after my bassist at the time stalked Craig online and called him up out of the blue for an audition. He actually didn't get in the first time — a fact that he's definitely never going to let me live down any time soon!
But we bonded over our mutual love of The Hamster Dance and common disdain for the Dexter series finale and went on to overcame numerous musical and personal hurdles to finally launch this new project together. And I guess you could say our sound is like a nuclear fusion of opposing elements – soft and heavy, light and dark, sweet and psycho.
Can you now please introduce each band member including yourself, and give us a rock 'n' roll fact or myth about each of you?
Emmy (vocals): used to front an 80's-style hard rock band that played with Motley Crue and Alice Cooper. Also randomly featured on an ARIA #1 Aussie hip-hop album.
Craig (guitars/production): Won Yass High's 'Most Likely To Become A Rockstar' Award at the Year 10 formal, yiew!
You have recently released your debut single 'Minute on Fire', so instead of giving us a standard review, let's say if you had to give us your best door to door sales pitch to try and convince someone to listen to it before they slam the door in your face, what do you say to them?
Imagine putting, Meteora-era Linkin Park, current-era Bring Me The Horizon and Halsey in a blender and making a frozen ice pop out of it. Worth a solid lick!
When releasing a debut single how hard is it putting together essentially what you want to introduce yourself to the world with?
Yeah, super hard! We actually changed our mind three times before deciding to lead with 'Minute On Fire', it's probably the most outside-the-box song we've recorded so far, and we didn't know if that'd be a good thing or a bad thing to come straight out of the gate with — I guess you run the risk of alienating people, if they end up not knowing how to digest what it is you're doing? But in the end we just kinda said "fuck it" and went with it. And I'm glad we did — the response so far has been amazing!
In terms of your song writing, what do you consider to be the most important ingredients that make up one of your songs?
We generally go for the three H's: hooks, heavy guitars & heart.
Are there current plans for any future releases you can give us the scoop on?
Yeah sure! We'll be dropping another single and our debut music video later this year 🙂 hold onto your butts!
So what bands did you grow up listening to and how did they help create the style of music that can now be heard throughout your music?
Craig was very much a metalcore and post-hardcore kid at heart, bands like A Day To Remember, Saosin, Rise Against and Parkway Drive really influenced his style.
Whereas I was a bit all over the show. I grew up absolutely frothing everything from Spice Girls and Disney showtunes to the hard rock/metal stylings of Guns N' Roses and Metallica, the rap-rock/numetal vibes of Rage Against The Machine, Linkin Park and Limp Bizkit, the summery pop-punk of Blink-182 and Sum 41 and the emo theatrics of My Chemical Romance.
And while I don't think that RedHook sounds particularly similar to any of those bands, I do reckon having such a wide range of musical influences has helped us forge a sound that is pretty unique to us.
In terms of touring, here's your chance to plug any upcoming shows, and for those that haven't seen you, how would you describe a typical RedHook live show?
We get pretty skitz onstage and that tends to catch on. But we generally like our sets to be a bit of a vibe rollercoaster, some more intimate, emotional moments mixed in with sweaty, manic, balls-to-the-wall mosh mayhem. It's a good time!
For a bit of fun, say you get the chance to open for any artist or band in the world, who would they be and why?
Probably Bring Me The Horizon because they're the biggest heavy band in the world right now and it would be cool to steal some of their fans.
If you were to cover one song that no one would expect that you'd cover what would it be and why?
Spoiler alert: we actually do a pretty unexpected cover during our live set and we've got another one recorded, mixed and mastered that we're hoping to drop either later this year or else early next. To find out what it is you'll either have to come see us live or else feel free to slide into our DMs on social media and we'll give you a hint.
Lastly, here's a chance to grab a magic lamp and from it you are granted three wishes for RedHook.  They are:
Play UNIFY Gathering
Help at least one person to feel happier or less alone by listening to our music
Get to a point where we're earning enough money from this band that we get to quit our day jobs and play music for a living. Every muso's ultimate wish, that one!
Essential Information
From:  Sydney, Australia
Band members: Emmy – Vocals, Craig – Guitars / production
Website: www.facebook.com/weareredhook
Current Release: Minute On Fire  (out now)