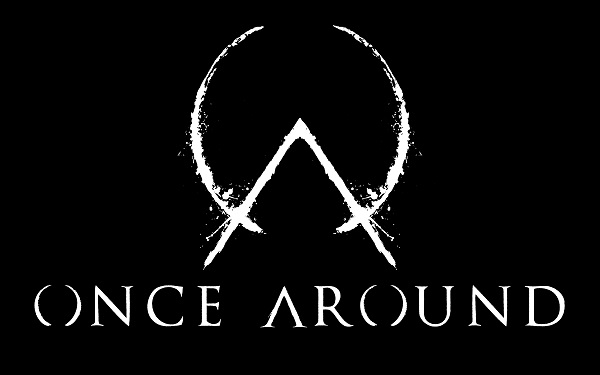 "You only get one life, one chance to beat the clock. Your time is almost up, but you need time to breath. Once Around is your oxygen mask for a clear path of the mind. Gain back the life they stole."
From Bio: When I die I'll be remembered by the noise in my veins. Los Angeles, CA based band Once Around are an industrial hard rock act that have created an original sound that emerges both live and on record. They have successfully combined a sound and image that breathes new life in a stale music scene.
We teamed up with ReverbNation to share some talent with the world, check out Once Around from Los Angeles, we dug their sound and found them very worthy of being one of our Best Things You've Never Heard!
Let's start with the basics; for those that aren't aware of you, can you please give us the abridged version of your story, and how you would best describe your music?
Well, we started this band at 15 and 16 years old. Full of teenage angst and pure adrenaline, myself, Wrath, and Chase just needed to let out some emotion by the only way we knew how. Through music. As we got a little older, we saw the world differently and experienced the black and white, the changes you go through in life. Finding ourselves within the music we create. There is a much bigger goal for this band. We want to be the voice of our generation. Once Around is best described as a breath of fresh air. We don't attach ourselves to any genre or labels. The message in each song we write has its own genre we like to say.
Can you now please introduce each band member including yourself and give us a rock 'n' roll fact or myth about each of you?
My name is Sebastian Sikk Hadtrath, I am the lead singer and lyricist of the band. A rock n' roll fact about me would be the general assumption that I'm an asshole, haha. No not really. 🙂 We have Wrath, lead guitar/ rhythm guitars. He is a huge driving force behind our music. A lot of people think he is a shy guy but if you have ever seen him on stage you would know that's the biggest myth in rock n' roll history. Behind the kit, Chase, drummer for the band.  High energy, always looking ahead, the man doesn't stop. That's a fact.
In terms of your music and any releases, instead of giving us a standard review, let's say if you had to give us your best door to door sales pitch to try and convince someone to listen to it before they slam the door in your face, what do you say to them?
You only get one life, one chance to beat the clock. Your time is almost up, but you need time to breath. Once Around is your oxygen mask for a clear path of the mind. Gain back the life they stole. The world can't hurt you if it can't see you. So live fast, take it all in at once. Touch the sky and believe. Look down at the rest, and know you're alive. Not a sheep, but a wolf like me. Are you like me?
With your song writing, what do you consider to be the most important ingredients that make up one of your songs?
Emotion. That is key and to us the most important. Capturing the emotion and message clearly and artistically. Music is just music otherwise.
Are there current plans for any future releases you can give us the scoop on?
We just released a 6 song EP called "Leaving Home." Our first single "Ghost" had such a huge response and was definitely our most successful so far and was a Top 40 Billboard Rock Chart hit. We appreciate all the supporters at rock radio for spinning "Ghost." We are about to release our second single, the title track, "Leaving Home" on July 10th. We are constantly writing and looking into our future. There is a lot to be excited about. Keep your eyes peeled.
So what bands did you grow up listening to and how did they help create the style of music that can now be heard throughout your music?
I grew up listening to bands like KISS, and Skid Row early on. A little later I found bands that really influenced me like, Black Veil Brides, Motionless In White, and Falling In Reverse. Those bands really shaped me and we took a lot of inspiration from them early in our writing as well as our appearance. We listen to wide variety of music though. What not a lot of people know is I listen to a lot of Machine Gun Kelly, XXXTentacion, Swae Lee, and Post Malone to name a few. I gravitate to their story or messages a lot. Once Around definitely brings a sound from every direction.
In terms of touring, here's your chance to plug any upcoming shows, and for those that haven't seen you, how would you describe a typical live show of yours?
After our Leaving Home Summer Tour ends we will be going out on a US tour with The Veer Union this fall, September through October. Our live show is something we thrive on and really put a lot into. Theatrics, smoke machines, crazy lighting, anything we can think of to improve our performance. We interact with the crowd and want out fans to have a night to remember.
For a bit of fun, say you get the chance to open for any artist or band in the world, who would they be and why?
I would have to say Black Veil Brides just because they meant a lot to me growing up. They were the band I watched and said, "yup, this is what I want to do with my life." Playing with those guys would be something for sure.
If you were to cover one song that no one would expect that you'd cover what would it be and why?
Oh man, there are so many. We always talk about covering a song that people would just not understand us doing or get mad about, it's hard to say, haha. We have been covering Machine Gun Kelly's "Let You Go." I think that is something people don't expect whenever we play it live it throws the crowd off a bit but it's fun, we like it, haha. If we were to do another cover I think we would do "SAD!" by XXXTentacion. It speaks pretty loud and I think it fits with what we do in our own way.
Lastly, here's a chance to grab a magic lamp and from it you are granted three wishes.  They are:
1. Stage proof pants
2. Jim Carrey is my best friend
3. To just be heard
Essential Information
From: Los Angeles, CA, USA
Band members: Sebastian Sikk (Vocals), Wrath (All Guitars), Chase (Drums)
Website: www.OnceAroundIdols.com
Current Release:  6-Song EP "Leaving Home" was released April 6, 2018. It contains the Top 40 Billboard Rock Chart hit "Ghost". The title track "Leaving Home" is the 2nd single off the EP and was just released to rock radio on July 10th.