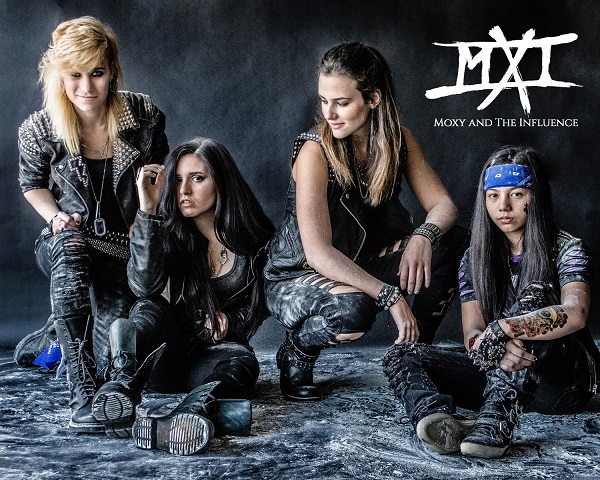 "If you look through our songs you'll see we talk a lot about becoming who you want to be and fighting to make it happen, getting through the day even when all you want to do is scream.  A lot of my lyrics are very personal and I like to make it so people can apply my words to their lives. I love making people think."
From Bio: High energy Rock and Roll, best when played at full volume. With ages starting at just 13, Moxy and The Influence are four young Southern California rockers who bring it with power and drive to every performance. Their female-fronted sound is a modern mix of all that was great in the 80's hard rock scene, and all that continues to move audiences today. Performing mostly original material, now and then they feature a cover with their own energy and style. Bursting onto the Southern California rock scene in late 2013, this young band surprised audiences with hit-worthy original rock songs combined with a high-energy stage performance complete with headbanging and crowd interaction. Catchy lyrics infused with a message of individualism span generations.
We teamed up with ReverbNation to share some talent with the world, check out Moxy and The Influence from Orange County, California, we dug their sound and found them very worthy of being one of our Best Things You've Never Heard!
Let's start with the basics; for those that aren't aware of you, can you please give us the abridged version of your story, and how you would best describe your music?
Sure!  We're based on Orange County, California, and have been a band for almost four years now.  The band was started by me and my guitarist, Sydney, and we've recorded two EPs and produced three music videos.  We toured last year for almost a month, going through nine states and Mexico. We play rock/metal and write our own originals, as well as playing a few classic rock covers for fun.
Can you now please introduce each band member including yourself and give us a rock 'n' roll fact or myth about each of you?
As of our last EP recording, we are officially an all female band!  At that time, our band consisted of: myself, Moxy Anne (21, vocals) – I've got only one year of my music degree left to complete, and I've already completed my degree in slaying spiders of all shapes and sizes while my bandmates cower in fear (earning the nickname Spider Warrior). Sydney Ellen (23, guitar); while Sydney now works for Fender, it's been said that she was raised by ravens along with her sister Moxy, but sources have yet to confirm or deny that fact. Shea Hamilton (19, bass) – Shea is currently attending the University of Alabama (roll tide!) and Alexey Poblete (15, drums), who may or may not have been tutored in drums by the legendary Eric Singer of KISS.
In terms of your music and any releases, instead of giving us a standard review, let's say if you had to give us your best door to door sales pitch to try and convince someone to listen to it before they slam the door in your face, what do you say to them?
This band is fun, and we did it because it's fun, but we also do it because we're serious musicians and we're all seriously committed to music.  Sydney and I have both attended college to hone our craft.  We believe in our music, and we love doing what we do – and we all love music so much that we're willing to work our butts off for it.  It doesn't matter if it's this band or another project.  We all hope to work in the music industry somewhere.  We're in this for more than a good time: we're in this for the love of music. More than ever before, our songs speak to who we all are as people and the emotions that humans feel most strongly.  We wrote it all so people would enjoy rocking out to music that really means something.  Music shouldn't be pointless.  It's heavier, it's well-written, and it's something we did all ourselves.  And, in the end, our music is all for our fans, who have always been the reason we do this.
With your song writing, what do you consider to be the most important ingredients that make up one of your songs?
The most important aspect our music is the subject matter. A lot of the songs off "Alive" are on the same kinds of deep topics.  For example, the piano ballad "Queen Anne's Revenge" speaks to any woman who struggles with abuse, self-harm, or pain, and "Bella's Song" (off "The Best Revenge") is a deep, soft acoustic song pleading with a girl who hates herself so much she wants to hurt herself.  Just like our overall goal of being a positive influence as a band, we want to send positive vibes with our lyrics.  I am the primary lyricist and my goal is always to touch people, to make them think deeply about things that matter to me and that may matter to them.  If you look through our songs you'll see we talk a lot about becoming who you want to be and fighting to make it happen, getting through the day even when all you want to do is scream.  A lot of my lyrics are very personal and I like to make it so people can apply my words to their lives. I love making people think.
Are there current plans for any future releases you can give us the scoop on?
Currently, we are on hiatus while we finish up the last years of our schooling. However, we hope to reunite as soon as we can! Keep a close eye on us.
So what bands did you grow up listening to and how did they help create the style of music that can now be heard throughout your music?
We LOVE classic rock.  Led Zeppelin, Joan Jett, Motley Crue, Journey, Aerosmith, Rush, Heart, Kiss…We love it all!  As musicians, we grow by listening to great music, so we listen to a lot of modern rock like Sixx A.M., Wolfmother, and Halestorm (to name a few).  We enjoy other genres too – we all personally enjoy jazz, classical, and several other genres as well.  We are influenced by great music, whether that be from today or from 60 years ago – and to us, it doesn't matter if it's jazz or metal.  Good music is good music! This really helped to push us as we grew beyond our initial roots of simplicity — it helped us analyze, imitate, and grow. We love meshing old and new styles together.
In terms of touring, here's your chance to plug any upcoming shows, and for those that haven't seen you, how would you describe a typical live show of yours?
High energy and in your face! We are always looking for new ways to make our show more exciting for our audience — we know you didn't HAVE to come out to see us, so we like to give you your money's worth of fog, lights, headbanging, epic stage jumps, mic/guitar twirling and tricks, and all-out enjoyment. We love what we get to do and it has always showed. I've always said we smile just a bit too much to be in a metal band. We love getting the crowd into it with their metal horns up and throwing out some free merch when we get the chance!
For a bit of fun, say you get the chance to open for any artist or band in the world, who would they be and why?
Oh boy…. Jack White would be rad to jam for! Also Prince and Jimmy Page, but I don't feel ready for that yet. In a few years I may be able to accept that invitation. Haha! —Sydney
Freddie Mercuryyyyyy.  It makes me SO sad that he's gone, his voice was incredible and if I had the honor of opening for anyone he would be one of my top choices.   I would love to write with Lita Ford or sing with Joan Baez – her lyrics are incredible. If I had to go with a current band, I'd definitely say Halestorm. Lzzy Hale is SO kickass! —Moxy
If you were to cover one song that no one would expect that you'd cover what would it be and why?
Definitely Take On Me by A-Ha. We've wanted to do that one for years, but there's so much synth we always give up on it. Maybe one day!
Lastly, here's a chance to grab a magic lamp and from it you are granted three wishes.  They are:
1. The ability to headbang for hours without getting neck cramps
2. Lots and lots of silver studs for our jackets
3. The energy and tenacity to never give up on our dreams. Wait — don't we have that already?
Essential Information
From: Orange County, CA, USA
Band members:  Moxy Anne, Sydney Ellen, Shea Hamilton, Alexey Poblete
Website:  www.moxyandtheinfluence.com (also check out www.moxyanne.com – more current info)
Current Release: EP: "The Best Revenge"