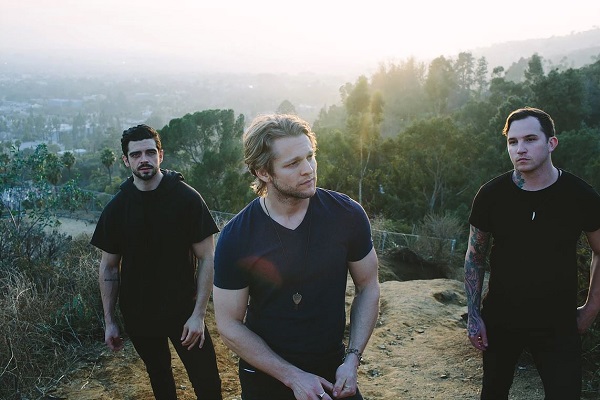 "It's difficult not to with the excitement we all share for music on top of the passion we have for performing for those that enjoy what we have to provide"
From Bio: Mercy Mode is an independent alternative rock band formed by Chase Coleman, Christopher Weaver, and Micah Parker in 2017. Influenced by many successful musicians both mainstream and spanning through the decades, Mercy Mode's sound finds inspiration from many bands alternative rock, synth and even classical. With several original songs already completed, Mercy Mode is aiming to maintain their own sense of creative freedom and expression with their music. Thanks to the evolution of the industry through social media outlets in recent years, it has allowed bands a more individualistic approach to maintain a stronger connection with fans, a process Mercy Mode wants very much to uphold. Their goals include being able to open for other bands on tour and eventually collaborate with favorites in the industry. But as with all musicians, the ultimate dream is to be able to play live shows and tour worldwide for fans everywhere.
We teamed up with ReverbNation to share some talent with the world, check out Mercy Mode from Los Angeles, CA, we dug their sound and found them very worthy of being one of our Best Things You've Never Heard!
Let's start with the basics; for those that aren't aware of you, can you please give us the abridged version of your story, and how you would best describe your music?
Micah and Chase met through the acting world.  Since they are both actors and also musicians, they naturally had things in common, so they started collaborating together.  Chris came on board a little later through a mutual friend and former member of the band  Our music would best be described as a grunge alternative rock combination.  We love the sounds of electronic beats but also the visceral full sound of electric guitars and grungy vocals!
Can you now please introduce each band member including yourself, and give us a rock 'n' roll fact or myth about each of you? 
My name is Chase Coleman, I am the lead singer and I pretend to play rhythm guitar.
Micah Parker, drums.  I use sticks that were forged in the fire place of Mr. John Henry Bonham himself.
Christopher Weaver plays lead guitar.
In terms of your music and any releases, instead of giving us a standard review, let's say if you had to give us your best door to door sales pitch to try and convince someone to listen to it before they slam the door in your face, what do you say to them?
"Hey!  I know you'd love to hear the combined beautiful melodies of electronic music with grungy vocals and guitars!  Why don't you give a listen to our new single "Lost in You!"  It's a great mash up of fun dancy tunes and still solid rock!"
With your song writing, what do you consider to be the most important ingredients that make up one of your songs?
Life Experience and vulnerability
Are there current plans for any future releases you can give us the scoop on? 
We are currently in the studio recording "Lost In You," and our 2 recent singles "Breathe" and "I Told You Why" should be released on spotify, itunes, google play soon…
So what bands did you grow up listening to and how did they help create the style of music that can now be heard throughout your music?
We have various music influences that have affected each of us growing up from heavy metal, to rock, classic rock, alternative rock, pop, all the way to beautifully orchestrated classical scores.
Chase: I was a huge Tool fan growing up as well as Deftones, A Perfect Circle, Live, Bush, etc.  I've also tremendously enjoyed over the years Hans Zimmer, James Horner, Thomas Newman, John Williams, etc.
Micah: Incubus was a huge influence on me growing up. I basically learned to play drums by listening and playing to Morning View until I could play the whole album in my head.
In terms of touring, here's your chance to plug any upcoming shows, and for those that haven't seen you, how would you describe a typical live show of yours?
We definitely have energy and stage presence.  It's difficult not to with the excitement we all share for music on top of the passion we have for performing for those that enjoy what we have to provide. 🙂 August 14, 2018 we will be opening for the Thomas Ian Nicolas Band at the Viper Room. Fans can purchase tickets by the following link HERE:
For a bit of fun, say you get the chance to open for any artist or band in the world, who would they be and why?
Chase: If we were being realistic, I'd say 30 seconds to mars, The 1975 or Kings of Leon.  They're probably the closest to the style of music we play now as well as the demographic we play for.  Plus they rock and I'd love to hang with those guys!
Micah: Probably the Beatles.  Those guys sure could draw a crowd…
If you were to cover one song that no one would expect that you'd cover what would it be and why?
Love Yourself, by Justin Bieber
Lastly, here's a chance to grab a magic lamp and from it you are granted three wishes.  They are:
1. Micah: First I would ask for unlimited wishes, and then I would do as I please…
2. Chase: I'd wish to be come the almighty wish master and grant myself more wishes as well as others.  Then I'd hope that it wasn't the same case as Jafar in Aladdin and I'd be trapped as a genie in a lamp…
3. No need for a 3rd wish if the above 2 work out, no?
Essential Information
From: Los Angeles, CA, USA
Band members: Chase Coleman, Micah Parker and Christopher Weaver
Website: www.mercymode.com
Forthcoming Release: Lost In You
Current Release: Take It All, Breathe, and I Told You Why