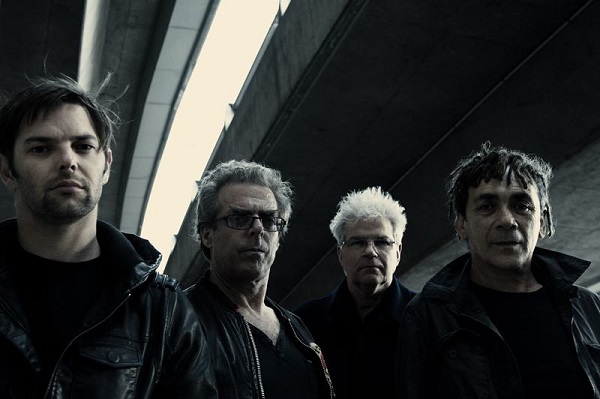 "…you know when we started up again it must have been an eight to ten year break where Dragon were never heard and then we started playing, this was thirteen or fourteen years ago, then we started playing around and you can see the recognition and the look of surprise and everybody down in the audience going 'oh my god I remember this song' and it's just fantastic to see."
From Release: After two massive tours traversing Australia to celebrate the revered music institution that is Countdown, Dragon are taking the concept back out on the road again by popular demand for a third series, this time celebrating 80s UK Chartbusters! What started as The Countdown Years, paying homage to the television show in 2016, grew into the 'Aussie edition' in 2017, and saw Dragon play more than 50 Countdown-inspired shows over the past two years.
While backstage at The Enmore Theatre before a show, Mark gave us a call to discuss their Countdown 80's UK Chartbusters tour, the music, covers, new music and the new album title, legacy, and much more…
After doing the Countdown chartbusters shows you're now currently out and doing a show of the 80's UK Chartbusters, can you tell us about these shows and how this specific concept came about?
Oh well thanks to Countdown Dragon got on the map so to speak and Molly was very obliging for the band even if they were sort of roughish back in the day, but thanks to Countdown Dragon is now where it is now just working constantly, so basically it was a tribute to those Countdown years and it started off just a general thing there are two years ago but the response was so great that last year we decided to pinpoint it in to Australian bands that sort of made it through Countdown and that was successful too. So the 80's was a really big turning point and was around the time Countdown was winding down but it still had a lot to do with introducing this whole new wave of music and digital music so that's what we jumped on.
Dragon of course were huge in the 80's here and in my opinion, music was much better all-around back then, but for me the UK scene was a little different to what was going on here, how growing up in that scene did you see the differences in music across the seas?
It was a changing of the guard in the 80's, especially when new wave came in and these ridiculous hairstyles *laughs* and what was exciting was that digital came in and it was ear splitting and just a whole different concept before you were just getting used to scratchy old vinyl on the turntable and the drums playing then everything was crystal clear and it opened up a whole array of things and music started to take left hand turns. The UK was just a really integral part of that.
How did you choose the songs that would be performed?
Well Todd sort of came up with the whole list of songs and we turfed out the ones we didn't think straight off the top of our head and then we went through and we'd give it a try, so basically it was trial and error and how we could make it fit into what we do because basically we're not a digital band, we're sort of guitar orientated. So it kind of had to fit into that area, so that's what started it. However, our drummer is a bit of a whiz kid and sort of taken samples of the original songs and added those to how we've created it and it's absolutely wild to play I'm absolutely loving it.
Then on the other side of that were there ones you all agreed on but when you started playing just didn't work out?
Yeah *laughs* yeah I don't want to say to be honest *laughs* the songs are really good, we sort of looked at the ones that were slightly intellectual, a bit above the level that we all appreciate but we thought punters won't appreciate this *laughs* it was something basically we had to get to the nitty gritty and if it's something people can sing to, even the daggiest ones actually turned out to be really good to play live.
For you is there one that you love singing more than others?
OK I'll tell you that… 'Everybody Wants To Rule The World' by Tears For Fears, almighty, when that happens in the set I can't get over it, the song is so beautiful  just as you said before it was a really great period when songs were well written and produced.
I think what it comes down to is that song is timeless…
Oh absolutely, troy and it feels like that when you go to play it, it feels like luxury and it feels like you're sitting right there in the time, in the 80's where that appeared you know and everybody going what the F is this?!
Are you looking at doing the U.S. 80's next?
*laughs* They have a lot to live up to… *laughs* For us, for Australia and New Zealand I think the UK had a huge influence on us at the time, some great bands were really influencing the OZ rock style, across the Atlantic there's always been one of the countries, The UK will lead and then America will lead and take off that's always been going on, I think in the 70's very much we had 'Hotel California' by The Eagles in that Mid-West era, but boy when we got to the 80's and this whole new wave of music came it just finished it off for the others.
It's crazy to think we're coming up on the 20th anniversary of Marc Hunter's passing, so thank you for helping to continue the legacy of Dragon…
This is an absolute pleasure, I love this band and I'm so glad Todd asked me out of the blue if I'd love to join it.
What are some of your best memories of Dragon prior to your involvement?
I really didn't know Dragon then. I had a career as a solo artist in New Zealand and then here so I moved in along parallel paths but never really had anything to do with them, actually the closest I had to do with them is that my guitarist back in '76 / '77 was living in the same house as Dragon and that was across the road from where I was living but I never had much to do with them. I only saw Marc late at night at some dive after a gig *laughs* or I saw Todd just fleetingly but I never got to know them at all, so this was just a blast to get a call like that.
So then how did it come about? If you didn't know them how did you get the call up?
It was through Alan Mansfield who was their last keyboard player, he called me and asked me if I would sing at Marc Hunter's memorial and that was in '98 at St Andrews Cathedral in Town Hall square in Sydney and I said absolutely. We rehearsed the song 'Are You Old Enough?' and slowed it right down and I can't believe how moving it was and it was a really moving experience to actually sing it at that pace. It connected with everybody; it connected the whole story of Marc Hunter it just seemed to connect and was just a fantastic experience. I don't think Todd ever forgot that and eight years later when he thought it's about time the song book came out again I think that was the first thing he thought of and he gave me a call.
Do you still get a buzz singing these songs that meant so much to people back in their growing up?
Absolutely, you know when we started up again it must have been an eight to ten year break where Dragon were never heard and then we started playing, this was thirteen or fourteen years ago, then we started playing around and you can see the recognition and the look of surprise and everybody down in the audience going 'oh my god I remember this song' and it's just fantastic to see. It's cross generational, like that song 'Everybody Wants To Rule The World', it doesn't have a generation and it doesn't have a time. They're owned by the people, I see kids looking up the words so they can sing it off their phone *laughs*.
Not sure if you know but The Screaming Jets have just covered 'Rain' for their new covers album…
I got a call from our producer a few days ago asking if we would listen to it and give our approval and he sent it up to us and it's fantastic.
What is it about a song like that which incidentally is one of my favourite songs ever that has bands covering it to release?
Something about what it's saying, it's very hard to pinpoint what makes a song a classic you know? This one from the word go I think the combination of the arrangement, what's being used at the time because that was early 80's too and that was part of the digital era, so I think it's just the combination, the X-Factor that you can't put a handle on but it was just one of those sorts of things that just happened. It's lasted this long. It's almost like it's a nursery rhyme and that's the thing that people latch on to , it feels like that and since talking to Todd about that song and that's exactly what they thought of, they thought of it as a nursery rhyme "don't you go out in the rain, don't go out in the rain" that sort of thing and it actually works, whatever they were thinking at the time, it worked.
So it's easy to say what's changed over time but what would you say is the one thing that's stayed the same about Dragon?
*laughs* I think and it stems from Todd who is the only original member and he started the band I've never seen the fire leave him, to me and that's what I think about music and performing is that I've still got to have that energy, the initial thing that made me absolutely commit myself to music and that's what I've seen every time with Todd. He's slightly left, he won't go down the straight and narrow path and he's everything that I could wish for *laughs* in a partner, in a comrade, he'll go down left and if it doesn't work then oh well too bad we'll just go there again *laughs*. I think it's that, it keeps us on edge, we don't rest on our laurels.
Except for new music! We had 'Roses' out in 2014, can we expect new music from Dragon any time soon?
*laughs* Yes, I know I know it's been a while. We definitely have, we have a new CD coming out very soon. We're really excited because we actually got to record together and that doesn't happen very often nowadays in music, usually we're just recording our parts in our room and then send it to the drummer and he puts it all together. This time we actually sat in a studio two or three times over the course of last year and actually started something and finished something *laughs* it's very much a band environment and the songs we absolutely love, it's quite varied, it's difficult of Dragon it doesn't follow one path we've taken everybody's influences and all the songs we've all written individually and taken all that and made a mix soup.
An album or an EP?
It's an album, it's ten songs, it's called 'A Beautiful Mess'. 'Life is a Beautiful Mess', that's it.

Other than touring what is next for Dragon?
Well, I think apparently we're going to be working until we're 100 *laughs* so I think that's the intention, we have no intention of stopping we just keep on working, recording, coming up with all these silly little ideas which are great because it actually keeps the spirit of the thing going like when you do The UK 80's, we still do our own stuff but we add an hour of other people's music, we don't mind doing that it's all good fun, so you'll see us just keep your eye on this page. *laughs*
Lastly let's look ahead to the future, finish this sentence for me, by the end of 2018 Dragon will…
Dragon will be still going *laughs* Dragon will still be rocking, there we go.
Catch DRAGON celebrating Countdown 80's UK Chartbusters on tour at the following dates!
Friday 6th July 2018 The Juniors, KINGSFORD NSW 558A Anzac Parade, Kingsford NSW www.thejuniors.com.au
Saturday 7th July 2018 Brass Monkey, CRONULLA NSW 115a Cronulla Street, Cronulla NSW www.brassmonkey.com.au | 02 9544 3844 www.oztix.com.au | 1300 762 545
Friday 13th July 2018 Casino RSM, CASINO NSW 162 Canterbury Street, Casino NSW www.casinorsm.com.au
Saturday 14th July 2018 Sawtell RSL, SAWTELL NSW 38-40 First Avenue, Sawtell NSW www.sawtellrsl.com.au
Friday 20th July 2018 The Bridge Hotel, ROZELLE NSW 119 Victoria Road, Rozelle NSW www.ticketek.com.au | 1300 795 012 www.moshtix.com.au | 1300 438 849 www.oztix.com.au
Saturday 21st July 2018 Castle Hill RSL, CASTLE HILL NSW 77 Castle Street, Castle Hill NSW www.castlehillrsl.com.au
Saturday 28th July 2018 Wenty Leagues, WENTWORTHVILLE NSW 50 Smith Street, Wentworthville NSW www.wentyleagues.com.au
Saturday 4th August 2018 Revesby Workers Club, REVESBY NSW 2B Brett Street, Revesby NSW www.rwc.org.au
Friday 24th August 2018 Dubbo RSL, DUBBO NSW Cnr Brisbane Street & Wingewarra Street, Dubbo NSW www.dubborsl.com.au
Saturday 25th August 2018 Canterbury Leagues Club, CANTERBURY NSW 26 Bridge Road, Canterbury NSW www.canterbury.com.au
Friday 31st August 2018 Dee Why RSL, DEE WHY NSW 932 Pittwater Street, Dee Why NSW www.deewhyrsl.com.au
Saturday 1st September 2018 Hornsby RSL, HORNSBY NSW 4 High Street, Hornsby NSW www.hornsbyrsl.com.au
Saturday 8th September 2018 The Oaks Hotel, ALBION PARK NSW 249 Princes Highway, Albion Park NSW www.theoakshotel.com.au
Sunday 16th September 2018 Toronto Hotel [Beer Garden], TORONTO NSW 74 Victory Parade, Toronto NSW www.torontohotel.com.au
Saturday 20th October 2018 Shoal Bay Country Club, SHOAL BAY NSW 35-45 Shoal Bay, Shoal Bay NSW www.shoalbaycountryclub.com.au
Friday 2nd November 2018 Lizottes, NEWCASTLE NSW 31 Morehead Street, Lambton NSW www.lizottes.com.au
Saturday 24th November 2018 Central Hotel, SHELLHARBOUR NSW 3 Memorial Drive, Shellharbour NSW www.centralhotelshellharbour.com.au
Essential Information
From: Australia
Band Members: Mark Williams – Vocals, Bruce Reid – Guitar, Todd Hunter – Bass, Pete Drummond – Drums
Website: http://www.dragononline.com.au