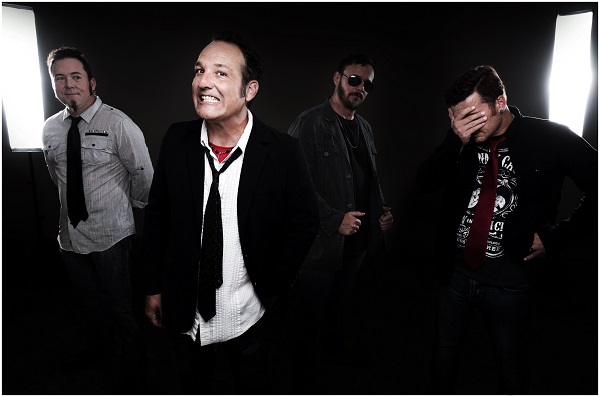 "Nothing is ever set in stone until the song has gone through the blender a couple of times. Once we have a hook, we build out rhythms around that. The most important ingredient though is everyone being ego free. That is the key people!"
From Bio: Indie Lagone's music is a myriad wall of sound comprised of a hard rock feel shadowed by sleek undertones and is filled with genre defying ideas. Lagone's lyrical content is engulfed in the introspection, addictions and rising above adversity. The songs are all balanced by a twist of musical sensibility that is grounded by an idea of not overworking rhythms and melodies. Songwriting within the band is all hinged on the thought that a good song should influence, stand alone and not be overplayed. It is not how many notes you can play but how you can get them to collide and react with one another. The band has attempted to create a mood reminiscent of a Quentin Tarantino film.
We teamed up with ReverbNation to share some talent with the world, check out Indie Lagone from Knoxville, TN, we dug their sound and found them very worthy of being one of our Best Things You've Never Heard!
Let's start with the basics; for those that aren't aware of you, can you please give us the abridged version of your story, and how you would best describe your music?
The short of it is that we have all played music together at some point and have all resided within the same scene for years. When the band first started, it was Allen and Scott Belcher. That was mid 2010. Through trial and tribulation and some member changes Jason joined in 2014. Finally, Fugate fell into position and rounded out the band in 2016. We have had the opportunity to work with some amazing people. Everyone from Theory of a Deadman and Helmet to Filter and Local H. This band has also been fortunate enough to record with Mike D from Lakeside and Brian Vodihn of 10 Years. After working through a development deal, countless shows and being humbled by some of the best, we have finally arrived as the Indie Lagone you see in 2018. It has been a complete rollercoaster. Sometimes it felt like dropping in on a vert ramp with square wheels. There have been bruised egos and the occasional concussion, but after being patched up a few times the band has finally learned how to find it's balance. I will tell you though … pebbles still suck! Hahaha Thankfully the music has benefitted by all the ridiculousness of the band's journey. It has grown from a Gothic/Rockabilly feel into a more mature and eclectic Active Rock form. Since its inception the band has always been about the hook. Up until now though, we just couldn't figure out that whole casting thing. Yeah… I know you saw what I did there. Bahahaha
Can you now please introduce each band member including yourself, and give us a rock 'n' roll fact or myth about each of you?
Allen Swank: Vocals, Gtrs, Keys Allen was once in a car accident on his way to a show. The car was totalled and both passengers were injured. They all three hitched a ride to the venue and he played the show just the same. With blood stains and bruises, the stagediving began with the two passengers launching from the back of the stage. They still carry the scars.
Scott Belcher: Bass, Vocals Scott is rumoured to have been proficient at every instrument known to man until he lopped off his Dredd's.
Jason Godfrey: Guitar, Vocals Jason has played the entire Dookie album on a ukulele, while locked in the bathroom. Bahaha!
Scott Fugate: Drums Despite rumours and speculation Scott is not related to his doppelganger Eric Church.
In terms of your music and any releases, instead of giving us a standard review, let's say if you had to give us your best door to door sales pitch to try and convince someone to listen to it before they slam the door in your face, what do you say to them?
Indie Lagone's music is a case of Sophomores VS Seniors in an age of digital distractions and safe places. It is the place where there are victims and victors sharing the same table all while gorging on sweet melodies and choking on aggressive chords. Not really, Indie Lagone's music is just a reflection of some really good friends writing the best songs of their lives. It is the fight you almost won, not the best friend who watched you get your ass kicked.
With your song writing, what do you consider to be the most important ingredients that make up one of your songs?
Starting with a solid idea and knowing what we want the song to feel like. This seems to work well for us. It beats throwing out a bunch of riffs and hoping everyone can interpret what is going on in one person's head. Nothing is ever set in stone until the song has gone through the blender a couple of times. Once we have a hook, we build out rhythms around that. The most important ingredient though is everyone being ego free. That is the key people!
Are there current plans for any future releases you can give us the scoop on?
The band has been hunkered down in the studio for the past 4 months. The music feels so different from anything we have done in the past. Unlike other recordings, have had the time to take our time on this one. In turn it has really allowed us to really pay attention to the details. The little things that bring an album to life. The new record at this time is going to be titled "The Brookwood Sessions". We couldn't be more stoked about it. It truly is a reflection of all of us, wrapped up into one tight package.
So what bands did you grow up listening to and how did they help create the style of music that can now be heard throughout your music?
We are like minded musicians with some genre defining ideas. That is our claim anyways. We are able to do this because of the vast array of influence. Everything from Zeppelin to Prodigy. Some jazz and gospel tossed in and then a little punk and rockabilly. We all come from such diverse backgrounds and so that list is long. We have one rule in this band. You have to be open to ideas. Electronic Rockabilly… well why not!? Haha
In terms of touring, here's your chance to plug any upcoming shows, and for those that haven't seen you, how would you describe a typical live show of yours?
We will be touring closer to Fall. We had to miss our summer due to recording. However; when someone gets to come out to one of our shows, they need to be prepared to be part of the show. This is interaction entertainment people. Our goal is to erase the boundary of the stage. High energy, a little loud but definitely interactive.
For a bit of fun, say you get the chance to open for any artist or band in the world, who would they be and why?
For nostalgic reasons probably Zeppelin. However; if we are talking real time… probably Muse. Love their music obviously, but dang…. have you seen their crowd? Hahahaha!!!!
If you were to cover one song that no one would expect that you'd cover what would it be and why?
Stray Cat Strut. That song has elements that the whole band loves. Everything from Jazz to Rock. Such a well written song.
Lastly, here's a chance to grab a magic lamp and from it you are granted three wishes.  They are:
1. I wish that everyone in the world could feel freedom from everything oppressive.
2. I wish "We will feed you", did not mean that pizza was one of the major food groups.
3. I wish that the music of Indie Lagone was on everyone's playlist.
Essential Information
From: Knoxville, TN, USA
Band members:  Allen Swank, Scott Belcher, Jason Godfrey, Scott Fugate
Website:  www.indielagone.com
Forthcoming / Current Release: 'The Brookwood Sessions' – 2018, Latest single 'Fire' – 2018
Links:
https://reverbnation.com/indielagone
https://indielagone.bandcamp.com
https://twitter.com/indielagone