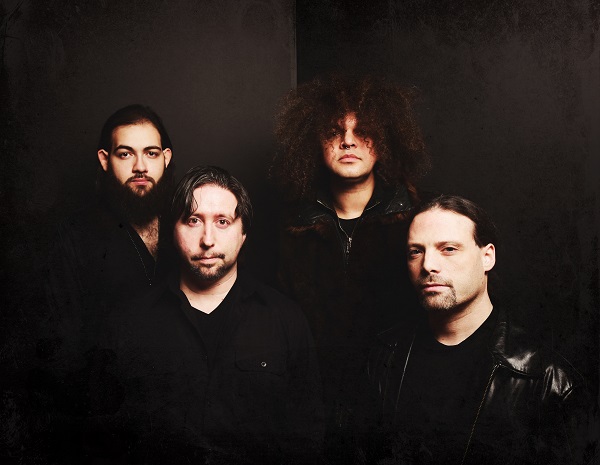 "Four Trips Ahead has a unique sound where there are lots of different elements blended together within the context of hard rock. I can't imagine that chemistry and our sound being developed in the same way anywhere but in NYC.  At the same time, the bar is raised and you know if you plan to hit the stage, you better come correct and make sure what you're sharing is worthwhile."
From Bio: FOUR TRIPS AHEAD roots date back to 2003 when the seasoned New York City musicians first came together in search of a new creative outlet. Instantly, the quartet recognized their common musical interests — creating heavy rock sounds with strong melodies and progressive dynamics. With four EPs and a full-length album in the band's repertoire, their last EP, "Love and Rebellion" debuted at #6 "Most Added" on the CMJ Hard Rock/Metal charts in February 2015.  "…And The Fire Within" has been a success at radio, charting consistently in Metal Contraband's National Top 50 Radio Charts for eight consecutive weeks in spring 2017, with its highest placement at #34 garnering heavy rotation on American college, commercial and specialty Hard Rock/Metal radio formats including top-ten placements on various major stations.  Moreover, their latest video, "Bring Me Down," debuted on AXS.com to an enthusiastic response.
We teamed up with ReverbNation to share some talent with the world, check out Four Trips Ahead from New York, we dug their sound and found them very worthy of being one of our Best Things You've Never Heard!
Let's start with the basics; for those that aren't aware of you, can you please give us the abridged version of your story, and how you would best describe your music?
Four Trips Ahead is a hard rock band from New York City.  We are not afraid of strong melodies and harmonies living within harder sounds.  Lyrics are important to FTA songs and aren't an afterthought. Storytelling is something we embrace in our music. We are very dynamic and progressive within our compositions yet are cognizant of the importance of groove.  We grew up loving hard rock and metal but we listen to and experience many different genres of music.  As a result, I think those diverse elements naturally creep into our music more often than many of the current hard rock and metal bands.  Our new album, "…And The Fire Within," exemplifies that fact.  And our music is best experienced loud.
Can you now please introduce each band member including yourself, and give us a rock 'n' roll fact or myth about each of you?
Brian Eisenpresser is our guitar player who also goes by the nickname "Dr." as he has been known to moonlight as an on-call surgeon.  Dan Cassidy is our bass player with a killer singing voice; he is a master of many secret dark arts who crafts political conspiracy theories at whim.   Ken, who often goes by the title, "the Mad Composer," is our drummer extraordinaire; in his private life, he rubs shoulders with superstars such as Ricky Martin and Jason Mraz while constructing symphonic death metal music. I am Peter Wilson, lead singer, mouthpiece, self-appointed lyric-writer, poet and charlatan of the highest order; soon, I will be starring on an off-off Broadway production of "Hair" on ice.
In terms of your music and any releases, instead of giving us a standard review, let's say if you had to give us your best door to door sales pitch to try and convince someone to listen to it before they slam the door in your face, what do you say to them?
FOUR TRIPS AHEAD's "…And The Fire Within" is a big, guitar driven album with grooves that shake you up and rattle your brain, songs so melodic that you must sing along. You need this music in your life now!
With your song writing, what do you consider to be the most important ingredients that make up one of your songs?
Strong melodies, powerful riffs and grooves with lyrics that penetrate on a deeper level.  Fearless arrangements and dynamics are essential as well.  And the magic element of excitement when we play the right arrangement together.

Are there current plans for any future releases you can give us the scoop on?
We are currently finishing up a batch of songs that we will track in early August.  The goal is to release a new FTA single before the end of the year with the intention to release a full album next year.
So what bands did you grow up listening to and how did they help create the style of music that can now be heard throughout your music?
This is a very hard response to give in a limited amount of space—Queen, KISS, David Bowie, The Wailers, Thin Lizzy, the Beatles, AC/DC, Nina Simone, Peter Tosh, UFO, Rush, Sly + the Family Stone, Cheap Trick, Aerosmith, Marillion, Stevie Wonder, Van Halen, Miles Davis, John Coltrane, Led Zeppelin, the Bad Brains, Glenn Hughes, Kate Bush, King's X, Wes Montgomery, Aretha Franklin, Faith No More, Third World, Tina Turner, Soundgarden, Fishbone, PiL, Metallica, Anthrax, Guns n' Roses, Meshuggah, Peter Gabriel, Sugar, Queensryche, Motley Crue, RATT, Joan Jett, Whitesnake, Aswad, Steel Pulse, Living Colour, Seal, Nevermore, Pantera, Alice in Chains, Porcupine Tree,  Dream Theater and Prince as well as a host of others.  Newer artists would be Rival Sons, Big Wreck, The Answer, Work of Art, Winery Dogs and Black Country Communion.
All of us grew up in musical families and we were encouraged to pursue music and the arts.  All of us are also from New York City, so unless you're close-eared or close-minded, you have to be influenced by everything. I grew up on reggae, dancehall and jazz, metal, rock, hardcore, punk, pop and hip-hop—everything was open to take in and devour. And though we are definitely a hard rock band, our tastes are quite varied. The key is always being sincere in your approach. NYC allows you that freedom to openly explore without abandon.  Having so much great live music from so many different cultures at your disposal daily and hearing it in studios, concerts, clubs and literally in the streets builds who you are as an individual and as a musician. Four Trips Ahead has a unique sound where there are lots of different elements blended together within the context of hard rock. I can't imagine that chemistry and our sound being developed in the same way anywhere but in NYC.  At the same time, the bar is raised and you know if you plan to hit the stage, you better come correct and make sure what you're sharing is worthwhile.
In terms of touring, here's your chance to plug any upcoming shows, and for those that haven't seen you, how would you describe a typical live show of yours?
We're in song-writing mode now, so we don't have any tour dates lined up just yet other than a summer show or two in NYC.  FTA's live show is passionate, energetic, dynamic, fun, sincere and LOUD.
For a bit of fun, say you get the chance to open for any artist or band in the world, who would they be and why?
If we could fantasize about a huge, megatour, it'd be incredible to open for GNR, especially since the majority of the original band is together again.  They are terrific performers and have a killer live show with songs from arguably one of the best albums ever recorded ("Appetite for Destruction"), in their catalogue.  In terms of a theatre tour, I'd love FOUR TRIPS AHEAD to open for the Rival Sons.  They have been making top notch albums, are great live and the vibe at their shows is awesome.  I think in both cases, we'd win fans.
If you were to cover one song that no one would expect that you'd cover what would it be and why?
I'd love to do a heavy cover of Madonna's "Live to Tell." I always thought that lyrically it was weighty while the arrangement is surprisingly dark for a pop hit.  Billy Joel's "Sometimes A Fantasy" is a close runner-up for the same reasons.
Lastly, here's a chance to grab a magic lamp and from it you are granted three wishes.  They are:
1. World peace + equality for all
2. Free education, health care + food for all
3. Endless cash and resources for an independent label, recording studio, touring company and music foundation for all things FOUR TRIPS AHEAD (selfishness be damned)
Essential Information
From: New York City, NY, USA
Band members:  Peter Wilson – lead vocals, Brian Eisenpresser – guitars, Dan Cassidy – bass + background vocals, Ken Candelas – drums
Website:  http://fourtripsahead.com Facebook: https://www.facebook.com/fourtripsahead Twitter: https://twitter.com/FourTripsAhead Instagram: https://www.instagram.com/fourtripsahead
Current Release:  "…And The Fire Within" (Available Now)