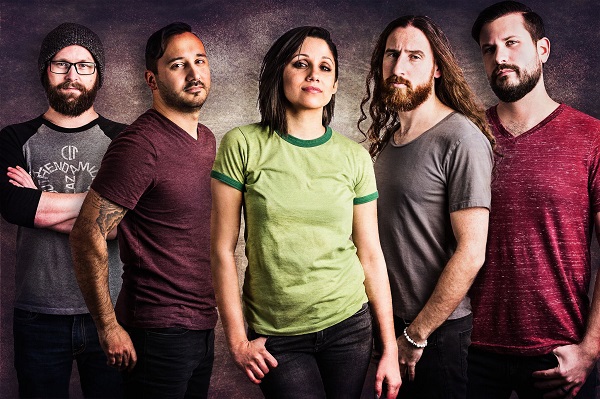 "…we bring a lot of energy and love to have the crowd interact with us during our performance. We always hang out after our performance to meet with fans and absolutely love what we do so we always try to make sure that shows on stage as well as off!"
From Bio: Even though they are originally from disparate parts of the country, Charlotte, NC based Alt Rockers Falling Through April have come together to form a cohesive unit in a city that is rich in music history and has a thriving independent rock scene. Their energy is abundant in their live shows and in the music from their newest album "Zodiac". The band's founders (Jim Siani, Dave Piontek, Taylor Foster, Dan Candia) have weathered the full gamut of hurdles as a startup since forming in 2011, ranging from exploding transmissions and ghosting vocalists to nearby celebratory gun fire landing Taylor in the hospital. When charismatic front woman Mikaela Salazar stepped into their lives in 2016, the road blocks were removed, and everyone found something to be excited about. The 4 founders found each other while playing in different bands that were a part of the Charlotte indie rock scene. The band has amassed a significant touring resume, having opened for Theory of a Deadman, The Pretty Reckless, Pop Evil, Adelitas Way, Flyleaf and more.  They have also performed at major festivals including the Vans Warped Tour, SXSW, Florida Music Festival, Sonorous Music Festival, Dewey Beach Music Conference and Celebrate Fairfax.  Their touring has garnered them endorsements from PRS and Reverend Guitars, among others. FTA's goal is to have their music reach as many people as possible around the world and for their music to inspire and encourage listeners. Becoming a household name in the modern rock community drives them forward, and "Zodiac" promises to help them achieve that goal.
We teamed up with ReverbNation to share some talent with the world, check out Falling Through April from Charlotte, NC we dug their sound and found them very worthy of being one of our Best Things You've Never Heard!
Let's start with the basics; for those that aren't aware of you, can you please give us the abridged version of your story, and how you would best describe your music?
Falling Through April was started in July 2011. Although we started with male vocals, we have always wanted to introduce a female vocalist into our writing style. When we found Mikaela we knew she was the perfect fit to finish our sound. We have toured Internationally with several notable artists including The Pretty Reckless, Breaking Benjamin, Adelitas Way, and Theory of a Deadman to name a few.
Our music fits in the Alternative/Rock genre often compared to artists like Paramore, Evanescence, All-American Rejects, and even Taylor Swift
Can you now please introduce each band member including yourself, and give us a rock 'n' roll fact or myth about each of you?
Mikaela Salazar, I'm the lead vocalist. I'd like to believe I'm not a self-absorbed diva. So, the idea of me thinking I'm all that since I'm the front woman is a myth. Couldn't do any of this without my boys, they are all so damn talented and I'm honored to be working with such dedicated dudes.
Jim Siani, I play guitar and tend to do what we call "lomaxing" from the movie "Weekend at Bernies" because I literally fall asleep anywhere and everywhere.
Dan Candia, I play guitar and provide backing vocals. I wanted to play guitar since I was 6 years old and I taught myself when I got my first guitar at age 13 by ear.
Taylor Foster, I play percussion but I can also play guitar
Dave Piontek, I play bass and also provide backing vocals. I have filled in as a touring musician for Red Hot Chili Peppers, The Offspring, and Slipknot – ok none of this is true but it would be awesome.
In terms of your music and any releases, instead of giving us a standard review, let's say if you had to give us your best door to door sales pitch to try and convince someone to listen to it before they slam the door in your face, what do you say to them?
You ever drink Baileys from a shoe? Now that I have your attention, you should listen to this while drinking Baileys from a shoe or not! You bring the Bailey's I've got the shoe!

With your song writing, what do you consider to be the most important ingredients that make up one of your songs?
From the instrumentation side, serve the song. Leave enough room for everyone to be able to fill in the gaps with complimentary parts and don't overplay or try to make things too busy especially early on in the writing process.
From the lyrical side, being true to who you actually are. Write about real experiences, people can sense true emotion whether it is pain or happiness and it's important to be able to relate to the lyrics of a song.

Are there current plans for any future releases you can give us the scoop on?
We are always writing and have started the process on demoing for the next release. We do still have an unreleased music video from "Zodiac" we plan to share and possibly shooting another one before moving on to the next release.
So what bands did you grow up listening to and how did they help create the style of music that can now be heard throughout your music?
Such a wide variety between all of us but the 90's era of Alternative music still stands out as a major influence to our writing style. Bands like No Doubt, The Offspring, Foo Fighters, Incubus, Radiohead, Alice Cooper, Metallica, The Beatles – all have a major influence.
In terms of touring, here's your chance to plug any upcoming shows, and for those that haven't seen you, how would you describe a typical live show of yours?
For anyone that hasn't seen us live, we bring a lot of energy and love to have the crowd interact with us during our performance. We always hang out after our performance to meet with fans and absolutely love what we do so we always try to make sure that shows on stage as well as off!
7/21/2018 – Carolina Music Video Awards  Performance @  McGlohon Theatre Charlotte, NC
7/28/2018 – Russell's Charlotte, NC
8/18/2018 – Wicked Witch Raleigh, NC
8/24/2018 – Stache Ft Lauderdale, FL
8/30/2018 – Charleston Music Confab Charleston, SC
8/31/2018 – Charleston Music Confab Charleston, SC
9/01/2018 – Charleston Music Confab Charleston, SC
9/7/2018 – Somewhere Else Tavern Greensboro, NC
For a bit of fun, say you get the chance to open for any artist or band in the world, who would they be and why?
Tough question but probably Paramore. They saw success when Haley was so young and they've managed to work through a lot of obstacles and overcome challenges to stay relevant; even reinventing their sound several times over while still staying true to their original sound. We respect their work ethic and dedication.
Or the Spice Girls… because we really want to zig-a-zig-ahhhh
If you were to cover one song that no one would expect that you'd cover what would it be and why?
"Bohemian Rhapsody" by Queen because Freddie Mercury is a legend and their music is timeless. Whenever you hear just about any Queen song you can't help but sing along with it.
Lastly, here's a chance to grab a magic lamp and from it you are granted three wishes.  They are:
1. Spinal Tap is a real band
2. Mel Gibson does not die in "Braveheart"
3. Robin Williams is the voice of the Genie that pops out of the magic lamp
Essential Information
From: Charlotte, NC
Band members: Mikaela Salazar – Lead Vocals, Dan Candia – Backing Vocals / Guitar, Dave Piontek – Backing Vocals / Bass, Jim Siani – Guitar, Taylor Foster – Percussion
Website: https://www.fallingthroughapril.com
Current Release: Zodiac – iTunes – Apple Music – Amazon.com – Google Play Music