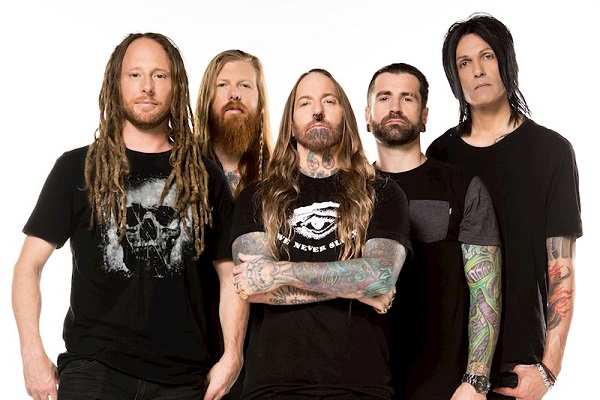 "So I've always heard these songs heavy and outlaw country for me the lyrics, the stories are the most poignant on the planet, those guys are the Lemmy's of their genre, they are the outlaws of their genre, and so it just made all the sense in the world to try to do something that has never really been done…"
From Release: Going against the grain comes naturally for DevilDriver. The globally-renowned California Groove Machine have been a constant and effective force in the heavy metal world for the best part of two decades now. Thanks to widely lauded albums like 2005's epoch-shredding The Fury Of Our Maker's Hand, 2011's ante-raising, ultra-brutal Beast and 2016's acclaimed career peak Trust No One, the band led by vocalist Dez Fafara (ex-Coal Chamber) are firmly established as one of the most consistent and best loved bands in modern metal. But in 2018, expectations are about to be torched in the mother of all campfires!
While he was out and about and between meetings for SunCult we checked in with our old mate, Dez to fill us in on the new DevilDriver album 'Outlaws 'Til The End Vol. 1', how it all came about, guests, touring, new music, and more…
Always a pleasure to chat, Dez, and it's been a couple of years so let's catch up. How have the last two years been for you?
Fantastic, man, really busy. A lot of touring even more so a lot of making music. I kind of stood back one night and took a look at my catalogue versus a lot of artists that I grew up on catalogues and said I need to start kicking it up and making more music and that's where I've been living in the last two years is making a lot of music.
Mate, straight into it, tell us how the idea behind 'Outlaws 'til The End Vol. 1' came about?
I've always heard this music heavy and I find myself trying to explain it more to the people in the UK and Europe that if you go to a heavy metal concert, a heavy metal BBQ or you're on a tour bus you're gonna hear Slayer into Johnny Cash, Pantera into Willie Nelson and nobody even bats an eye. So I've always heard these songs heavy and outlaw country for me the lyrics, the stories are the most poignant on the planet, those guys are the Lemmy's of their genre, they are the outlaws of their genre, and so it just made all the sense in the world to try to do something that has never really been done, done right and done with gas, so I put my best foot forward and kind of crashed these two genres together and it looks like from the looks of it now and I keep holding my breath until people start hearing it and now it's starting to get 10/10 and people are saying record of the summer, so it feels good.
Was it a hard process arranging these songs or did it just flow once the idea came about?
You know it really kind of flowed, the musicians had a good handle on how they wanted to do it as well as I did, logistically this thing was a nightmare, I thought it was going to be three years between the next DevilDriver record so I said let's go in and do a cover record it'll be fun to do, it'll be easy, but no it was extremely difficult, money ran out half way through, logistics were insane and just the fact that it got done with as many guests as it did, it's a big deal for me that it's done and in the can and everyone gets to hear it.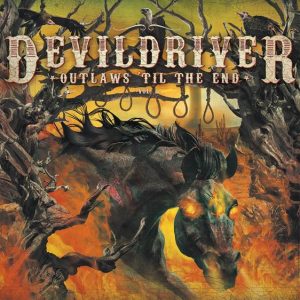 You mentioned the bevy of guests on this record but what was it like with Hank 3 and John Cash Jr in the studio, did they get the concept of the album?
Oh fantastic, yeah obviously Hank 3 and I are long-time friends, Hank loves metal he was in Superjoint Ritual, I didn't want to do it without 3 involved, I didn't want to do it without Randy from lamb of God involved, so once we started moving from there and gathering people that I knew getting John Carter Cash and Ana Cristina Cash would be a big deal having the Cash family on this and it's really great and they're wonderful friends the Cash family and it looks like there's some stuff coming in the future from them, myself and John Carter have been talking about doing something else together as well.
I've always been a big fan of 'Copperhead Road' and your version is a monster, what is it about that song that grabbed you?
Well I mean there are certain songs that we had to do and 'Copperhead Road' for me it was just one of those ones, I love songs about 'shinin' and moonshine and you know I'm sober now but I've had my fair share of moonshine throughout my decades on the road. Just something about the lifestyle and the outlawness of that, obviously I'm a big component of cannabis and years ago you had to be an outlaw to be a component of cannabis and so I kinda run with that vain.
Volume 1 is also a nice little tease, also are there plans for more like this along the way?
Well actually my wife the manager of the project slapped Volume 1 on it last minute because we had so many phone calls from people saying they wanted to be a part of it, why didn't they get asked? So we slapped Volume 1 on it last minute knowing that if a Volume 2 came around that we've probably got ten or fifteen guests and four or five of them are from the biggest bands on the planet.
Well that's a good little tease…
*laughs* That's all you get, bro *laughs*
In terms of the band's playing, with Austin and Neal cemented and this their second album worked on did it just gel a whole lot better in the studio after the last two years of playing together?
Just fantastic, look playing with those guys is immense man, they're incredible musicians and I mean it's like I slid players in my band that were twice the players of the previous guys I mean they're unbelievable, their talent is off the charts and we are definitely solidified. Myself and Neal we realised that when Neal and I sing together it's got some kind of specialness to it and so I'm not a very big component of heavy versions with big clean choruses that a lot of metal bands are doing right now, a lot of them are doing it to skew their monetization to get to radio to get their band alive I've never been a fan of that. So, when Neal and I sang together on 'Outlaws 'til The End' we found that there was this thing happening and were definitely going to be using that in the future.
You know I have to ask, when are you coming back 'home' to Australia?
Yeah it feels like home to me, man and I tell you I have haven't been over in a long time and I apologize. I talked this morning to my agent about coming over at the end of this year or the very beginning of next year so we'll see what happens.
What are the plans in terms of hitting the road in support of this album?
We've got about a weeks' worth of shows coming up in July then in August I'm going overseas to do Bloodstock and some really big festivals, but from there we're in process now, we're in the studio recording, we've got almost twenty five tracks done on drums and we're getting ready to do something real special. I've never done a cover record so I'm doing it, I've never done a double record in my life so we're recording it, I've never done a concept record in my life so we're doing both at the same time and so the guys are in the studio now, I just visited them and we're getting guitar tones today.
Wait, so there's a new DevilDriver album coming?
Yeah this is why we put out the cover record, we knew it was going to be three years between records and I'm a big stickler in getting a new record out every two years, so we wanted to give people something cool to listen to but there's a lot of work going into this process now and we're recording almost twenty songs so the work is immense and the work load put in front of us is immense. I lay vocals in January or February 2019 and you guys should be getting a record a year from us from now on.
Being in this crazy business for a long time now, looking back was there one piece of advice you were given when you started making music that you still go back to to this day?
Absolutely, I won't tell you who told me but as I was forming Coal Chamber it was a very big artist that I happened to be friends with at the time who said "don't have partners, if you're gonna do a band do it yourself and don't have partners" and I went into Coal Chamber with a partnership and look at thing you know, years later it can't work, it can't get back together and can't do its thing because there's partners in it that are fucked up. So yeah I keep going back to that and now I don't subsequently that can control me in business meaning I'm partners with my wife in a management company, I'm partners with Randy from Lamb of God in SunCult that I hold all of the major partnership percentages because I refuse to be controlled again. So if you're gonna do something do it on your own, do it on your own merit, if you do find a partner just go into a partnership but make sure that you hold the percentage so you can make the choices and the business doesn't go down on your merit.
Hence why DevilDriver is the machine that it is these days…
It is a machine and I'm running the mother fuckin' show over here and that's the bottom line, but you know what man, you have to have a democracy in any business, nobody comes in and just puts their foot down and just runs a business for twenty or twenty five years you've gotta have a democracy, and in DevilDriver I really do defer to my members because I'm humbled and appreciative every day that they're on board and they're so talented. So I do defer to them with a lot of business stuff and I think that's the aspect of the band that holds it together.
Lastly, let's look ahead to the future as always so finish this sentence for me, by the end of 2018 DevilDriver will…
Release another record… by the end of 2018 we will have released another record.
Essential Information
From: Santa Barbara, CA, USA
Band members:  Dez Fafara – Vocals. Mike Spreitzer – Guitar. Neal Tiemann – Guitar, Diego Ibarra – Bass, Austin D'Amond – Drums
Website: http://www.devildriver.com
Forthcoming Release: Outlaws 'Til The End Vol. 1 (out now)