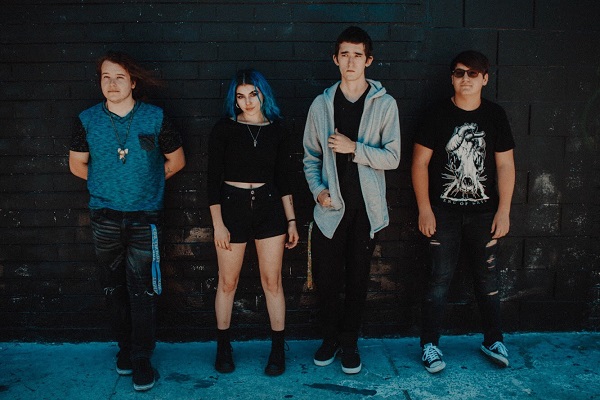 "To me, lyrics are so fragile & beautiful that they have to be touchable & relatable. I can't perform a song well if it doesn't mean anything to me. Also a good chorus. Everyone needs a good, catchy chorus."
From Bio: Almost Awake is a young female-fronted, five piece rock band from Las Vegas. This fast rising, high energy group of teen-agers (18-20 yrs old) range in musical influences from Paramore, and Nirvana, to Joe Satriani and Marcus Miller. The result is a bombastic blend of melody and musicianship. After the well-received release of their first EP 'The Explorer', the band has since produced several hit videos, including a popular rendition of 5 Seconds of Summer's 'Long Way Home'. They have just released their new single 'What did I do' available on ITunes in September and the highly anticipated DIY music video for 'The Intruder'. The band, which has garnered a huge following in a very short time and rave reviews from critics, was chosen from thousands of bands to represent the House of Blues Music Forward foundation after only a few months as a band and has since been selected for radio play by A.V.A. Live Radio, KGUP FM Emerge Radio, Extreme Radio X107.5, Mix 94.1, EGH Radio in the UK, Women of Substance radio, Music Inferno Radio, and many others.
We teamed up with ReverbNation to share some talent with the world, check out Almost Awake from Las Vegas, Nevada, we dug their sound and found them very worthy of being one of our Best Things You've Never Heard!
Let's start with the basics; for those that aren't aware of you, can you please give us the abridged version of your story, and how you would best describe your music?
Well, Kalani & I played music together for most of our pre-teenhood (is that a word? it is now) in church on the worship team. We formed in late 2014 with his cousin (former drummer), started writing songs & playing shows & have been at it since. Our vibe & sound has taken some time to develop & evolve but we feel we are always growing & changing. We are currently a mix of some alternative rock & pop-rock with some heavier instrumentals & powerful guitar solos.
Can you now please introduce each band member including yourself, and give us a rock 'n' roll fact or myth about each of you?
Drowsy- vocalist, rhythm guitar, songwriter. – fun fact: has daddy issues
Kalani- lead guitar, songwriter – fun fact: eats taco bell literally every day
Tommy- bass, good looks – fun fact: screams like a girl over bugs
Bryson- drummer, bad ass – fun fact:
In terms of your music and any releases, instead of giving us a standard review, let's say if you had to give us your best door to door sales pitch to try and convince someone to listen to it before they slam the door in your face, what do you say to them?
Our latest single, Cloudwalker, is honestly a jam. A song you play at a function & everyone asks, 'damn who is this this is a jam' & you tell them 'oh it's this dope band called Almost Awake (us) you haven't heard of them yet? you are slackin' fool you should check em out'. Then they follow us on Spotify & Instagram. If you like good music you'll like our songs, there's not much else to it.
With your song writing, what do you consider to be the most important ingredients that make up one of your songs?
It sounds corny (because it is) but the most important thing for me when I write songs is that I mean it. To me, lyrics are so fragile & beautiful that they have to be touchable & relatable. I can't perform a song well if it doesn't mean anything to me. Also a good chorus. Everyone needs a good, catchy chorus.
Are there current plans for any future releases you can give us the scoop on?
Yes!!! Our plans for this summer consist solely of recording a 5 song EP. It will include the songs we have written most recently. It will HOPEFULLY be released by the end of the year. The tracklisting will be: the sting, bleach, 2:48, keep out!, and vacancy. We are ridiculously stoked on it.
So what bands did you grow up listening to and how did they help create the style of music that can now be heard throughout your music?
Drowsy: I grew up on an interesting concoction of NOISE lol. my dad was into Pink Floyd, Peter Gabriel, Led Zeppelin, etc. & my mom was into P!nk, Prince, & whatever was on the radio. MY own taste was kind of formed from that. I appreciate all styles of music (really) but I take more to indie, lo-fi, alt, pop, rock styles. it's very easy to tell that that's what I like based off my lyrical structure & also just by looking at me hahaha. my favorite bands include Paramore, From Indian Lakes, The Neighbourhood, & Radiohead.
Kalani: Ivoryline, Green Day, Paramore, Led Zeppelin, Boston, Kansas, etc.
Tommy: Blink-182, Offspring, Sum 41, 2pac, Parliament, Def Leppard
Bryson: Avenged Sevenfold, Green Day, Eminem, Beartooth, Oceans Ate Alaska.

In terms of touring, here's your chance to plug any upcoming shows, and for those that haven't seen you, how would you describe a typical live show of yours?
We have been playing a lot this year actually which is pretty exciting. a typical show for us is best described as laid back yet exciting. Our songs are rather groovy but we really try to make each show a fun, energetic, unique experience. We are playing a festival in socal on July 27 called 'sacrivox music fest' & we are super stoked for that. after that we are playing at Cowabunga Bay in Vegas on August 3. other than that, this summer/ rest of this year is exclusively for recording!!
For a bit of fun, say you get the chance to open for any artist or band in the world, who would they be and why?
Drowsy: i would looove to open for Paramore. they are so supportive of smaller acts & always have kickass live shows. good vibes always.
Kalani: Joe Satriani because he is the reason i started playing.
Tommy: Foo Fighters. rock legends.
Bryson: Oceans Ate Alaska, because they are my favorite band and they are awesome people.
If you were to cover one song that no one would expect that you'd cover what would it be and why?
Drowsy: I would love to cover a Post Malone song lmfao. no one would expect that and I feel like it would be so bangin.
Kalani: 'Tendonitis' by Jason Richardson because I'd be surprised if I could even play it lol
Tommy: 'I'm in a Hurry' by Alabama.
Bryson: 'Afterglow' by Silverstein just because it's a fun song and it's kind of a break from all the metal stuff I usually play.
Lastly, here's a chance to grab a magic lamp and from it you are granted three wishes.  They are:
Everyone had different answers so I'll just sum it up with this:
1. World peace
2. Superpowers
3. Hang out with our influencers
Essential Information
From: Las Vegas, NV, USA
Band members:  Drowsy, Kalani Jones, Tommy Cochran, Bryson Drace
Website:  www.almostawakeband.com
https://www.reverbnation.com/almostawake1
Forthcoming / Current Release: Cloudwalker: SPOTIFY