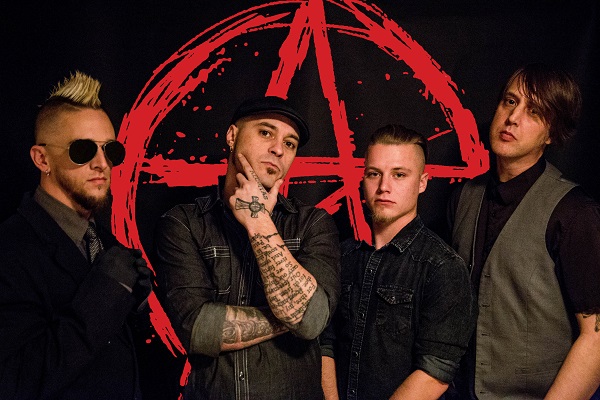 "Every song is a different story. Do not judge a book by its cover."
From Bio: A Killer's Confession, the new band led by former Mushroomhead vocalist Waylon Reavis has constructed one of the most high octane, adrenaline fueled, gut wrenching albums of the year. The band's debut album "Unbroken" is equal parts beauty and tragedy and takes the listener on a journey to the edge of insanity and back. Yet AKC did not stop there only 4 months after releasing UNBROKEN they were back in the studio, only this time they were working with Sahaj Ticotin on Two NEW single (I Wish & Angel on the Outside) to be released later that fall. "Angel on the Outside" plays the contrasts of quiet and loud quite well, providing a soundscape with triumphant, uplifting guitar, a blend of highly melodic and gruffly guttural vocals and an overall anthemic sound that is certain to draw in listeners. ANGEL also went on to Win 2017 Song of the Year From Rock Rage Radio. AKC doesn't seem to be slowing down either as they are working on a new full length EP FOR 2018.
We teamed up with ReverbNation to share some talent with the world, check out A Killer's Confession from Telford, PA, we dug their sound and found them very worthy of being one of our Best Things You've Never Heard!
Let's start with the basics; for those that aren't aware of you, can you please give us the abridged version of your story, and how you would best describe your music?
For everyone who doesn't know who A killers confession is…… My name is Waylon Reavis and I am the former lead singer of Mushroomhead from 2004 until 2015. A Killer's Confession came together in September 2016 and we signed our first record it with EMP label group after only being together for one week.  We release our first album "Unbroken" in May of 2017.   Then later that year we released two new singles "Angel on the Outside" & "I Wish" on our own. Our sound is a mixture of metal and hard rock.
Can you now please introduce each band member including yourself, and give us a rock 'n' roll fact or myth about each of you?
Waylon Reavis Vocals : Waylon has a career spanning 25 years with time spent in bands such as 3 Quarters Dead, Mushroomhead and Tenafly Viper and now AKC.
Jp Cross Bass: Jp has been playing with Waylon since they were in their early teens prior to Waylon joining Mushroomhead.
Matt Tarach Guitar: Matt is mainly known for his time spent playing keyboards for the band Vimic and Scar the Martyr
Morgan Bauer Drums:  Morgan is AKC YOUNGEST member at 22 years old. Also Morgan is Waylon stepson.
Secret member guitar: AKC Has a new guitarist we just have not announced it yet.
In terms of your music and any releases, instead of giving us a standard review, let's say if you had to give us your best door to door sales pitch to try and convince someone to listen to it before they slam the door in your face, what do you say to them?
Every song is a different story. Do not judge a book by its cover.
With your song writing, what do you consider to be the most important ingredients that make up one of your songs?
Mood and the ability to relate to every listener.
Are there current plans for any future releases you can give us the scoop on?
A Killer's Confession will be releasing our second album later this year titled "the indifference of good men"
So what bands did you grow up listening to and how did they help create the style of music that can now be heard throughout your music?
Korn, Tool, Clutch, Fear Factory, Sepultura…… really to many to name.
In terms of touring, here's your chance to plug any upcoming shows, and for those that haven't seen you, how would you describe a typical live show of yours?
Visual stimulation plus a sonic punch to the face.
For a bit of fun, say you get the chance to open for any artist or band in the world, who would they be and why?
I have been lucky throughout my career to open up for many major Acts such as Korn, Avenge Sevenfold, Asking Alexandria and many many more. But if I had to choose one it would be Rammstein because they are so awesome!
If you were to cover one song that no one would expect that you'd cover what would it be and why?
We cover Hurt….. Johnny Cash's version.
Lastly, here's a chance to grab a magic lamp and from it you are granted three wishes.  They are:
That Cell phones were never invented
That social media would burn in the garbage.
And people will become more tolerant of each other's opinion instead of being so fucking butt hurt.
Essential Information
Location: Telford PA
Band members: Waylon Reavis, Jp Cross, Matt Tarach, Morgan Bauer, TBA
Website:  www.Akillersconfession.com
Forthcoming / Current Release:
"Unbroken" EMP LABEL GROUP 2017
"I WISH" AKC GLOBAL LLC 2017
"Angel on the Outside" AKC GLOBAL LLC 2017
"The Indifference of Good Men" TBA 2018