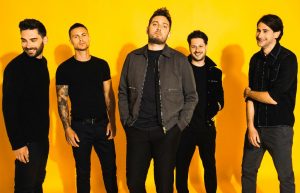 You Me At Six 
today mark their return to the UK music scene with an exceptional double A-side of 
Fast Forward
& 
3AM, 
the first tracks taken from their brand new sixth studio album 
VI
. Released on October 5th, the release of 
VI
 marks a new partnership between the band and 
Cooking Vinyl Australia
, releasing under their new 
Underdog Records 
imprint.
VI is not what you might expect a You Me At Six album to sound like. Recorded at VADA Studios with Dan Austin (Biffy Clyro, Massive Attack, Pixies), and for the first time ever co-produced by the band, the new album showcases the band as they've never been heard before – switching moods and styles with breathless confidence.Whilst retaining their bite, VI sees them flourish with uplifting alternative pop tracks such as 'Back Again','3AM' & 'Pray For Me', straying into new territories with electro dance floor leanings on 'IOU', while heavier tracks like 'Fast Forward' & 'Predictable' are set to strike a chord with the band's long standingrock fanbase.
You Me At Six are young enough to still be releasing their first album. And if VI were that first album, it would be hailed as one of the most exciting albums by a British band in years – uncategorisable but familiar, raucous but mainstream.
With four Top 5 albums under their belt in the UK, including a Number 1 with 2014's Cavalier Youth, and an unparalleled 15 consecutive A-List singles on BBC Radio One, You Me At Six kicked things off last night with a first play for '3AM' as Annie Mac's 'Hottest Record'.
The band have notched up a list of considerable achievements since forming in 2004 as teenagers in Weybridge, Surrey, including four UK Gold Records, four Top 10 albums in the UK including Number 1 album Cavalier Youth, three sold out arena shows, sold out UK headline arena tours, multiple sold-out US headline tours and a Number 1 rock song in UK & Australia and Top 5 Rock Radio track in North America in Room To Breathe.
VI sees the band release music for the first time under their own imprint Underdog Records in partnership with Cooking Vinyl Australia, another sign of their new found confidence and growing belief that they can claim their place at rock's top table on their own terms. "You have to make music for yourself," singer Josh Franceschi says, "because without authenticity people are going to smell the bullshit. None of us are going to into this with any fear, because we've made something we can stand behind."
The band are also gearing up for an exciting second of half of 2018 on the road. Having sold out arena tours in the UK previously, as well as headlining the NME/Radio 1 stage at Reading & Leeds in 2017, the band will debut new songs from the forthcoming album at Download Festival on June 8th, where they'll headline the second stage, as well as appearances at both Community Festival & Belladrum in the UK.
You Me At Six are stepping out of their comfort zone and are about to change the way you think about them. Prepare to have your expectations shifted as 2018 marks a brand new chapter for one of the UK's biggest guitar bands.