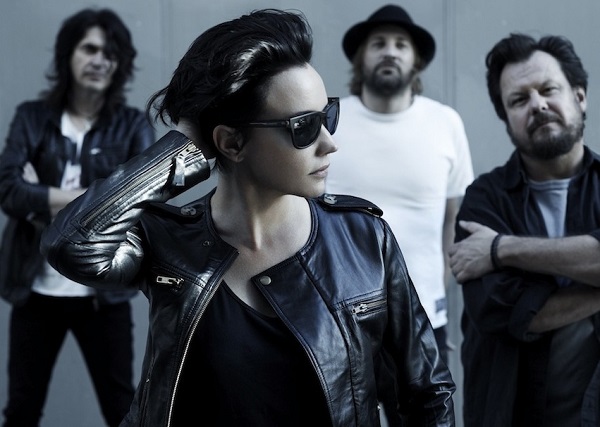 "…music is very powerful and you see it every time you do a show how people are affected by music, it's just like an invisible thread that goes through every person in the crowd and connects everybody you know? That's the best thing about it."
From Release: Hot on the heels of the scorching new single 'Tonight', their first new music in five years, comes news that Baby Animals will perform shows in Melbourne and Adelaide in June. This news follows the announcement of two shows in NSW in Doyalson and Wollongong. 'Tonight' is a welcome return from one of the country's most loved rock bands.  It is classic Baby Animals, featuring Suze's soaring vocals, Dave's trademark guitar crunch and a rumbling rhythm section.  It's Baby Animals 2018, a song about being there for a loved one, written by Suze after her father passed away suddenly last year.
We gave Suze a call to talk about what the Baby Animals have been up to, new music, touring, anniversaries, advice, longevity, and more…
Suze, it's been almost five years since we last chatted…
I know, time flies doesn't it!
So let's catch up, how have the last five years been for you?
Busy, busy, busy, lots of work, lots of good things but also lots of really life affirming lots of heavy stuff I've lost both my parents in the last six to eight months so that's been really very big thing that we all have to deal with at some point, so yeah, lots of stuff.
The last couple of years has seen you guys out in full force again with the 'She who' and 'They who rocks tours', 'Red Hot Summers' and more, what's it been like getting back out there and rockin'?
I mean you know what when I moved back to Australia the idea was to work as much as we could, tour as much as we could, re-establish ourselves and you know we had to build the band back up and we made a really conscious kind of plan about how to do that so that's kind of what we've been doing. So now we're recording again after we did the last record and we're just sort of getting our head around all that again because life gets in the way and doing shows for us is the most fun so we've been doing a lot of that which is great. We just came off the Red Hot Summer Tour the last show was on the weekend, we did twenty four shows with them since the beginning of the year and just kept going so that's great. It was amazing and all these great headliners we had like Suzi Quatro and John Farnham who I'd never played with and he was just amazing, his voice is incredible and then all of the other bands that were on the bills as well, so we all get to have catch ups and we've all got a lot in common so it's always fun.
The band to me is sounding better than ever as is your voice, what sorcery do you use to keep it as pristine as it is?
*laughs* The sorcery is called inner ear monitors *laughs* that's the sorcery I think that's really 100% saved my voice, it's so good, they're so good you don't have to scream over a loud band you know.
You're heading out for some shows in June, a lot smaller run than the past, what can people expect at these upcoming shows?
We're gonna be doing some new stuff and by that time we will have just come out of the studio so by that time we'll definitely be chucking a couple of new ones in there and we're gonna do maybe we'll do a cover or something, we just like putting a cover in the set just because it's fun for us as well and all the old standards the ones that people know of course, we love plying those songs, the old songs so we'll mix it up.
'Tonight' is your first new music in five years, with an EP coming has this lit a bit of a fire under you guys in terms of new music and can we expect more in the future?
I think we just decided Dave and I made a conscious effort to let the song dictate where it needed to go and not worry too much about radio and not worry about any other pre conceptions or what people think the band should sound like and let's just let the song dictate where it should go and not try and manipulate that really in any way, so it's really just freeing, there are no constraints any more we don't have to follow a great big record that we had with the first one, it's not really about that anymore it's just about making sure that the song is as good as it can be and that's all really, and yeah it takes the pressure off.
I know 'Tonight' was a very personal song for you too was it hard to put together?
Well sometimes it's really cathartic and I find doing shows and I did a show the night after my father passed away and the crowd was incredible and I told them what happened and they got me through it because my father was the greatest man I've ever known and so that was really tough but working really helps you get through grief I believe and my band was also really amazing and I felt really safe enough to write stuff like that and so I'm fortunate in that way, Dave and I have been working together for nearly thirty years so we're lucky.
On that, next year it'll be thirty years since Baby Animals started. What do you put the longevity of the band down to?
We never slept together *laughs* that's funny we were having a couple of drinks at the red hot summer show on the weekend and Dave and I were cracking on and reminiscing a little bit and I'm pretty sure that we're still working together because we never slept together *laughs*. I actually really love the way Dave plays, he's very supportive he's always been supportive and likewise I'm always building him up. We're always sensitive things musicians it's hard to keep putting yourself out there and throwing your emotional stuff out there but we're lucky, we're very lucky that we can keep working together.
I think Dave's one of the most underrated guitarists in Australia…
Dave wants it that way, he's not a showboat he's a really solid meat and potatoes, brilliant, kind person and he's never been about the show he's always been about the songs, I mean he is about the shows but not the showman posing shit he's not that guy and I love that about him, he just really is solid and he is underrated, but I think that's because of him and how he wants it.
So sometimes it's easy to say what's changed in your time together but what would say is the one thing that's stayed the same in your time making music with Baby Animals?
We still have the passion for it, the love for music, it's always there and I've felt the same way since my very first show when I walked on stage for the very first time and I knew in my heart that's what I wanted to do for my whole life and that hasn't changed at all I know Dave feels the same, and we're all very dedicated to it it's just what we love, we have such a good time doing it. I feel so lucky or fortunate that we get to do this for a living. It's amazing.
Was there one piece of advice you were given when you started making music that's stuck with you and that you still go back to to this day?
The song is king and never lose your sense of humour. Just speak up when you need to, do your research and don't be shy about speaking up because then you won't harbour resentment when things go bad because they will go bad and you have to learn to communicate and I think that's really important in groups as well as any other marriage or whatever it is, communication.
Speaking of the song being king, I listened to your debut album again yesterday and that seriously is still one of the best sounding debut albums of all time, it's just so good.
Well thanks, mate it is a great sounding record, it was a joy to make and it really does stand up. We had a great group of people working on it so we were lucky.
What do you enjoy the most about being in this band?
I love our humour, we're very supportive I love that support and when we get together and play we're one unit and one thing that becomes bigger than just one person, music is very powerful and you see it every time you do a show how people are affected by music, it's just like an invisible thread that goes through every person in the crowd and connects everybody you know? That's the best thing about it.
I know we also had 'Home' out a couple of years ago can we expect any further solo material soon or is the focus solely on Baby Animals at the moment?
I really don't like being solo *laughs* that was a project I did because I really liked the idea of doing something about home and I just come back and home meant the world to me and it was a good fun project to do and we did it quickly and it was good fun. I like being in a band. *laughs*.
Lastly, let's look ahead to the future, so finish this sentence for me, by the end of 2018 Baby Animals will…
ooh… Baby Animals will be headlining Glastonbury *laughs* we'll definitely have new material out and will be plotting our next escapades for 2019.
For the 30th anniversary of the band…
Oh god, I didn't even know that but yeah that's not a bad point.
TOUR DATES:
June 22 – Corner Hotel, Melbourne, VIC
Tickets HERE
June 23 – The Gov, Adelaide, SA
Tickets HERE
June 29 – Doyalson RSL, Doyalson, NSW
Tickets HERE
June 30 – Waves, Wollongong, NSW
Tickets HERE
Essential information
From: Sydney, Australia
Band members: Suze DeMarchi – Vocals / Guitar, Dave Leslie – Guitar, Dario Bortolin -Bass, Mick Skelton – Drums.
Website:  http://www.thebabyanimals.com
Latest Release: Tonight (out now)