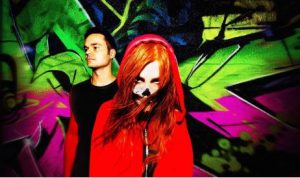 For Fans Of: Bring Me The Horizon, Grimes, Ocean Grove, Tonight Alive, Linkin Park, Alison Wonderland, Hands Like Houses
"Dynamic and engaging – genre synergy at its best"  — (Grace Farrell, FBI Radio)
"So cool. RedHook expertly tilt between vulnerable and furious."  – (Nastassia Baroni, Music Feeds)
"Juicy As fuck. RedHook effortlessly combine pop-sensibility with modern rock and a touch of post-hardcore. Flawlessly catchy, modern and mosh-inducing."  – (Monica Strut, Heavy Mag)
"Redhook will punch you right in the guts from the first listen.That's not only because the music possesses a relentless intensity but also thanks to the emotional depth that sticks with you." – (Sam Murphy, Cool Accidents)
Sydney-based screaming rap-rock-electro-pop mutants RedHook have officially spawned with the arrival of their debut single, 'Minute On Fire'. Produced by Stevie Knight (Trophy Eyes, The Dead Love) and Dave Petrovic (Northlane, Tonight Alive, Dream On Dreamer) and mixed/mastered by Andrew Wade (A Day To Remember, Neck Deep), the heavy alternative duo's maiden offering is a nuclear fusion of visceral metallic power, otherworldly electronics and emotionally-wrought female vocals that jerk between sweet and psycho.
Vocalist and lyricist Emmy Mack explains that 'Minute On Fire' is basically "the soundtrack to me fucking my life up".
"We've all done awful things as human beings, lost ourselves to dark desires and felt everything come crashing down as one bad decision triggers countless others. This is a song about that first domino to fall, that first seemingly innocuous choice to risk everything for a quick fix of something that feels good, a 'minute on fire' that rapidly ends up sending your whole life up in flames.
"This is how the story of RedHook begins," she continues. "With a descent into corruption." RedHook will toast the release of 'Minute On Fire' with an East Coast alternative nightclub tour this June, hitting Sydney's Hot Damn! reunion party on Sunday, 10th (Queen's Birthday long weekend) and Melbourne's Bang! on Saturday, 30th June. After a year spent cutting their teeth on the live circuit supporting the likes of Dream On Dreamer, The Getaway Plan and TRAPT (US), RedHook are now launching full force with 'Minute On Fire', and an arsenal of more huge tunes still to come.
'Minute On Fire' is available worldwide NOW | CHECK IT OUT HERE!
REDHOOK 'MINUTE ON FIRE' LAUNCH SHOWS
SUN 10 JUN (Queen's Birthday Eve): Hot Damn! @ Oxford Art Factory, Sydney w/ Endless Heights Tickets: Moshtix (use code 'REDHOOK' for cheaper entry)
SAT 30 JUN: BANG! @ Royal Melbourne Hotel, Melbourne w/ Thornhill Tickets: Door