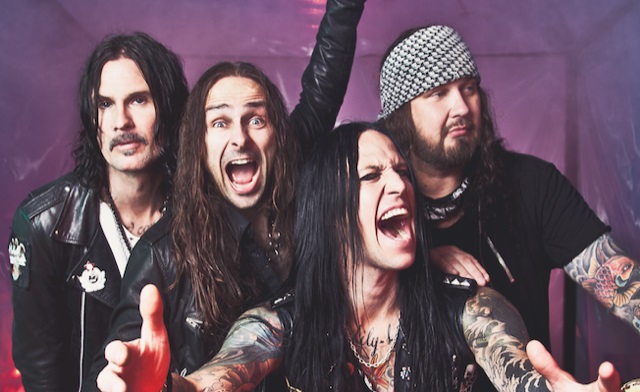 It's been ten years since Hardcore Superstar have been on Australian soil, and tonight at the first of their shows here the eager crowd are ready and as their forthcoming album says 'You Can't Kill My Rock N Roll' and tonight there's no chance of that.
Dept. of Gloom opened the show to a moderate crowd but delivered a set of straight up catchy rock tracks with a three vocal assault and a really great glam metal vibe, that was impressive. Most definitely a band to check out. Kvlts of Vice are a kick ass rock band, with an excellent front man made for the stage and tight playing they are on fire, and when a band can cover Mr Big's 'Daddy Brother Lover Little Boy' and nail it, well you've got my respect!  Bad Moon Born have been doing the rounds for a while and have cut their teeth nicely, these guys can play! With absolutely amazing vocals and songs that are part blues and all rock they are a name you'll hear more of as they continue to play. Definitely worth checking out if you get the chance.
Curtains open and the smoke clears as Hardcore Superstar take the stage and hit us straight away with 'Kick on The Upperclass' and they get the crowd involved from the opening second. People are loving it. What a start for a band that haven't hit our shores in over ten years!! They jump straight into 'Electric Rider' from their forthcoming album 'You Can't Kill My Rock N Roll' and this one is an instant favourite already and that's no mean feat. Holy shit that was amazing. Welcome back Hardcore Superstar! The groove continues with 'Dreamin' in a Casket' and the crowd is starting to warm up. After some microphone trouble 'My Good Reputation' keeps on rollin' and kicks some ass as they are getting the crowd revved up and belting out the end of the song was killer. Vic kicks off 'Liberation' and this one gets the crowd joining in, then we 'Touch the Sky' and this being one of my favourite HCSS songs makes this a stand out tonight. Its borderline anthem status is something to behold and this one is by far the best of the night so far. Ripping straight into 'Wild Boys' as hands wave and we sing along as the song ends, Jocke jumps behind the drums for well, three seconds and ends the song. Love it.
Now it's very early in the night for a last call but right now it's the 'Last Call For Alcohol' and the place is very, very happy. As the Jager comes out and the stage gets invaded by a bevy of gorgeous women and one dude and after boobs and a lengthy stage exit the band kick back in with 'Bring The House Down' and this one gets the place back on track. That's a crowd pleaser for sure and a song made to be played live. We head to the forthcoming album again with 'Have Mercy On Me' and man this one is just a whole lot of fun. The band's new album is amazing (yes we've heard it) and this is one hell of a stand out from it. They nail it and take in some kudos as they belt it out to finish it.
Trying out something special tonight Vic stays on stage with Jocke as 'Someone Special' and the set slows down for the first time. This is a welcome break from the energy we've had from the opening second. This one seems to be a favourite and that's awesome and after a big crowd sing along the band rejoin the stage and it's time for 'Baboon' sticking with their forthcoming. I was waiting to hear this one live as on the album it rocks but live it just fills out that little bit more as this one is chunky and I love it. The song fades and the drums keep rockin' with the high hats and 'Moonshine' blasts in. This rocker means we must be getting to the end of the set but as they destroyed that one and kept the energy up they drum solo into band introductions and then straight into 'We Don't Celebrate Sunday's' and as you could imagine this one got a whole lot of lovin' and more. As the crowd cheers and the sirens ring and tonight we are 'Above the Law' as middle fingers are raised high. This slab of melodic rock goodness it the best way to close the set and they belt it out like it was the show opener. Same passion, same love. This is great. The Drum kit is pulled apart and is handed out over the crowd and as feedback rings as the band says goodnight.
That was a damn good rock and roll show and there is no way it'll take ten years for HCSS to come back to Australia and I can guarantee that next time they come there will be more people as word needs to get around how good this band is, and with what they're releasing well they're going to get some love and just make sure you go next time. Tonight my Rock N Roll was alive and well!!
Essential Information
Venue: Oxford Art Factory – Sydney
Date: June 14, 2018
Presented by: Silverback Touring
Website: http://www.hardcoresuperstar.com
Set List:
Kick on the Upperclass
Electric Rider
Dreamin' in a Casket
My Good Reputation
Liberation
Touch The Sky
Wild Boys
Last Call for Alcohol
Bring the House Down
Have Mercy on Me
Someone Special
Baboon
Moonshine
We Don't Celebrate Sundays
Above The Law