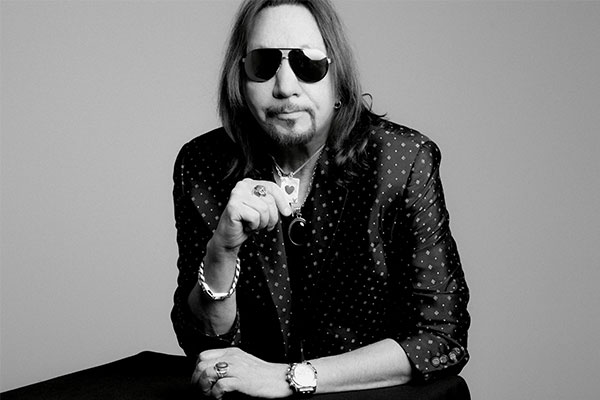 "Well we came up with probably the biggest and best rock and roll show in history, and I don't think anybody's ever topped it. I think probably the best way KISS will be remembered is if Paul and Gene decide to take me back into the fold and we end up doing a bigger and better show and go out that way on top."
From Release: Gene Simmons welcomes former KISS band mate Ace Frehley as very special guest star on his forthcoming Australian tour, celebrating the milestone of 40 years since the release of his self-titled solo album.  Ace Frehley is a founding member of KISS, a musical maverick and iconoclast adored by millions of fans around the world. Ace played on the classic KISS albums from 1973 to 1981 before reuniting with the band from 1996 to 2001.  Ace was responsible for many of the band's biggest hits including Talk To Me, New York Groove, 2,000 Man, Rocket Ride, Shock Me and more.
In his home studio in California, Ace Frehley gave us a call to talk about his return to Australia with Gene Simmons, yes, Gene Simmons, new music, anniversaries, reunions, and much more…
Ace, it's been four years since we last chatted, so let's catch up, how have the last four years been for you?
Pretty busy, I've been to Australia once on tour with myself, once I opened for Alice Cooper, God that was a rough tour, we did eight shows in nine days *laughs* it was a pretty crazy schedule. That was more insane than anything I ever did with KISS I can tell you that.
Really?
Mmm hmm, and as you know I'm coming back to Australia for four shows with Gene… Simmons.
Of course, and it's something many people never thought could happen, how did this come about?
It was a slow process of reconnecting, this year I'm celebrating twelve years sober, you know when I parted company with Paul and Gene the last time and decided to leave the band again I was using drugs and alcohol and it took a long time for me to get back on track and in 2006 I got sober and it took them probably a long time to realise because they've known me since my twenties and I've been drinking since my twenties *laughs*. So it took them a long time to realise that I was serious about sobriety and I was someone who could be dependable. They got good report cards from everyone I've worked with over the years and I think they realised when I contacted them and wanted to start reconnecting and doing stuff together you know, like me and Paul collaborated on a song on my last record 'Fire and Water' and he was kind enough to do a video shoot with me, and then more recently me and Gene Simmons collaborated on two songs on my new upcoming album that's gonna be released in a couple of months. Then I've been doing events with Gene because I'm his only friend did you know that? *laughs* You know that Gene always says in interviews that he has no friends and I get pissed off because I email Gene and say 'you know I'm your buddy', we used to be roommates before we really made it big and each of us would get our own suites. Prior to that he was my roommate for several years *laughs* what a riot, right?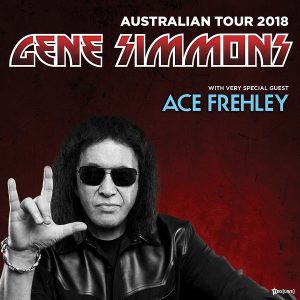 Do you have any idea how you'll be shaping up these shows, have you talked about sharing the stage and maybe jamming a couple of songs?
We haven't talked about it but I'm sure it can easily happen because we've done it in the past. So you  know right now I'm focusing on fine tuning the songs I'm gonna do with the same band he's travelling with so I'm gonna be saving a few dollars by not bringing my own band and I'm not gonna incur all that cost of flying my whole band over and my roadies. I'm just taking my one roadie who handles all my special effects guitars and keeps my guitars in tune, and my fiancé Rachael and that's it, a three man crew, me, Rachael and Rocko *laughs*.
Now you talked about new music and you released 'Bronx Boy' a couple of months back, what can we expect from it?
You know everybody who's heard it and a lot of people's opinions I respect have heard it and think it's one of my best albums to date, ever. The songs that me and Gene collaborated on came out fantastic, I wrote a really cool instrumental that Warren Huart who mixed the record and co-produced it with me and he actually played a little guitar on it. There's a couple of songs that I revised and rewrote that Anton Fig is playing drums on and as you probably know Anton Fig was known for playing drums on all my earlier solo records and especially my 1978 debut solo record with 'New York Groove'. Life is great, life is great, I just turned 67 in April but I don't look 67 I probably look ten years younger at least that's what the ladies tell me *laughs*. My energy level, I dropped since I toured South America last year I've dropped thirty five pounds so I'm ready for anything, if I've gotta slip into a space suit I'm ready to go *laughs*.
Let's talk anniversaries as this September in line with the tour here is the 40th Anniversary of the KISS solo albums, can you take us back to that time and what you remember about making your solo album?
Well I had a ball doing my solo album back in 1978, pretty much I was just talking to a couple of friends of mine we're working on another project this weekend and I was just telling them how easy it was to do that record, it was just me, Eddie Kramer my producer who produced Alive 1, 2 and 3, and Anton Fig on drums. I played all the guitars, did all the vocals, played bass on seven out of nine songs and Anton played all the drums. I wrote all the songs except for 'New York Groove' and it was an easy process. You know that saying too many chefs in the kitchen… it applies to the recording studio, the less people in the studio when you're working the more work you get accomplished if you know what you're doing. I'm completely happy with just me and an engineer playing all the parts and nobody else in the room.
Well I love yours, it came out great!
Thank you very much, a lot of guitar players have sited that record as kind of their rock and roll bible and that's how they learned to play guitar. I'm the same way with Jimmy Page, Jeff Beck, Pete Townsend, The Stones, The Who, you know, but every generation is different and it's amazing how many guitarists come to me and bring up my '78 record and they bring up the 'Alive' album as how they learned to play guitar by copying my stuff. I'm very flattered by that but at the same token I got my style from the guys before me that's kind of the way it works it's an ongoing process *laughs* depending upon your age group.
The legacy of KISS is truly something to behold, how would you personally want KISS to be remembered?
Well we came up with probably the biggest and best rock and roll show in history, and I don't think anybody's ever topped it. I think probably the best way KISS will be remembered is if Paul and Gene decide to take me back into the fold and we end up doing a bigger and better show and go out that way on top. That's what I think should happen but basically since I quit the group a couple of times it's not my place to say how it's gonna end, it's up to Paul and Gene. I think that would probably be the best option for KISS to be remembered for KISS to go out on top with the original line up.
Well hopefully we'll see it again, you never know…
You never know, it's something that the fans I think want and constantly mention on the internet and I look to what my fans say because they pay my salary you know? *laughs* My fans buy my records and come to my concerts, so I don't have a deaf ear to what they say, I listen to what they say and I think it's important that any rock and roll artist does that.
After playing music for well over forty years now, is there anything left to do or that you want to do that you haven't already done?
Yeah there's a couple of things I'd like to do I'd like to produce some younger groups once my schedule slows down because I think I'm a good producer and a good song writer. I'd like to score a sci-fi film or something like a Marvel film, I've never scored a movie so that would be great, and I'd also like to do a documentary just on me and how I grew up as just a middle class kid from The Bronx and by the time I was in my mid-twenties I was in one of the biggest rock and roll bands in the world and that's a pretty amazing story, I've talked about it in many interviews I bring it up in my book but I've never told the whole story.
Lastly, let's try and predict the remainder of the year, so if you can finish this sentence for me, by the end of 2018, Ace Frehley will…
I think by the end of 2018 I think we will probably start formulating a plan for a KISS reunion, at least that's what I'd like to happen and I think the fans would like that and I also have plan B you know, you know when you think about Eric Clapton and what he did after he left Cream he formulated a group Blind Faith with a lot of other superstars, so in the event there isn't a KISS reunion I'm probably gonna put together a super group of people that are equal to my talent and notoriety and go out that way. Playing arenas, but either way I'm gonna be OK, I'm making great records and I'm selling out wherever I perform for the most part and I'm having a ball doing it you know? If I could go out with KISS that would be probably the best option at this juncture but it's not my decision at this point, but like I said me, Paul and Gene have been communicating more and more and more and I think we're leaning towards that direction but there's nothing written in stone at this point. It's a pipe dream.
Well for now we can't wait for the shows here with Gene…
I can't wait to come back to Australia, always have fun in Australia it's a great country.
See you then, thanks Ace!
Thank you very much, bye bye.
GENE SIMMONS WITH VERY SPECIAL GUEST STAR ACE FREHLEY
Presented by TEG Live
AUSTRALIAN TOUR DATES
Tuesday 28 August 2018  
Entertainment Centre Theatre, Adelaide
Tickets HERE
Thursday 30 August 2018       
Margaret Court Arena, Melbourne
Tickets HERE
Friday 31 August 2018  
Enmore Theatre, Sydney
Tickets HERE
Saturday 1 September 2018  
Tivoli Theatre, Brisbane
Tickets HERE
For your chance to WIN an Ace Frehley prize pack, click HERE
Essential Information
From: New York, USA
Band members: Ace Frehley
Website: http://www.acefrehley.com
Latest Release: Bronx Boy (Out Now)