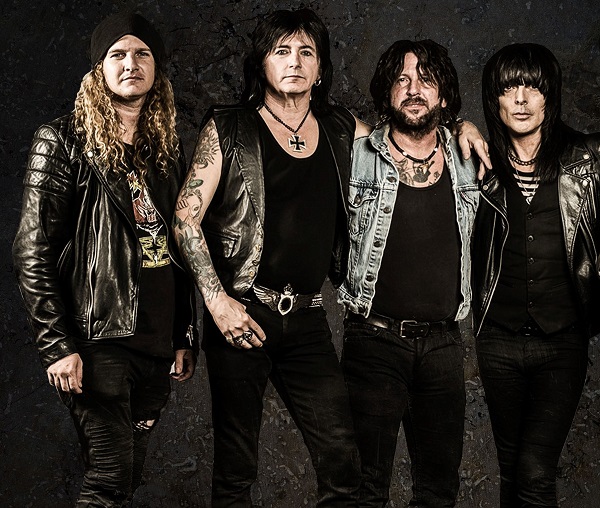 "So it's just blending that kick in the teeth with a better musical outfit now and kind of combining the two and with very little competition in the sleaze rock world we're not competing against anybody so I don't listen to anybody else either."
From Release: L.A. GUNS was formed in 1982 by guitar player Tracii Guns and, then unknown singer, Axl Rose on lead vocals. The "classic lineup" of Guns, former Girl singer Phil Lewis, drummer Steve Riley, guitar player Mick Cripps and bassist Kelly Nickels have sold 6.5 million records, including 1988's L.A. Guns and 1990's Cocked and Loaded, both of which were certified Gold. Cocked and Loaded contained the hit single "Ballad of Jayne" that went to #33 on Billboard's Hot 100 and #25 on the Mainstream Rock charts. After a nearly 15-year break, Philip Lewis and Tracii Guns are back together for another chapter in their part­nership that began in 1986, 4 years after Tracii formed L.A. GUNS in 1982.
While he was at home and just before getting on a plane to come to Australia, we gave Tracii a call to talk about the Australian tour, getting back together with Phil Lewis, their new album 'The Missing Peace', memories of their debut album, and much more.
You're finally heading back to Australia, what can people expect from an L.A. Guns show circa 2018?
It's a lot of energy, it's pretty powerful stuff.
After such a long break with Phil, what's it like being back up there on stage together again?
I couldn't imagine it any other way now, being in the band so long ever since high school I guess I got tired of it some point in my life and wanted to do other things, and the first time we sort of got back together to rehearse at a benefit show we agreed to do a few years ago, the chemistry you know *laughs* it's once in tem thousand lifetimes I guess and I'm very happy to be back doing that.
Of course you've also recently released a new album 'The Missing Peace', when working together again did you find that things just fell back into place or was it in a way more challenging?
It was actually the simplest process I've ever been through. Obviously I had plenty of time to write music for an L.A. Guns record especially not being in the band for so long, so for me it came really quickly and I produced it so I didn't have any outside influences other than what I thought would be best for an L.A. Guns record with these songs. I wish I would have been allowed to do that from twenty years old all the way through *laughs* it would've been a lot different.
You also wore the producer hat for the record, how do you balance being the producer and the performer?
Well when you're producing a record you set the schedule, so knowing that and also being the music and, writing and recording and doing everything, you make your own schedule which gives you a lot more freedom to not have another producer setting your schedule. So I could spend five days on one guitar solo and if it still wasn't right I could spend another five days on it and kind of things like that where there's no pressure when you're not paying somebody for their time and generally producers aren't in a hurry but sometimes they are and that was always very frustrating those few days every record the producer would just kind of wish he was at the beach or something. Doing both is a lot easier than it sounds, it provides a certain comfort level and obviously when it comes to the instrumentation and the guitars and stuff like that I have all the time in the world to do it, so the end result is going to be better to me.
Your debut album turned thirty recently, looking back is there anything you did on that album that you still go back to and use to this day when making albums?
I mean the first album is a real fireball, so sometimes like I just finished writing for the next album and sometimes I need to go back and see what that energy is like to make sure that we provide that energy still, perhaps not all the way through an album but certain elements of that L.A. Guns fans expect no matter how old we get or how old the fans get they like that kick in the teeth. So it's just blending that kick in the teeth with a better musical outfit now and kind of combining the two and with very little competition in the sleaze rock world we're not competing against anybody so I don't listen to anybody else either. So it's pretty much just what's coming through, I will go back to our first record more than any other record actually and make sure that we're raising the bar and not just kind of settling on something.
What do you remember about that time back in 1988 releasing that first album and that era?
Oh man, I remember lying to the girl I was going out with and told her I got addicted so she'd leave my apartment, I remember getting on the tour bus and not coming home for a long time and being on a really small tour bus with kind of carpeted seats and eleven other guys and meeting a lot of my heroes. The first tour was really eye opening and I did my first arena when that record came out on that first tour. All the stuff but the problem was being twenty one years old I took it all for granted, I thought that's how life was just going to be from now on *laughs*.
You started this band now for over thirty five years, with a few speed bumps along the way but what do you think it is about L.A. Guns that just keeps on rolling?
I think it's that chemistry, for the fans that got there first we gave them something that wasn't in their record collection, an American sleaze rock band with a British singer not too many of those, so we're pretty unique in that way. The last record, 'The Missing Peace' record that was a real door opener for us, taking a long break and people were really paying attention to either of us, making a great record validated it for the original fans and then we gained a whole bunch of new fans with this, in The States at least and it gives us motivation and excitement to keep going forward.
Being in the business for a long time, is there still anything on your list of things you want to do but haven't yet had the chance to?
Not really *laughs* I just want to get better as a producer, better as a musician and maybe some more collaborations here or there but nothing like a super group or anything like that anymore, those always kind of have a sad ending, so I'm very happy with the band I'm in and making the music I'm doing. It takes up a lot of time to do L.A. Guns and there's a lot of decision making that goes on and we have a great manager. So a lot of talking during the day,  a lot of writing, and I'm raising a nine year old boy, so I don't have a lot of time for other stuff right now.
On a personal note I have to say how much I loved the Brides of Destruction tour you did here back in 2004, amazing shows. What are some of your best memories of that tour?
Yeah, good times. The whole thing was great we had two bummer shows, all the other ones were great and I remember so I don't remember that much about them but we had one in Virginia that wasn't advertised and nobody showed up, and that was our highest paying gig so it was strange. Then we had a gig up in Reno Nevada where some kids got out of control and me and Nikki jumped in the crowd and that was no fun. Other than that it was just a great live thing and some really good friends, especially down there those shows were really exciting, I have all the shows we did down there I think we did two or three down there and I have them on video tape and every now and then I watch them, they were really good, really high energy it reminded me a lot of early L.A. Guns actually and wasn't that much different to what I was doing before I started except having Nikki in the band wasn't a bad idea *laughs*.
Obviously over the years things change but what would you say has been the one thing that's stayed the same over your time making music?
Hmm, well you know the problem for me is finding inspiration for new music, it's gotten more compressed everything's gotten more refined over the years so I find myself going backwards listening to stuff from the 40's and 50's and of course always the 60's and 70's but there's a lot of stuff that happened in the 40's and 50's you know people experimenting with stuff and that's what's really changed that availability of something new all the time that has a wow factor, and I find that wow factor is coming more from vocalists these days than actual people extending their talent and experimenting with instruments because everything's so electronic now and so easy to make recordings and loops rather than real instruments that pool of great artistry coming from natural instruments is severely lacking in all forms of music. Of course there are some things that are great but they're typically in other genres which I wouldn't incorporate into L.A. Guns much these days. I try to be diverse with L.A. Guns but I try not to be too diverse, I can't just do a punk record that wouldn't make sense *laughs* so that's the only thing that's changed for me, right now it's hard to have that look back kind of view because I'm right in the middle of having great success right now so everything's been great so I'd like to stay in that bubble if possible *laughs*.
Was there one piece of advice you were given when you started making music that you still go back to to this day?
Axl told me once when dealing with the label, he got signed before we did and he said take all the money up front *laughs* so that's some good advice. I did an interview yesterday and my biggest regret is never listening to anyone when I was younger, I had such rapid success that I didn't want to hear anyone's bullshit, especially when we were making our record back then it was just a constant barrage of people's opinions and thoughts and what they thought and what would be better and when I look back everybody was like just be like everybody else and that's the one thing that I had to shut my ears off, I didn't want to be like anybody else. Especially coming out of G n' R because we had a specific conversation where coming off the Motley Crue era we loved that music but we wanted to offer something different than that with just as much severity, we wanted to be brutal but we wanted to incorporate a certain element of blues and more of a heartfelt kind of song writing and music. So when we were going into the first L.A. Guns record and we had success with that and then the second, boy everybody had their two cents and it was just very frustrating and took painless months to albums and the writing process and stuff like that. So I'm sure some good advice has slipped by but it got to the point where it was like look, here's the songs, let's record 'em and when the record comes out let's go play because that's really the only thing a rock and roll band needs to do. You've gotta figure if a rock band gets signed you should maximise it and you should do your best because somebody's believing in you and sometimes some people think when they get that opportunity they freak out and they start taking too much advice and then their music starts sounding nothing like who they artist is and that's always been kind of the struggle. The last record I did with L.A. Guns 'Waking The Dead' which was before Brides of Destruction I thought was a very, very good L.A. Guns record, it had all those elements, it had a really bluesy feel and was really heavy at the same time and was fast, Phil was on top of his game like he is now, he's incredible right now he can't sing a bad not. It's been a bumpy road, definitely.
Lastly let's look ahead to the future, finish this sentence for me, by the end of 2018 L.A. Guns will…
Be tired. *laughs*
L.A. Guns 2018 Australia and New Zealand Tour Dates
May 17th BRISBANE, Wooly Mammoth
May 18th MELBOURNE, Max Watts
May 19th SYDNEY, Max Watts
May 23rd PERTH, Rosemount Hotel
May 25th WELLINGTON, Valhalla Tavern
May 26TH AUCKLAND, Galatos Live
TICKETS: On Sale now
From: https://www.ontourpresents.com/laguns
Essential information
From: Los Angeles, CA, USA
Band members:  Tracii Guns – Guitar, Phil Lewis – vocals, Shane Fitzgibbon – drums, Johnny Martin – bass.
Website:  http://www.laguns.net
Latest Release: The Missing Peace (Frontiers Music – Out Now!)