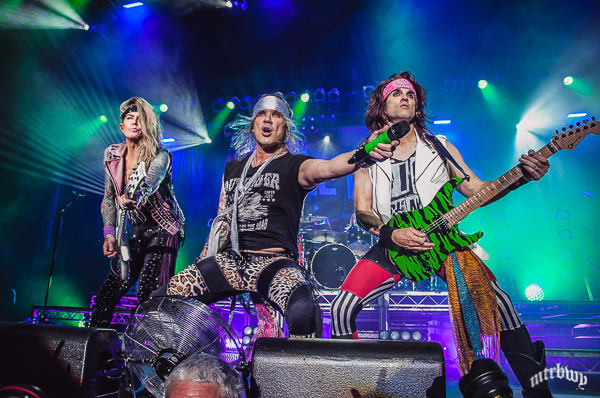 They're back! The band that can't seem to stay away, and why should they when sold out signs keep appearing whenever they hit our shores. Tonight Steel Panther are doing something a little different and they're bringing the Sunset Strip to us, I'll explain more about that later.
Tribal drums fill the venue and some Van Halen get us ready with 'Everybody Wants Some' and the vibe is electric already. Stix takes his seat behind the kit followed by Satchel and Lexxi making their way onto the stage and of course Michael Starr and they explode into 'Eyes of a Panther'. Big notes, big solos and big kicks make this the perfect opener. The outro takes us straight into 'Going in The Back Door' from Lower the Bar and not hearing this one live before is awesome and it fits perfectly into the set. These guys are on fire nice and early. "Who's Ready for some heavy fuckin metal?" We're asked to a resounding cheer. Now as per every Steel Panther show we get a story that is hilarity, some heard before but they always make it work, but special mention to an outstanding Steven Tyler impersonation by Michael Starr. The band introductions continue and this is a band that it's ok when they're talking just because it's so well done. Stix's Rik Allen impersonation is brilliant too. Oh finally some more music! 'Asian Hooker' is always a favourite and oh sweet 'Just like Tiger Woods' I love this one. That sounded perfect tonight. Back to 'Lower the Bar' with 'Poontang Boomerang' and it went down well.
'17 Girls in a Row' hits and I still love that riff. That was a stand out. We got an eyeful from a stage visitor and just as soon as that was done they hit the even meatier riff for 'Gloryhole' which kicked ass. The acoustic comes out as do more boobies for 'Girl from Oklahoma'. Not usually a huge fan of that one but tonight that was great. Ok now it's time for my favourite, 'Community Property' and it's still always good and still the best power ballad out there. 'Death to all but Metal' is the only way the originals set could close and in that hour you can see how Steel Panther have crafted their niche, they know what they are and they do it so well. I must say though I'm more looking forward to the second set.
During intermission we get to listen to Steel Panther over the PA which is hilarious in itself.
They're back and it's time to head to the Sunset Strip. The first oh maybe eight times I saw Steel Panther / Metal Skool was when they were doing the covers in Los Angeles and in Vegas. So it's good to finally hear some of them again.
The backdrop changes to a Hollywood style Steel Panther sign and they begin with Motley Crue and  'Kickstart my Heart' and they know what they're doing. Oh how I love this music and tonight it's back!! Time for them to rock us like a hurricane with a bit of Scorpions! Nice. Some awesome posing and killer vocals smash this one out of the park. A Van Halen tease of 'You Really Got Me' had the crowd singing but as they played 'Jump' it's obvious to hear why Michael Starr was the singer in a Van Halen tribute band. This is great!
'Crazy Train' time. All aboard!! Oh shit! Michael has just come out and done the best Ozzy I've ever seen. In fact I think he's more Ozzy than Ozzy is now! Now it's time for Satchel's guitar solo and yes, he's that good. Getting up behind the drums as he always does to belt out some riffs including 'Smoke on the Water', 'Breaking the Law', 'Master of Puppets', 'Sweet Child o' Mine', 'Iron Man' and more, yes we've seen it before, BUT what blew me away tonight was when asked how many people were there seeing Steel panther for the first time the response was astronomical, so I guess they get to enjoy it all for the first time. After some more chatter and many girls up on stage and finally we get some Bon Jovi and the greatest song of all time, 'Livin' on a Prayer' and they Killed it. Starr can sure hit those notes! Sometimes it almost sounded too good!
The girls stay up for some Def Leppard and 'Pour Some Sugar On Me' which was a gimme, but again, they played these songs for many, many years and have them down 100%. Some Whitesnake makes it into the set with 'Here I Go Again' including a reggae interpretation which was interesting and it also included a great little mashup with bits of 'The Joker', some Weezer too, then some Smash Mouth, Tom Petty, REM, Styx, all sounding like White Snake and played in the same progression as 'Here I Go Again', was pretty cool. They then bust out some Guns N' Roses and 'Paradise City' which was epic, and an awesome way to finish that very quick hour of classic covers. I wish they'd just kept going and thrown in some Warrant and Poison, and the list is endless.
The Panther leave the stage only to return for one more and back to the originals with 'Party All Day' and the chanting back to the stage in this one is always awesome. Some more stage tricks and Stix catching hats and they take a final bow to an adoring crowd.
Steel Panther always put on an entertaining show both in musical prowess and in hilarity, tonight was no different and I'm sure they'll be back. What can they do next is the question?!
Essential Information
Venue: The Big Top – Sydney
Date: May 18, 2018
Presented by: MJR Presents
Website: http://www.steelpantherrocks.com
Photo By: Annette Geneva  – Every Day Is Saturday – Check out our full gallery HERE
Set List:
Eyes of a Panther
Going in the Backdoor
Asian Hooker
Just Like Tiger Woods
Poontang Boomerang
17 Girls in a Row
Gloryhole
Girl From Oklahoma
Community Property
Death To All But Metal
Kickstart My Heart
Rock You Like A Hurricane
Jump
Crazy Train
Livin' on a Prayer
Pour Some Sugar On Me
Here I Go Again
Paradise City
Party All Day