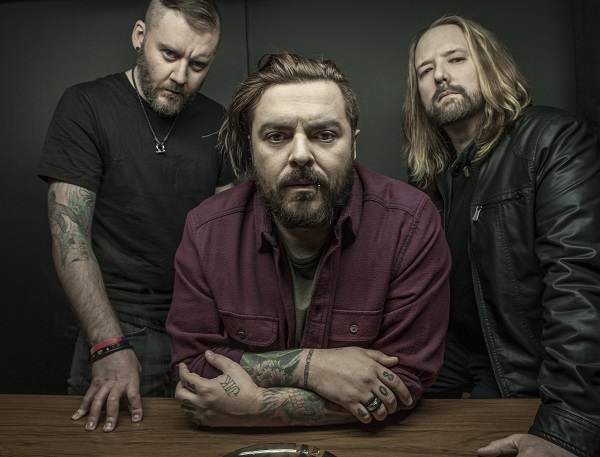 "It's a double edged sword because all the pressure is on your shoulders and you have to perform and put out an album that can live up to all the expectations but can also stand up to the others, and I mean I think the songs on this record are personally my favourites in a long time just because they were just went back to what the band is about…"
From Release: On the back of their heaviest album to date, SEETHER are intent on blasting the roof off with equal measures of ferocity and purpose. This is a band that knows how to connect with an audience, whilst delivering all the blood, sweat and sheer musical brutality that transports fans to a state of nirvanic rhapsody. SEETHER's existence itself is an act of rebellion, weaponized to cut through the noise with truth telling clarity and undeniable authenticity. SEETHER are not your bog-standard riff-mongers. This is a multiplatinum rock anthem machine whose live performances are armed with soaring guitars and monster melodies delivered with an atmospheric crunch that will leave fans blissfully drained.
While he was in Nashville we gave Shaun a call to catch up and fill us in on the band's upcoming tour of Australia, their latest album 'Poison The Parish', the creative process, vinyl, and much more.
It's been three years since we last chatted, so let's catch up. How have the last three years been for you?
We took the bulk of 2016 off to write the album and sort of regroup after a long tour, then May of 2017 we've basically been touring since then. We've had some time off here and there to catch up with family and stuff like that but for the most part but I think we're right in the middle of the process for this tour and I assume we've got at least another year before we get to call it quits and write a new album.
You're heading back to Australia to see us and now with such a vast catalogue do you now find it harder to put together set lists when you need to start taking out some loved tunes?
Yeah, I mean you try to play the stuff that people really want to hear but by the same token you really want to play the newer stuff, so it becomes a little difficult. It also depends some nights you just want to play for longer and I might throw an extra song in because hell why not we're having a good time. These tours they're always such a whirlwind because we have to play three different cities three days in a row which means you have a morning flight every morning quite early in the morning I think you're up at about 4am to get to the airport on time so you can get to the airport on time and with all the gear we have to fly with as well. So it's quite a lengthy and drawn out process every morning so that does sort of put a dampener on just how much energy we have left for the rest of the day. When it comes to sets we try to play the ones that we recognise are what fans like to hear the most, then some new stuff, then occasionally we'll throw in something we haven't played in a while or we'll do a cover of some sort. So set lists can be quite a pain especially when you're trying to please everybody, we've played some songs thousands of times and it would be nice to give those songs a rest every once in a while, not to retire them they're just not as exciting as the newer stuff, often we're still trying to figure them out and get a feel for them but yeah, it can be a little difficult at times but at the end of the day we just want to make the people that come to the shows happy and hopefully we manage to do that.
In terms of new music we just had 'Poison The Parish' out last year, how has the cycle been since its release?
It's been good, the singles have been doing well, the crowds have been doing well, I think the crowds have been getting bigger than we've had in the past and just in general the whole atmosphere is great. We've had Clint Lowery play guitar for a while and he's gone back to Sevendust now because they've got an album coming out so we've got his brother coming out who will be with us on this tour, that's Corey Lowery. So that brings a lot of positive energy, I don't know everything just seems really good, everyone's in a good mood and everyone's getting on really well it's the opposite of a lot of bands that have been together for so long and start hating each other *laughs* and start asking for separate dressing rooms and different buses, this is a different scenario all together, so for us I mean it's going well. The singles have done well, the videos have been well received, the tours are doing well, so I know it's been a long time since we've been to Oz and I'm hoping that people don't forget and we have good turnouts and we have fun like we always have.
It's the heaviest album you've made in a while, did you go into it with that idea in your head of making a heavier record?
It wasn't a real plan from the beginning because normally what I do is I just start writing stuff and see where it goes and the more I was writing and the more songs piled up the more I gravitated towards just having that heavier sort of riff type music that we used to have, certainly the stuff we used to write when we were younger and you almost had to under think some of the stuff because what I've done on some albums is I've overthought it and I'd overcomplicate the songs and I've tried to be too clever and I like the albums but I always felt like now in retrospect I wasn't being 100% genuine as far as really trying to play music that I loved to play. I think at the time that was what I was in to so it's not like I was being a charlatan for the years and then suddenly I was like this is the real me it was all just a question of I was trying to be too clever in some places musically and I just wanted this to be more straight ahead and I produced it with Matt Hyde an engineer and he's a producer in his own right and he's produced the Deftones and most notably 'Gore' that album that came out a few years back. He brought a real positive energy to the studio and we were just working fast and we were getting sounds and we simplified a lot of the stuff so we didn't have to do, a lot of producers in the past would put layers and ultimately in the mix what would happen is you end up mixing the albums and the real rock side of it I felt was homogenised and pasteurised and what came out the other side was a little too clean and shiny and that's I think was for me one of the reasons I wanted to get into producing our albums because I have a vision that I want to present and don't have to pander to a producer if I'm the one calling the shots.
It's a double edged sword because all the pressure is on your shoulders and you have to perform and put out an album that can live up to all the expectations but can also stand up to the others, and I mean I think the songs on this record are personally my favourites in a long time just because they were just went back to what the band is about which is guitar, drums, bass, and vocals, there were no keyboard parts and no percussion parts here and there and there's a time and place for all that stuff and I didn't want this to be a poppy kind of album certainly sonically I dint want it to be slightly dumbed down and glossed over and tailored for a mass audience. You obviously want people to listen to the music, obviously you want the music to be accessible, I think you do that through the way the song is written and the melodies you select and the lyrics you write I think that should be enough. I don't think you should then have to go in and say well let's turn the distortion down to five instead of ten just because that's a little more pleasing to the ear, to me that's dumbs it down a little bit and that's not taking anything away from those procedures that's just not the way I wanted to approach it this time, and I always felt at some point I was going to go back and have those albums remixed and remastered and have more of that sort of dirt and that urgency put back into the music that I felt was stripped away by overthinking.
Have you thought about doing that for an anniversary or something like that?
Yeah most likely I think what might be interesting is next year will be twenty years since we formed, so it'll be our twentieth anniversary so maybe that'll be a good time and would be good timing as well because it'll be at a time when we're off the road after an extensive tour so we'll have some time to sit back and really dive into the catalogue and see. I also want to release the Saron Gas album we did when we were called Saron Gas from 199 until 2001 we were called Saron Gas so I want to find that album and release that and maybe have some of that remastered and redone and I don't know if a box set is a little presumptuous of us or not but I do think that it is a way that I would like to present otherwise I have to wait until 2022 to hit the twenty year anniversary of 'Disclaimer' then I can really start putting them out there the way I imagine them sounding, So you may have to wait a few more years but I definitely do think as far as I'm concerned there will be re-releases just with a different mix and a different mastering because again I was never really sold on the sound because I was just a kid at the time and I was told by these guys these big power producers and they walk in and it's intimidating you don't understand that you have the right to stand up and say no that you don't like that and that you can actually put in your opinion and you can shape the way that it sounds, there's a lot of guys that come in and create the impression that you are just there to do what they tell you. So now that I understand that that's not the case I can go back and revisit those for anyone that's interested I mean nobody buys albums anymore but it would just be cool to peruse at their leisure on one of the streaming services, but I do think it's something I'd like to do just purely for my own satisfaction.
Although vinyl has made a big comeback so you never know, you could put them out and do it that way?
Yeah I think vinyl I mean it's huge now again but I think that our fans are not necessarily vinyl buyers, our vinyl never does really well, if you look at numbers of streaming versus shows and merch sales if you compare all of the stuff that we do vinyl is the one that seems to not work for us, maybe we don't have enough hipsters as fans *laughs*. I've got maybe four or five records that I have that were given to me or I bought out of pure nostalgia and I've got a little cheapo record player but for me there's a very cool misty eyed kind of thing about putting the needle on the record and watching it spin and I feel like it's almost a travesty that I've got this crappy system that I play it on, I should get a better one.  It's just not worth me investing on something like that because I don't really sit and have a room… John our drummer you should see his record collection it's phenomenal, he's got thousands of records and actually bought one of those record store display shelves and all his LP's are alphabetised *laughs* and all pristine and all in little sleeves and the guy is very anal about it. You walk in and at first you say well this is over the top but it's just passion, it's his passion to collect this stuff so if more people like John listened to our music I'm sure our vinyl would be more viable. We did some picture discs on the last album too which I thought were kind of cool it had the artwork with a clear plastic sleeve and different artwork on either side of the record itself which is kind of cool. I don't think I've actually paid too much attention a lot of things have happened, actually this year has flown by and it's frustrating because the older I get the faster the years go by and I really wish it was the other way around. *laughs*
Lastly let's look ahead to the future, finish this sentence for me, in 2018 Seether will…
Hmm… by the end of 2018 Seether will *laughs* I don't even know how to finish that, Seether will have toured another six solid moths of the year in 2018 and they will take a well-deserved Christmas break to be with their friends and family. Then start right up again at the begging of 2019, that's how it goes for us man, it's the little engine that could and unfortunately never, ever stops but we're good with it, we'd rather be busy than not be wanted at all.
Seether in Australia & New Zealand May 2018
Wednesday 23rd May – Sydney, Metro Theatre
Friday 25th May – Melbourne, The Forum
Saturday 26th May – Brisbane, Eatons Hill
Tickets from: www.davidroywilliams.com/tours/seether-2018/
Essential Information
From: South Africa
Band members: Shaun Morgan – vocals, guitar Dale Stewart – bass, vocals John Humphrey – drums
Website: http://www.seether.com
Latest release: Poison The Parish (Out Now – Caroline Australia)